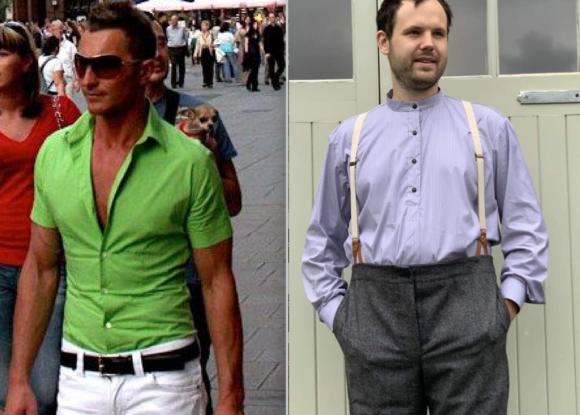 Here's an idea.
I reckon men face two, polarised dangers in their style that we haven't discussed before, or at least not formalised.
One is being too flash or showy; the other is appearing too old-fashioned - a 'fuddy duddy'.
When guys wear shoes that are too pointy, trousers that are too tight, or shirts unbuttoned just a bit too far, they risk looking flash.
But equally when they favour high-waisted trousers, fedoras and braces, they can risk looking too 'fuddy'. (It's a word now - I like the alliteration too much.)
In many ways these are two extremes of a spectrum. Like formal vs informal, or urban vs rural.
This crystallised for me recently in a conversation about loafers.
My interlocutor expressed a dislike of my Belgravia tassel loafers because they were a little 'flash'. Tassels, for them, were associated with toffs and playboys.
However, they also weren't a fan of my Alden LHS loafers. For them, the Alden loafer was too wide, too chunky, too reminiscent of an old man's slipper.
The perfect loafer for them - we discovered, after a bit of internet show-and-tell - was the Edward Green Piccadilly. All the slimness of the Belgravia, but without the tassels. The perfect mid-point between flash and fuddy.
(Below, top to bottom: Belgravia, Piccadily, Alden LHS)
Of course the two extremes have their attractions as well. That's why men tend towards them.
The 'flash' end of the spectrum feels like it has more obvious style. It's sexy, out there, saying something. It's an easier look to sell, not least because it always looks good on a model, even if not on everyone else.
It feels young - and indeed to some extent this spectrum could be seen as between perceptions of young and old.
The 'fuddy' end is more classic and elegant. It's traditional, and so often seen as more authentic. Its charms are also often subtler, and therefore it can be seen as more sophisticated and intelligent.
PS readers will tend towards this end of the spectrum. But our familiarity with it also means we know it can go too far. Whether it's the classic menswear of pinstriped suits and tie pins, or the vintage dressing of flight jackets and cargo pants, it always has the potential to become period.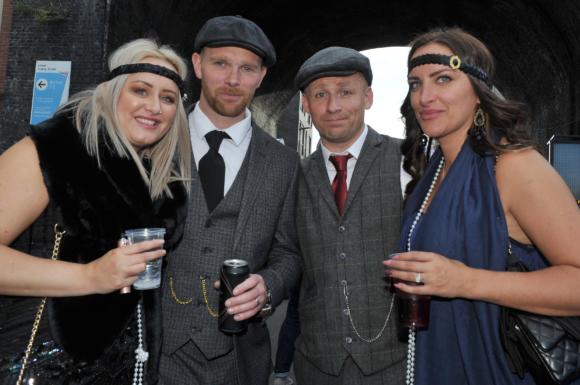 So how do you avoid getting too close to either extreme?
Mostly, by choosing moderate versions of a style, by not pushing anything too far. Wear higher waisted trousers, but not up under the ribs and not with braces. Wear tasselled loafers, but not too pointy or flimsy, and perhaps in brown suede rather than alligator.
In fact that last example is a useful one to illustrate this balance.
Brown suede is a pretty dowdy, dull material. There's nothing shiny or exotic about it. In a double-soled derby, it can look pretty stodgy. Which makes it the ideal material to make some tassel loafers look less Eurotrash.
This balance comes up a lot in PS articles, such as our recent one on white jeans. There I suggested as white jeans can risk looking flash, it's good to have a slightly looser leg, a higher rise, and always a slightly off-white colour.
Clothing also looks less extreme when it's clearly practical. Unbuttoning another button of your shirt looks much less flashy when it's actually hot. If the weather justifies it. Same goes for shoes without socks.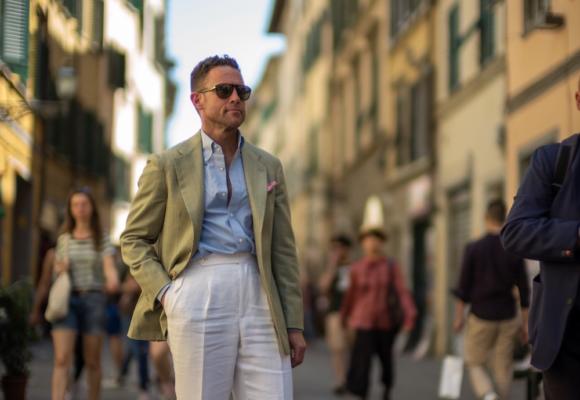 One reason I think Western style has a perennial popularity - and is particularly strong at the moment - is that it's a more rugged version of the 'flash' look.
Boots are often pointy and jeans are often tight. There is a sexiness about it, but in a rugged, authentic way. At its root, it feels more masculine than the playboy equivalent.
And at the other end of the spectrum, I think Ivy has a particular appeal because it is classic and traditional, but also sporty.
The ethos of Ivy is casual and experimental, playfully mixing styles while understanding craft and traditions. And adding some actual sport, some genuine masculine athleticism, always helps.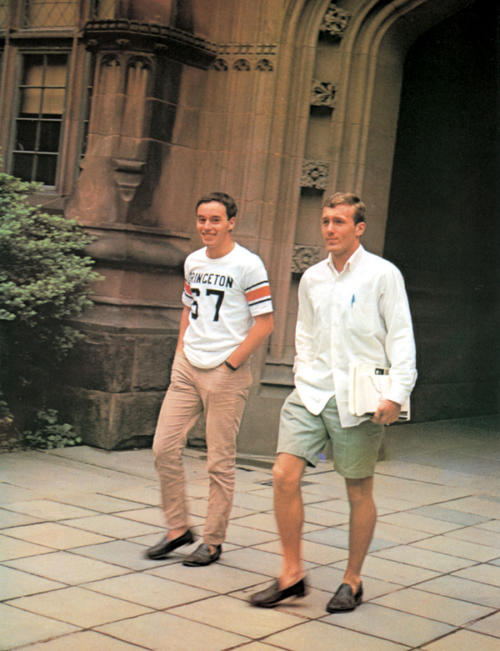 I feel like this article might be most useful in the future. As a reference point, to link back to in upcoming discussions.
Cultural associations are inescapable, and come up in almost every debate we have about style. I think flash v fuddy (do shout if you can think of a better name) will be useful in positioning those associations.
And please don't think any of this means you can't wear what you want. Rock alligator tassel loafers if you can. Just do so with taste, intelligence, and a healthy amount of self-awareness.