The Western shirt four ways (with Begg & Co cardigan)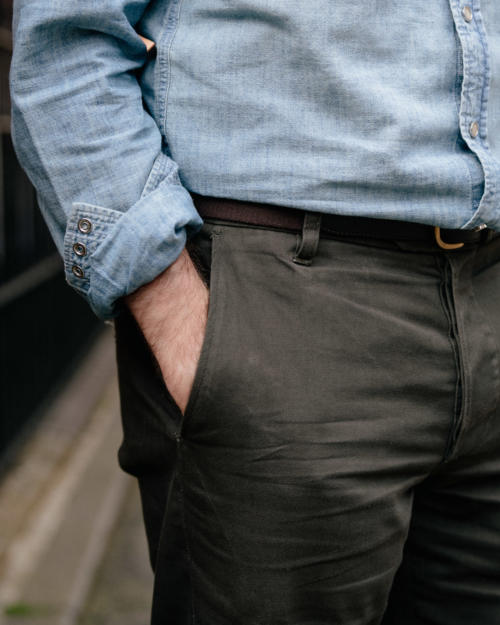 One of the reasons Western and denim shirts have been so popular in recent years is their versatility.
On the one hand, their conventional pale blue means they sit easily beneath all manner of jackets or suits, while adding an intentional, unexpected note.
But on the other, they're still a casual shirt, with all the texture and design add-ons to prove it. Which means they can be worn with the most casual of trousers, such as workwear chinos.
Chambray shirts, if similarly pale, can be just as useful - but usually with more subtle style details like pockets and contrast stitching, rather than MOP snaps and pointed yokes.
These, along with the oxford, must be the shirts of the years to come. They're all pieces that can just as easily sit under casual tailoring during the week as with beat-up favourites at the weekend.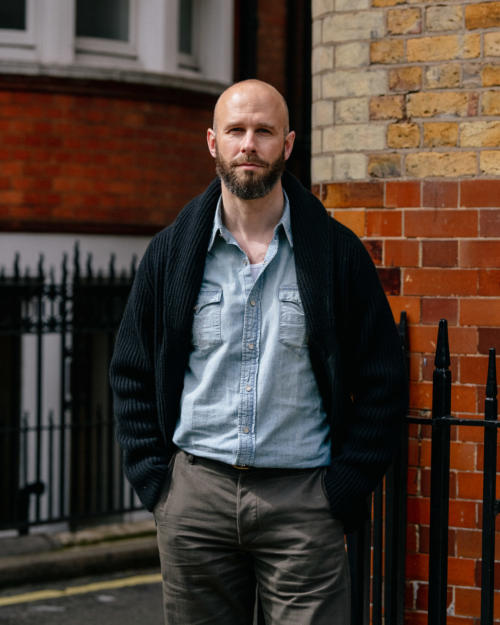 I find I wear Western shirts in different ways too - some more conventional and others less so, depending on how I feel and where I am.
This article shows four of them. All of which are easy to switch between, whether for reasons of style, warmth, or variation for its own sake (for example when travelling).
Above is the first, the standard. A pale-blue Western shirt from RRL worn with a black-cashmere shawl cardigan from Begg and dark-olive chinos from Blackhorse Lane.
There is a dark-brown surcingle belt with abrass buckle, just visible underneath the fold of the shirt. Not shown, on the feet, are brown-suede boots.
The combination is an example of the cold-colour wardrobe, given the dark, cold, muted shade of the trousers, black knit and pale shirt. There's nothing bright, warm or strong.
The only style choice that might stand out is the peek of a white vest. Which we'll get to in a minute.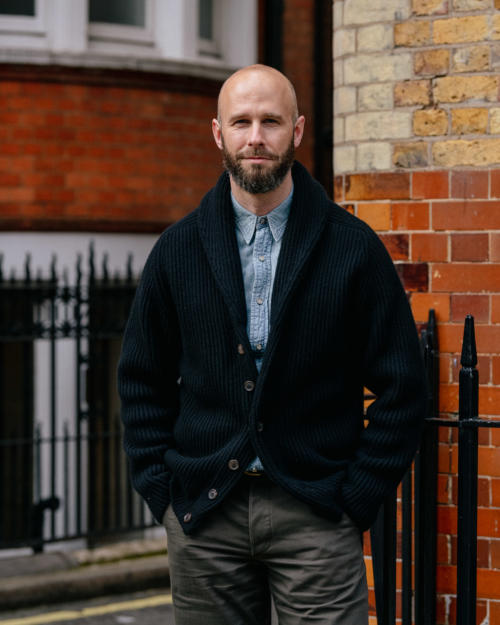 The combination's coldness and darkness mean it's unlikely to draw attention, despite actually being fairly unusual in its colours and textures.
That changes as soon as you do something quirky like button the shirt all the way up.
This is probably smarter, certainly warmer, and is particularly nice with a Western shirt because its front is so decorative: mother-of-pearl snaps topped off by a shank button at the collar.
I tried having a bespoke dress shirt made in this manner a few years ago, with a covered placket and then a domed button at the top. But it always looked a little odd.
It's still unusual with a Western shirt, but with obvious roots.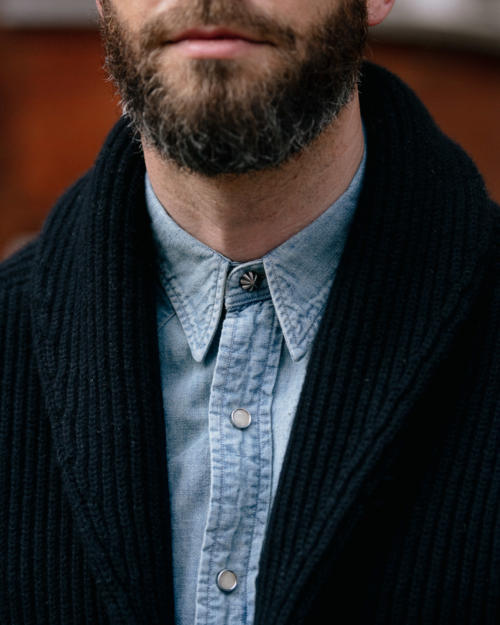 Of course, context is everything with clothes. Our feelings about them are almost entirely driven by experiences and associations.
(A point well made in our recent article with Ethan Wong, where in his milieu a bucket hat could be less unusual than a blazer.)
A buttoned-up Western shirt might be less unusual in parts of the US (though perhaps also have unwanted associations). In London it merely looks like a quirk, and one I like when it feels appropriate because of the weather or situation.
Actually, it's interesting to compare it to wearing knitwear similarly buttoned up, which we covered recently. I dislike that look for its associations with football pundits, but I doubt anyone in Texas would make the same connection.
One reason I dislike the way those pundits wear this style is they do so without a jacket. This leaves a lot of bulk in the body, and is unflattering unless you're in amazing shape.
It's the same with bow ties, with fine roll necks, and with this buttoned Western shirt. You're giving up the open V of a collar, and the long line of a necktie, so you need the V of a jacket or cardigan more than ever.
It's even better if that jacket or cardigan is fastened. Which is why mine is.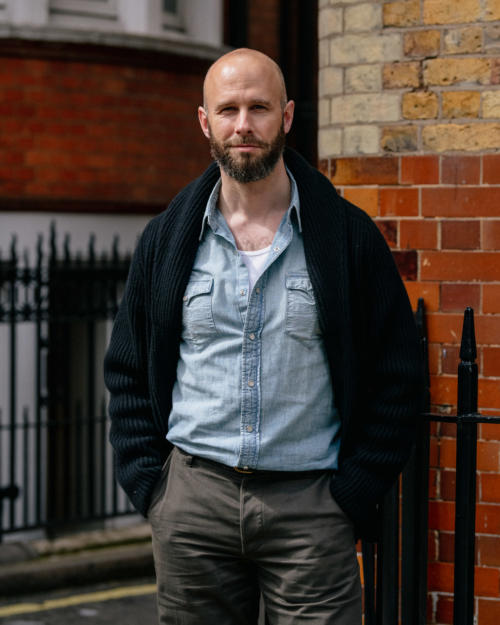 Returning to the vest under the shirt, this is something people will love or hate (again, largely based on associations).
On the positive side, it can look manly, workmanlike, redolent of manual workers and an older era. It can look sexy, a sneak peek of underwear, chest, the man beneath. Ethan and Jamie do it well, among others.
On the negative side, it can remind one of an old man, a string vest, a singlet. Something that - let's face it - very few men look good in without the shirt on top.
Those feelings can be substantially reduced by replacing the vest with a T-shirt, or a Henley-style vest. The T-shirt option looks American, more ranch, rather Ralph.
Whichever you go for, the effect is understated if just the top two buttons are undone, as mine usually are and is shown at the top of this article.
The more buttons you undo, the more you're pushing the look. One more is still pretty subtle and arguably flatters a T-shirt more, which is the only way I really wear it. With a vest (shown above) it makes me look a little pasty and a little skinny.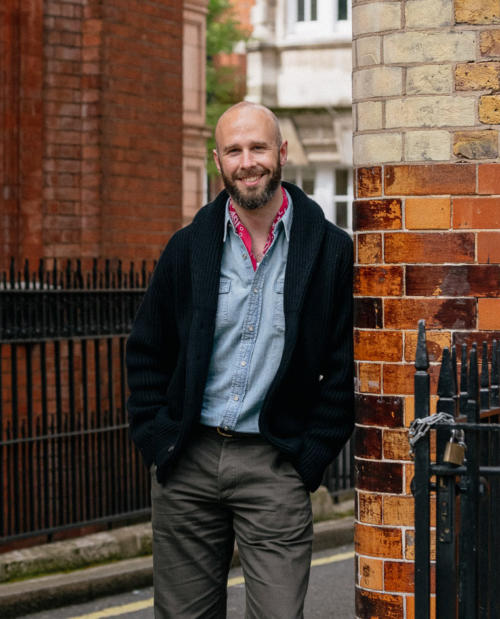 A final option. A red bandana underneath the shirt collar.
I'll do a fuller piece on bandanas at a later date. For the moment, I just wanted to highlight that this is a nice way to add colour, and is rather fitting under a Western shirt.
Interestingly, bright red is often the nicest colour with both Western and cold-colour combinations. Nothing else has quite the same pop, and it sits well with blues, blacks, and cold versions of both brown and green.
The watch cap shown here with the Wax Walker is a good example.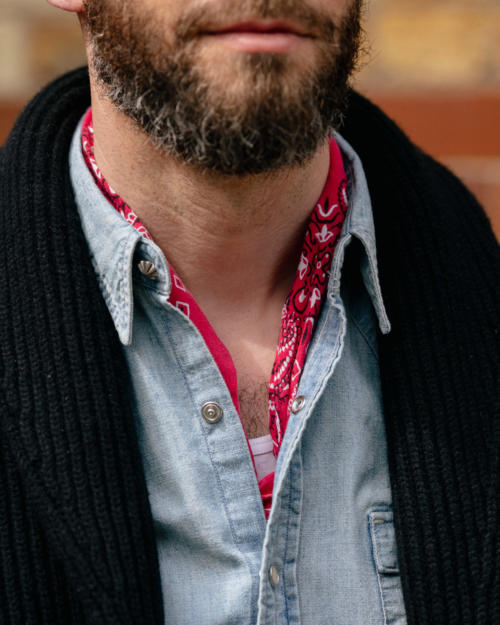 The cardigan, by the way, is the Yacht model from Begg & Co - perhaps the nicest piece from their expansion into knitwear.
It is in most respects the classic shawl collar we all know and love. But it's been modernised a bit, with the hip pockets removed, no ribbing on the sleeves and a straighter cut.
The cut is drapey, which some will prefer (and is probably more unisex). The sleeves are straighter too, though the downside of the lack of ribbing is you have to be quite precise with the length - otherwise there's nothing to stop it falling over the hand.
It does come in some unusual colours, like pink, yellow and black. The availability of the latter is the reason I tried it.
The shirt from RRL can be seen here. It's a nice fit and wash, but I do wish the collar were longer. The belt is from Anderson & Sheppard, here. The chinos will be reviewed separately soon.
Photography: Alex Natt @adnatt