Pink PS Oxford shirts available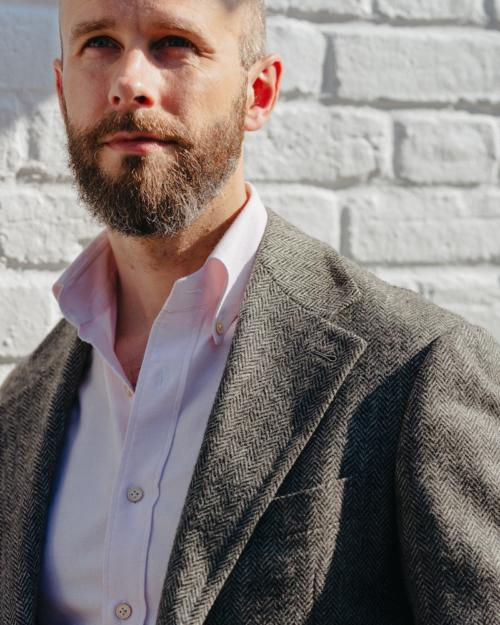 What can I say about PS Oxford cloth at this point? I've gone through the reasons I like it so many times, most obviously in posts introducing the blue, striped and white versions.
So this time I thought it might be good to focus on what customers say - as a way to launch this new, pink iteration (cloth and shirts).
I recently emailed a few hundred customers, as part of a process seeking feedback. It was the second half of a plan that began with last year's readership survey. Unsurprisingly, a lot of them had strong opinions, and welcomed an opportunity to share them.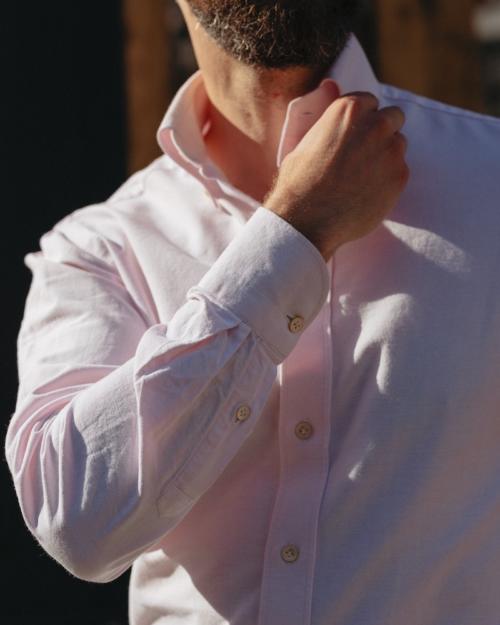 Here's what they had to say about the oxfords.
OZ: "I've bought your Oxford fabrics for shirts and I enjoy them very much - the pink one is currently being made by Luca in Naples. The fabric quality and feel is a lot better than any other Oxford I have had (rtw, mtm or bespoke)."
NM: "The PS product I've enjoyed the most is the Oxford shirting. I must have washed the light blue one (the first one I got) more than fifty times and it's become ever softer, while still holding its strength. The weight also means it wrinkles less. The texture and colours are understated, yet they're interesting enough that others have praised them."
AL: "I have the Oxford cloth (striped and blue): it's very versatile so I can wear it in formal, semi-formal and casual occasions. They're not too hard, as oxfords usually are (and therefore more comfortable) and are rough enough for casual matching,"
RGA: "I love the texture of the cloth, how it drapes - and perhaps at a more emotional level it is a cloth/shirt that I think will last for years and fray in a beautiful way, contrary to how my very expensive [business shirts] just get destroyed."
MH: "Favourite piece: my light blue Oxford cloth OCBD shirt. Always a pleasure to wear. Gets softer each time I do."
NF: "The cut and style are EXACTLY what I was looking for, but unable to find for a long time. I have many custom-made shirts which are wonderful for wearing a suit, but my day-to-day wardrobe has dramatically changed over the years. My "uniform" now is a sport coat, smart denim or slacks, casual shoes (chukkas, chelsea boot, etc.) and one of your shirts (the oxford or everyday denim). They just perfectly do the job where my custom finer cloth shirts would not."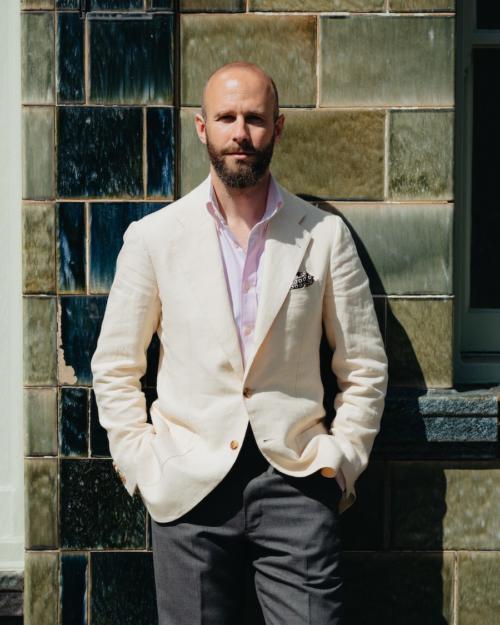 Nice, right? I was particularly pleased that people picked up on the things I really wanted from the cloth - something versatile enough for work and weekend, and which got better and better with age.
There were a few people who didn't like it too. Primarily because of the weight, as it is heavier than most dress shirtings. I wear mine 10 months of the year in the UK, but in a tropical climate that might be reduced to less than half the year.
And the fit of all the shirts is a little slim, which won't work for everyone. Unfortunately we can't afford to do multiple fits, but there is of course the cloth to send to a shirtmaker, for a more personal fit.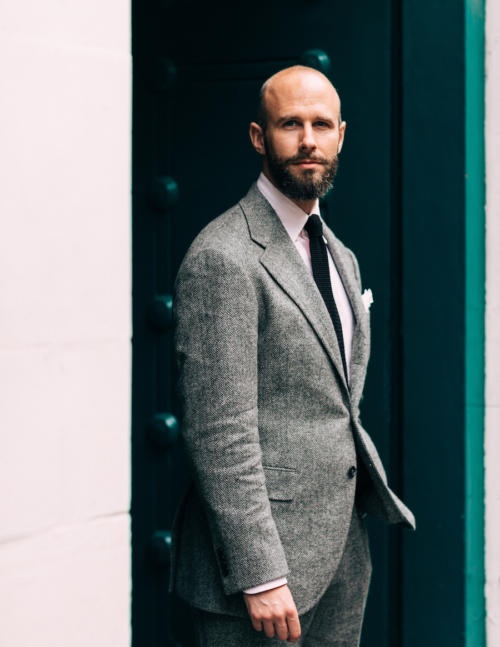 Today's article is intended to let everyone know the pink PS oxford is finally available. It's been on the site for a while as a cloth, but we received the finished shirts from Naples this week as well.
I've always worn a lot of pink shirts, and I think the reason is that they have both formal and informal associations.
On the one hand, pink is quite a corporate colour: a common sight with a grey or navy suit, and probably the most common colour after blue and white.
On the other, it is a colour, and has Ivy associations that make me picture it with an olive shetland sweater and khakis.
The PS pink oxford feels especially Ivy-appropriate because of the slubbier white yarn used in the weave, which gives it that irregular and washed-out feel.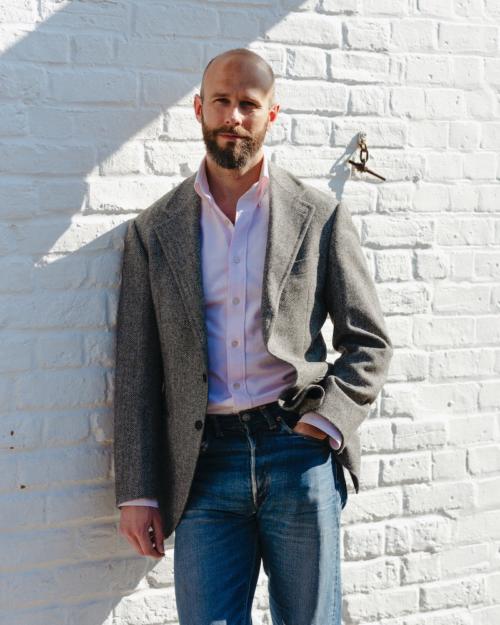 As a result, I wear my pink oxford with a navy jacket and grey flannels, but also with jeans, as shown here.
It's lovely against the grey herringbone of my Anthology tweed jacket, and with the faded blue of my old Levi's (above).
And a navy knit, like the geelong from Harley below, is just as nice as a navy blazer would be.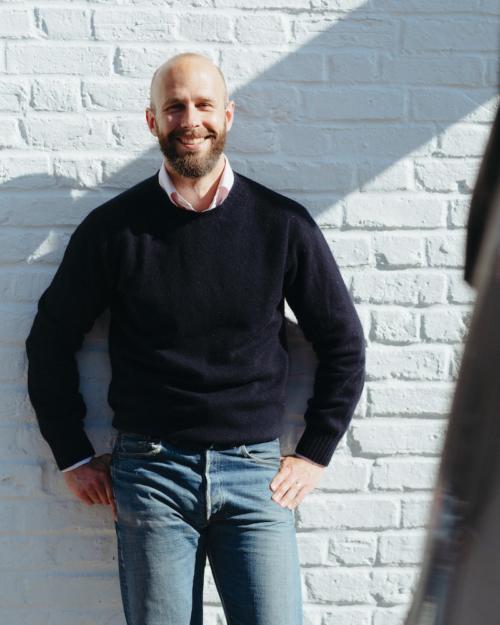 I also find that while brown-suede shoes are the safe choice, black loafers also work nicely - especially with grey trousers or a grey suit.
Below are two selfies from the Lockdown Looks post, the right of which shows a very similar outfit to the one above, but with black 'Luna' slippers from Baudoin & Lange.
The left-hand photo also shows that burgundy cordovan (here, Alden full-strap loafers) is nice with the pink and darker denim. Plus that green shetland.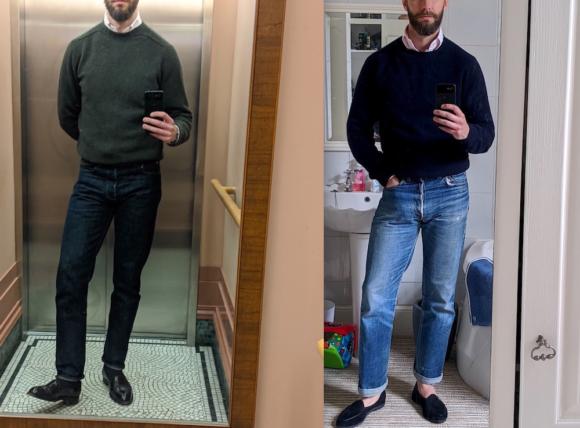 The pink oxfords are made with the same rolling collar as the other PS shirts, the same body fit, and the same quality - in Naples, with hand-sewn sleeves, collar, buttons and buttonholes.
If anyone is unfamiliar with the PS Oxford cloth in general, here is a brief summary:
The PS Oxford project was born out of a frustration with the lack of robust, authentic oxford cloths available for bespoke.

The bespoke shirting market still focuses on dress shirts, and this natural-feeling cloth isn't available. So we worked with Italian mill Canclini to make one.

We wanted: heavier weight and thicker yarn, to make it more comfortable and soften with age; and a subtle variation in the blue/white yarns that leads to that nubby, natural appearance.

The texture comes from using a short-staple cotton, so the weft of our PS Oxford is single-ply 10-count.

But in the warp we used two fine yarns (both of them two-ply 90-count), instead of another single ply.

This keeps the thickness and character, but also avoids some of the downsides of short-staple cotton, such as pilling.
For everyone else, if you're interested, the shirts are available on the PS Shop site here. Looking forward to hearing what all those existing customers think of the new colour.
Photography: Alex Natt @adnatt