The velvet jacket and modern evening wear, in Cifonelli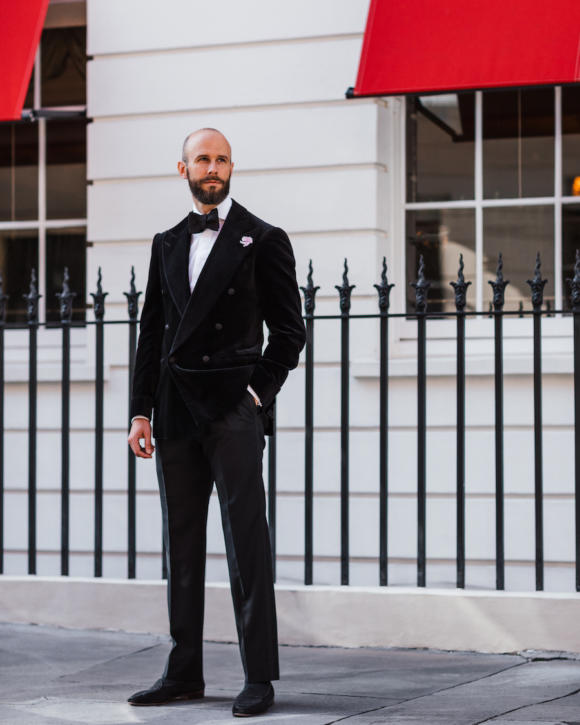 This article concerns two things.
First, the pluses and minuses of the Cifonelli 6x1 style, as this is the first jacket I've had from them in their well-known cut.
And second, the benefits of a velvet jacket without silk facings - and how it can create a more versatile jacket covering both black tie and other evening events.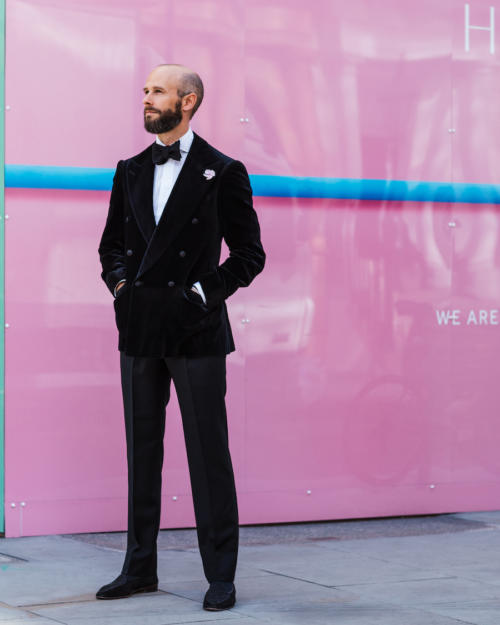 Looking at the 6x1 first: this is a style of double-breasted jacket with the standard six buttons on the front, but where the lapel fastens on the bottom row.
Compared to the more usual style, where the lapel fastens on the middle row, this means the lapel is longer, usually wider at the top, and as a result more dramatic.
Cifonelli are not the only tailor to cut this style, but it is one they are known for.
I've generally not chosen it in the past because I felt it was too showy, and dandy. I've had two jackets in a standard buttoning instead - a grey herringbone in 2013 and a denim in 2017.
But I always said the style would be best in a show piece, such as a dinner jacket or velvet. And so that's what I went with in this commission.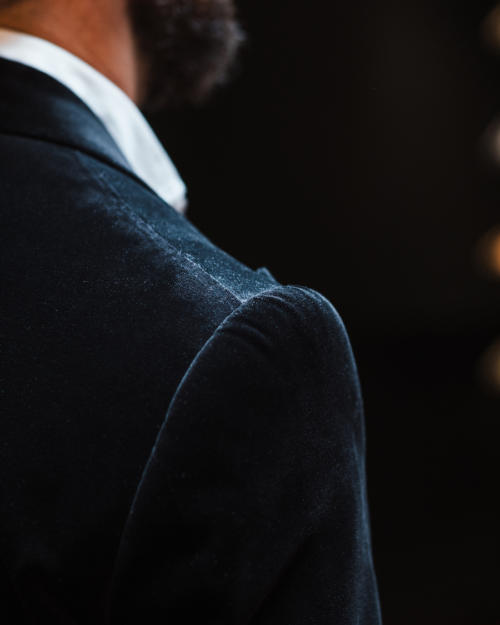 The result is, of course, absolutely exquisite. No details or review are needed of the workmanship of Cifonelli. It is the equal of any in the world.
[If you want more information or background, there are several years of coverage, visits, detail and review under the 'Cifonelli' label under Brands.]
I did have a few issues with the fitting with Lorenzo, basically in getting the shoulders large enough. Everything else was nailed first time, but it took a little back and forth for me to feel there was enough room there.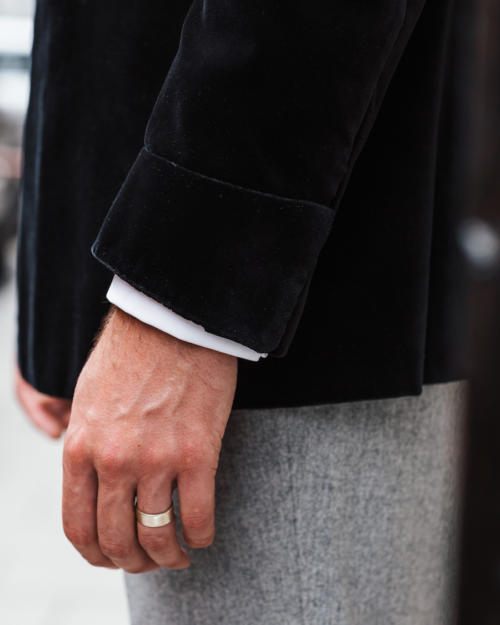 Aside from the button fastening and the lapel facings (which we'll get to later), the design of the jacket was pretty classic.
Jetted pockets, turn-back cuffs, two vents (I generally dislike ventless jackets, as I like to use my trouser pockets), and grosgrain-covered buttons.
The trousers are in a lightweight wool, with grosgrain running down the seams and on the waistband (I'll try and take some pictures of those later).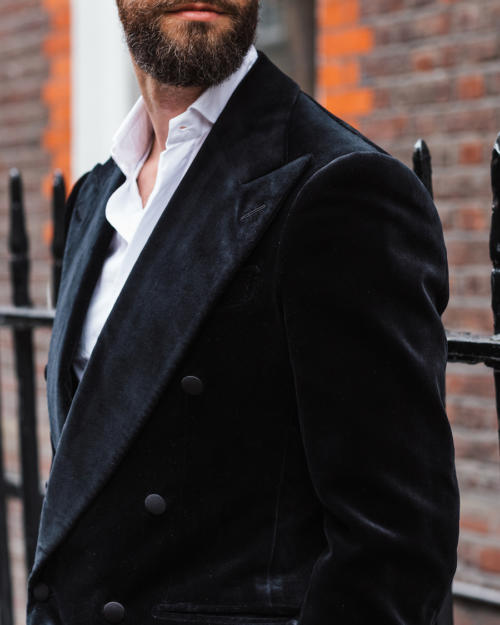 So does the 6x1 work?
Well, having one of my own and wearing it a few times, has I think borne out my thoughts on it.
Which is that it is certainly dramatic, and has real pluses and minuses.
The drama of the lapel means I don't think this would ever be suitable for a business suit or a casual jacket. Show piece feels like the right phrase.
But it definitely has advantages. It opens up the chest, creates a long diagonal line (not dissimilar to a military sash) and throws the eye up towards the shoulders.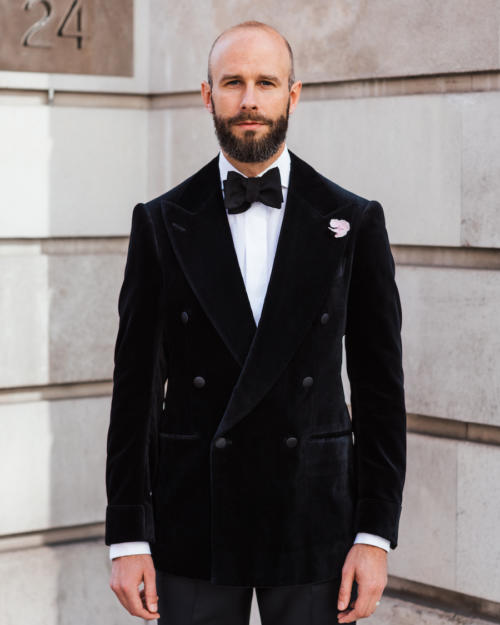 On the downside, it makes the bottom of the jacket - below the fastened button - very shortened. There is no shape or flow to the skirt.
This is not a problem when using the trouser pockets, moving, or standing in some way that opens the bottom of the jacket. But when still, you do notice that lack.
I think it still flatters me, but I also think it perhaps flatters shorter men more - who are more in need of that length to the lapel, and more prepared to lose the shape in the skirt.
Another small disadvantage, which didn't occur to me in advance, is that the breast pocket is almost entirely covered by the lapel, making it impossible to wear a pocket handkerchief.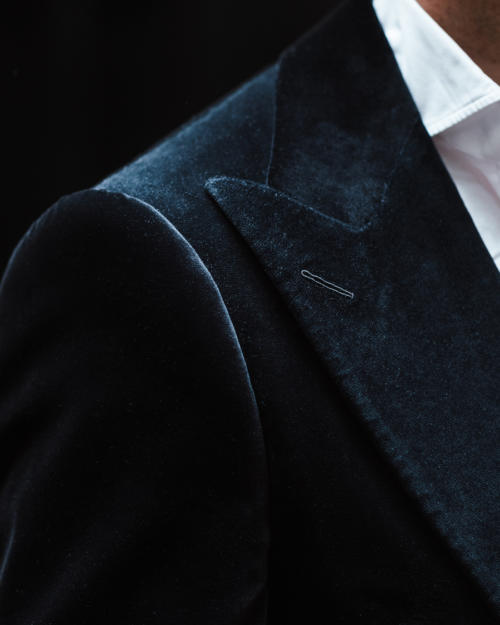 Now for that style point: the lack of silk facings.
All dinner jackets, and most velvet jackets, have a different texture on the facings, showing on the outside on the lapels.
It's normally satin or silk grosgrain, with the latter the better choice (satin is cheaper and can look cheap).
However, the disadvantage of this style is that it can restrict the jacket to black-tie events. These have an admirably narrow dress code, which creates a pleasing, communal elegance (please, no showy bow ties or cummerbunds).
The idea with this jacket was that it would be still wearable as black tie (below), but could also be a little more casual, for a dinner party this time of year, for example.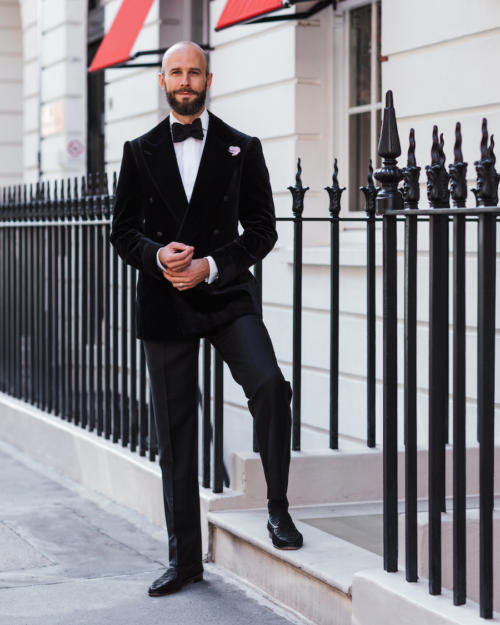 This is particularly interesting theme, for me, because men are increasingly wearing tailoring for these kind of evening events, rather than to the office.
It's smart evening wear, rather than smart day wear.
We touched on this topic in our recent talk with Saman Amel. They find in Sweden that customers might wear streetwear during the day, but still want to be dressed up for a party in the evening.
That might mean they commission a black-linen suit from Saman Amel, and wear it with a black T-shirt.
I wouldn't wear that combination personally, but it follows the basic principles of evening wear: to dress simply in dark tonal combinations, with an emphasis on cut and texture.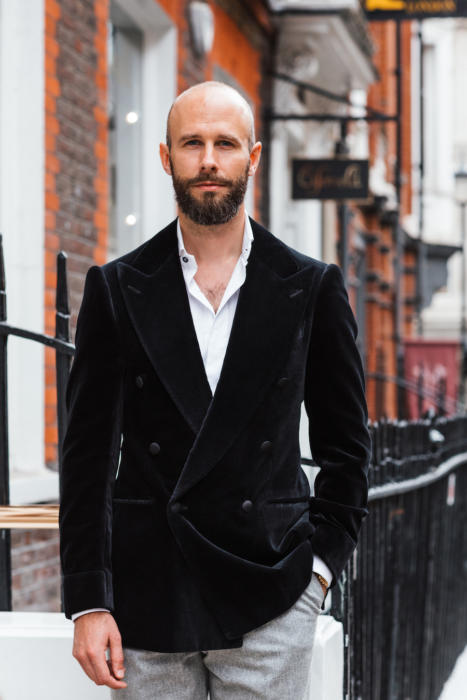 With this Cifonelli jacket, then, I would wear it as black tie but also with a white open-neck shirt (above), or with a dark roll neck.
This velvet with a charcoal roll neck, and cream trousers, would look extremely elegant. But it certainly wouldn't be black tie.
Equally, a white open-neck shirt with pale-grey flannel trousers is certainly not formal, but still looks very elegant.
The shirt I'm wearing here is perhaps not a great example: the collar works fine with the bow tie, but is a little low to function on its own. I'd prefer something a little stiffer and higher.
But hopefully the principle comes across. Again, I'll take shots at some point of me in the roll neck combination too.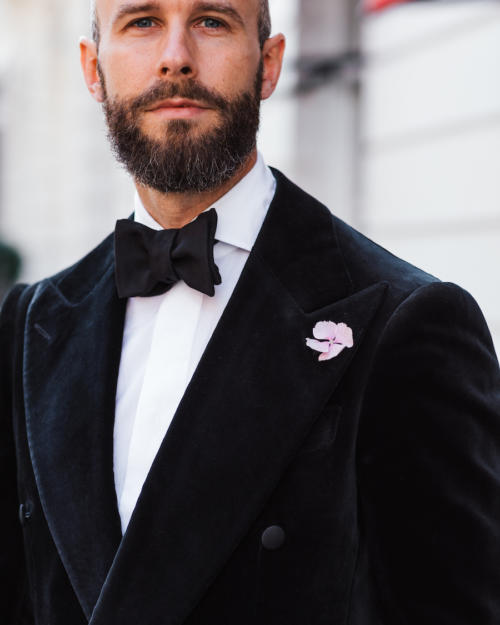 That shirt is from D'Avino. It's a style of shirt I like for black tie: a superfine cotton with no Marcella or pleats, just a covered placket. It also means it can be worn with a regular necktie too.
The slippers are from Baudoin & Lange, in alligator and suede. Which I like but feel that, on reflection, the black-tie outfit could do with a little more shine. Having that contrast with the trousers would be nice.
The bow tie is also from Cifonelli, in grosgrain to match the buttons. I usually wear a thinner bow with a tighter knot, but don't mind this looser, chunkier one with the velvet.
The cream trousers are in wool gabardine - old ones from Anderson & Sheppard. Beautiful but rarely worn.
The boutonniere was from a flower bed nearby. I do love a flower when I get a chance to wear one. Just like the fancy silk of a necktie, it's the kind of decoration men should grab the opportunity to wear when they can.
Photography: Milad Abedi @milad_abedi
Price of velvet Cifonelli jacket in this style: €5500