Bespoke double-breasted denim jacket – from Cifonelli, Paris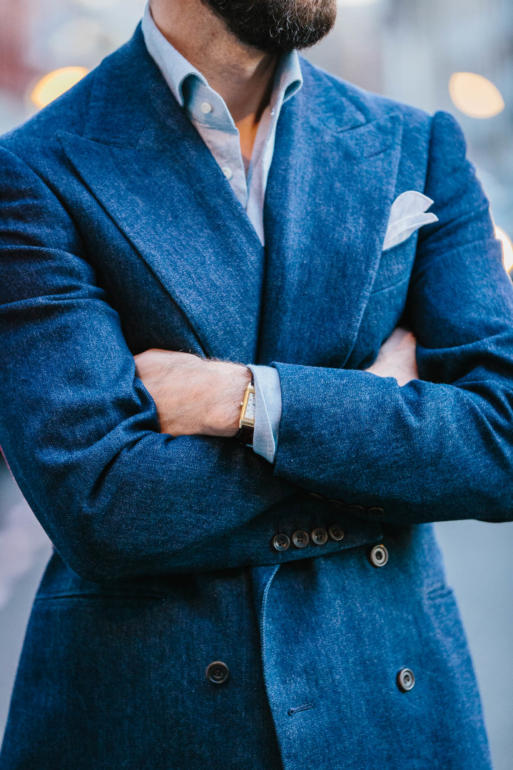 The attraction of denim for the modern, sartorial man is easy to understand.
In an age when clothing is increasingly casual, making tailoring less formal through the use of casual cloths is attractive.
It retains the benefits of tailoring - the elegant lines, the flattering silhouette - but avoids alternatives like shrunken sizing or bright colours and patterns.
We have seen as a result, in recent years, a big growth in denim suits, cloths, shirts, even ties and shoes. As well as many indigo-dyed items that aim for something similar.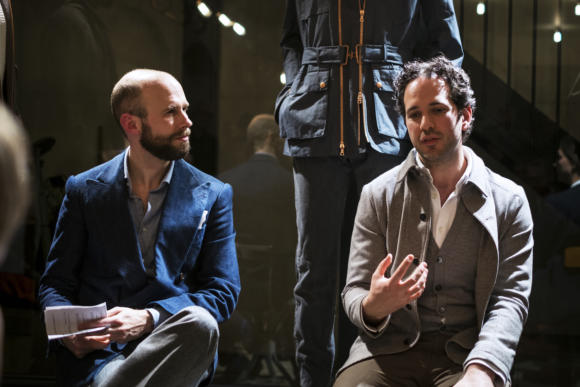 I wear denim shirts regularly, but have tended to avoid it in tailoring. (As well as steering well clear of denim shoes and ties).
This is because unfortunately, the very things that make denim attractive also make it difficult to tailor.
Its coarseness and stiffness are what make it a pleasure to wear in, beautifully personal as it fades, and hardy enough to last for years.
But coarse, stiff materials do not tailor well (particularly in a jacket, particularly when cotton).
They have no drape and are harder to shape with the iron. They risk losing those very benefits of tailoring we're looking to retain.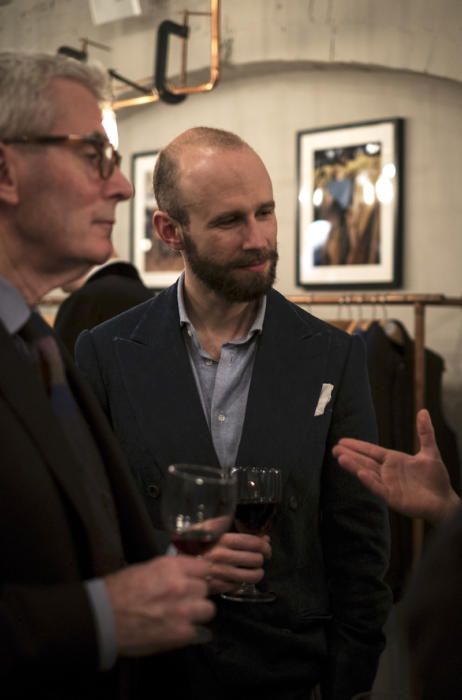 I made my first exception to this approach last year with Parisian bespoke tailor Cifonelli.
The prime reason was the material. It is a heavy Japanese denim, but uses a slightly finer cotton than normal denims to make it easier to tailor.
For me, this is a better approach than trying to reproduce denim in wool (as Zegna have done, for example), using lightweight cottons, or sticking with regular denim (see Timothy Everest, Richard Anderson and others).
Its fineness means it won't wear in the same way as a normal denim, but it is the same in every other respect - the weight, indigo dye, the 3x1 weave.
Unfortunately, Cifonelli aren't willing to talk about their supplier, so I cannot confirm how to source the same material.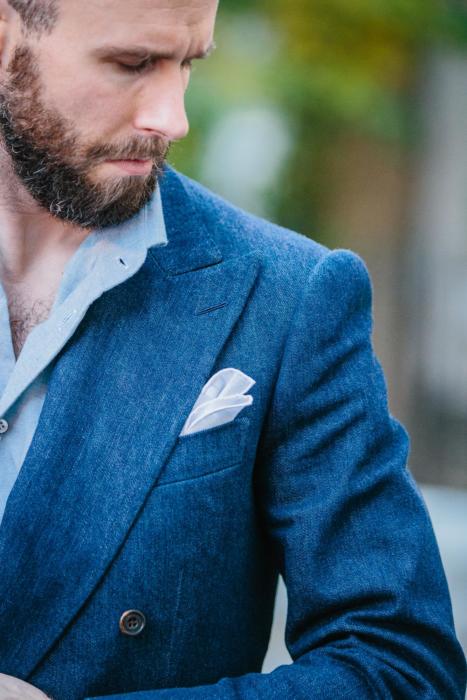 The style is a typical Cifonelli double-breasted, with wide, curved lapels.
But I deliberately avoided their 6x1 configuration, where the lapel is cut to fasten at the bottom button. It's distinctive but - for me - a bit too showy.
The buttons are dark-brown horn, the lining a matching silk, and the finishing (of course, being Cifonelli) absolutely superb.
Ferdinando Caraceni used to say about cotton suits that the cheaper the material, the better the finishing should be - to raise it up and exalt it.
This is certainly not a cheap material, but it doesn't have the luxurious richness of wools, and the Cifonelli finishing sits very well on it.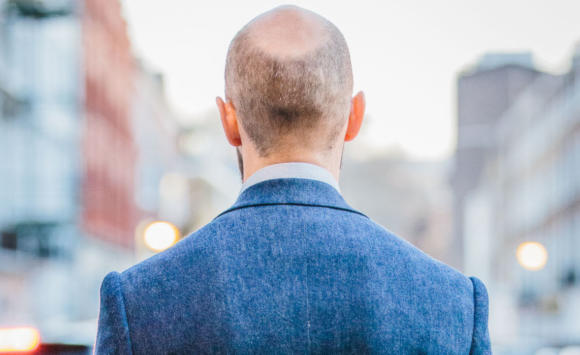 There's almost no point mentioning the fit, it's so good.
We did take three fittings at Mark's Club (where Lorenzo now sees clients) to get it perfect, but perfect it is.
The only thing I might have changed was to have a softer shoulder - Cifonelli do a version of a shirt shoulder, and I might have been better going for that.
It would have made the jacket a little less dramatic and easier to wear with more things. Although the lapels are pretty dramatic as it is.
It's something I can always change later on.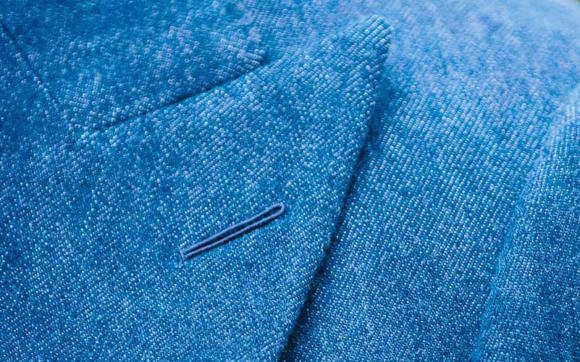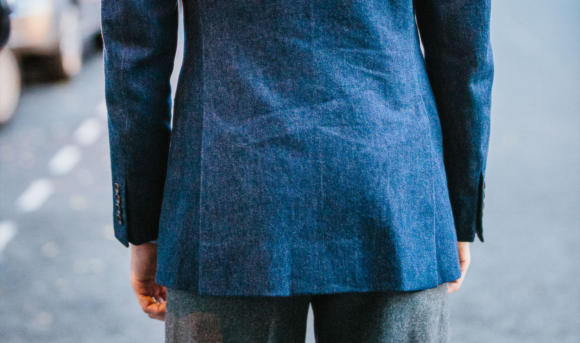 In other regards, the jacket is wearing in nicely. A heavy cotton is a wonderfully comfortable and reassuring thing to wear, even if it is less practical than wool.
I'll be interested to see whether the material starts to wear and fade.
This is likely to happen less at bend points - such as the inside of the elbow, where you would expect it on a regular denim - and more at the openings to the pockets, the edges of the cuffs and so on.
I've already experimented a little with a pumice stone on one or two areas, to see how that wears the cotton, but I want to avoid any chance of that being too much, too artificial.
I certainly don't want to start washing it, which I know Cifonelli can do and I've seen work with some success.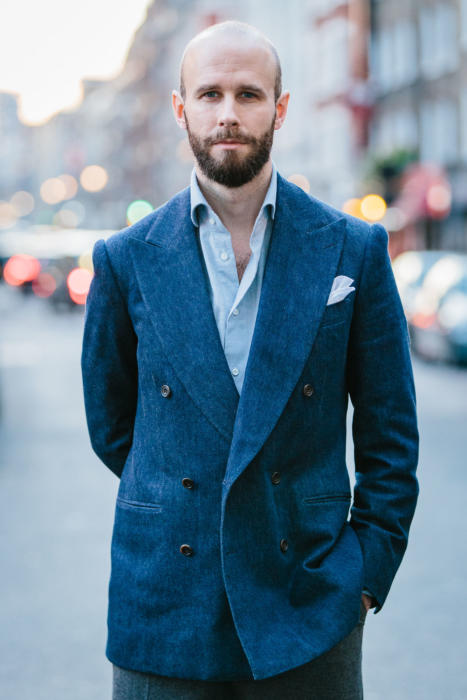 Oh, and this is actually part of a suit - in that a pair of matching trousers was made at the same time.
I'm unlikely to ever wear them as a suit (it's all rather too 1970s), but the trousers themselves are beautiful, and again incredibly comfortable.
I'll include them in a separate post at some point.
The cost of the suit was 6000 euros.
In both sets of pictures I am wearing:
Brushed cotton shirts by Simone Abbarchi
Linen handkerchiefs by Simonnot-Godard via Mes Chaussettes Rouges
Grey flannel trousers by Anderson & Sheppard
Exterior photography: Jamie Ferguson @jkf_man
Interior photography: Private White VC, taken during our talk on British manufacturing.