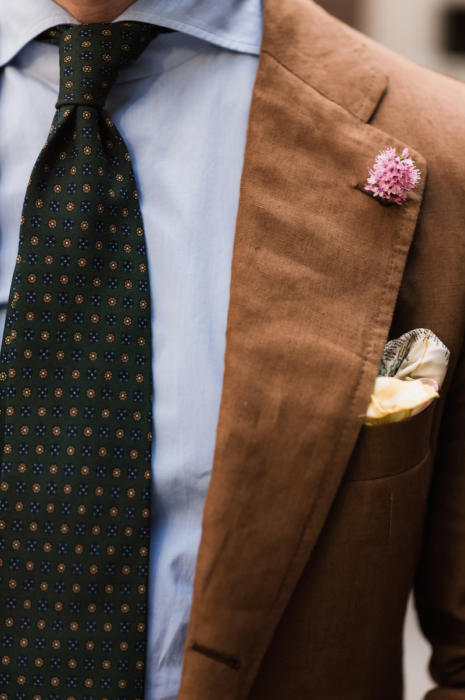 I like wearing a boutonniere – or buttonhole – on more formal or celebratory occasions. Mostly, I think, because it is another opportunity to play with colour. Having come up with a pleasing combination of suit, shirt, tie and handkerchief, selecting a flower is one more challenge and chance for expression.
I also like the fact that doesn't seem that fussy. Unlike many other formal additions – double-breasted waistcoats, tie pins, collar pins etc – it seems like a light-hearted, playful item. That ever-present risk of taking yourself too seriously – or at least appearing so – is mitigated.
The images here illustrate the range of appropriate colours. Despite the richness of colour elsewhere in this outfit – tobacco linen suit, blue shirt, green tie, yellow handkerchief – all three of these flowers work well.
Cream (below, from a white hydrangea) is the most versatile colour for a flower. Because cream is rarely worn elsewhere, it will be a compliment to rather than a mere mimic of a white shirt or white hank. And even when there is no white present, as here, its lack of strong colour prevents it clashing with anything.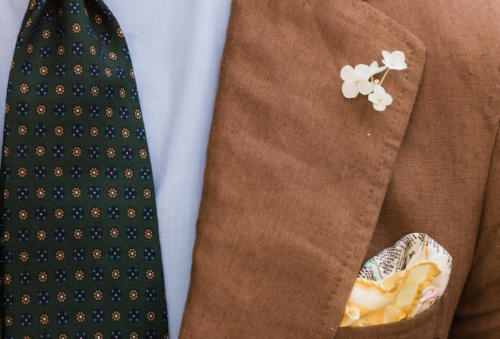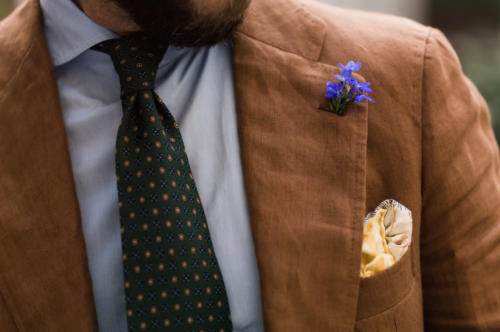 Cornflower blue (above, a lobelia) works by picking up the blue shirt and adding a stronger, deeper tone to it. It also highlights an important point: that you can get away with much stronger colour in a boutonniere than you can with other accessories.
That strong blue would have been out of place as a handkerchief, dominating all the other colours around it. But as a small, prick of inspiration, it is an attractive accent.
Finally pink (shown top, scabious I think) is not reflected anywhere else in the outfit, but was a candidate for a tie or handkerchief. A reader suggested that last time in the comments, and while I considered it, personally I think that would have been too long strong a colour to work with everything else
As a boutonniere, however, it is perfect. Again, stronger colours can work here where they would not elsewhere.
In closing, a small plea to keep flowers small, even at weddings. No one needs a massive, artificial arrangement that weighs down the whole lapel. Keep it light, keep it small and keep in natural.