Last Friday was annoyingly cold, and damp.
Combinations of subdued, rich colours always give me the most pleasure - but it felt particularly appropriate on a day like this.
The textures of the three pieces also went well together: the fuzzy surface of a serge trouser, fluffy cashmere knitwear, and a matte cotton-twill jacket.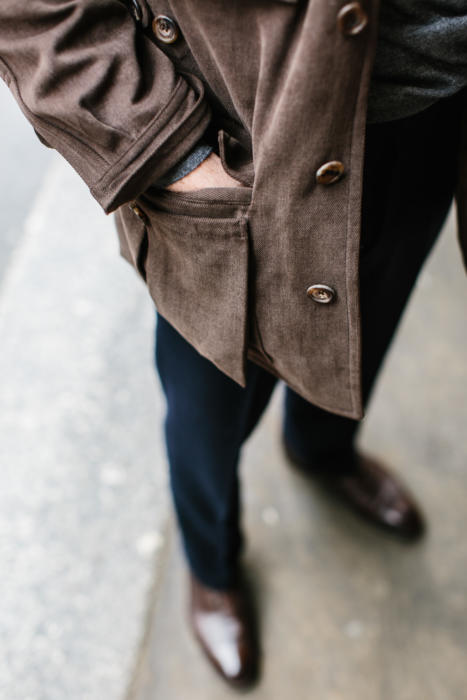 The trousers are those featured last week in my recent commissions from Whitcomb & Shaftesbury. Their texture is a result of the cloth's weight and short-haired woollen yarn (despite not being milled, like flannel).
The knitwear is a lightweight polo-collar cashmere/silk model from the Anderson & Sheppard Haberdashery, which is soft and lightweight. (But could be a little slimmer in the body - I wear a small).
And the Travel Jacket, also from the Haberdashery, is a heavy cotton that is smoother than the other two, and a nice foil to them with its muted grey/brown colour.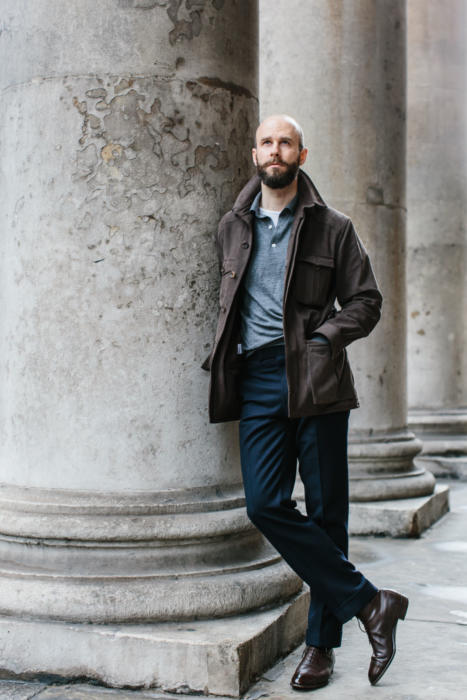 When I posted about the trousers, readers asked what I would wear them with, given I don't usually wear navy trousers with sports jackets.
This A&S jacket is a great example - something well made but not tailored, which could have been worn with chinos but is dressed up considerably by having these on the bottom half.
It's a point I've made before, but bears repeating: a well-cut formal trouser is a really effective way to dress up an otherwise casual outfit.
I wish more guys that don't have to wear tailoring to the office would consider something like this, or flannel, with a casual jacket on top.
It works equally well for tailored linen trousers in the summer.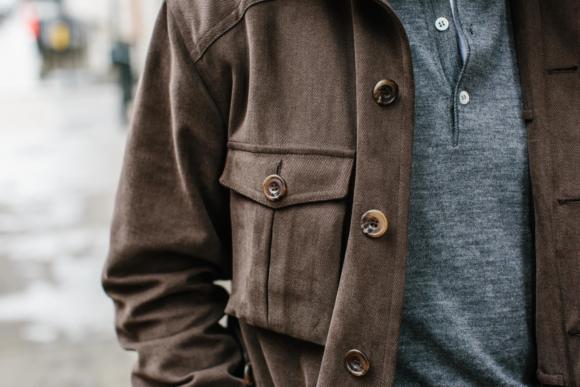 The jacket, by the way, really needs to be tried on and worn for a few minutes to be appreciated.
The heavy drill-cotton is wonderfully reassuring and comfortable - as only cotton can be. It feels like it moulds to the body.
It's not quite as practical in the rain as a wool or waterproof, but it should also wear in nicely.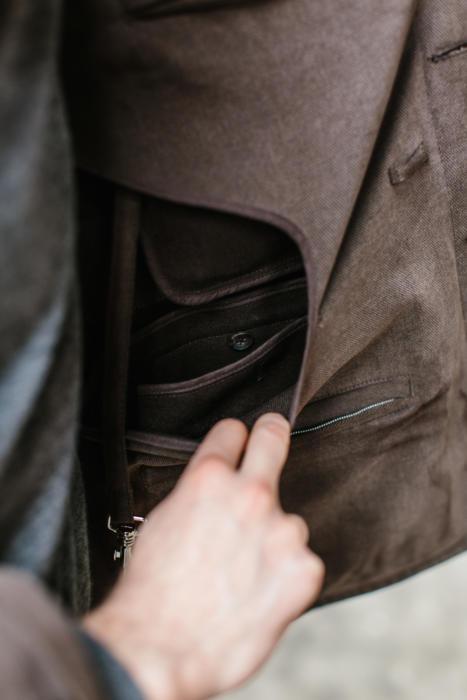 The main reason I've hung back from getting one of these A&S travel jackets is the price. At £1750, they're surprisingly expensive.
They're made in Italy, in a great cotton and with matte horn buttons - but the biggest reason for the cost is the huge number of bells and whistles.
I think there are 15 pockets on the whole thing, but I may have missed one.
On the left hip alone there is an external patch pocket, with internal card pockets, a plunge pocket behind that, a zipped card pocket on the inside, another buttoned large pocket in the lining, and a space for keys on a strap behind that card pocket. You can see the last three in the image above.
It's insane. Yet the total effect is not bulky - unless you fill them all with stuff.
I'd highly recommend it, and there are other colours as well as some in corduroy, but you may have to fall in love with it to justify the price.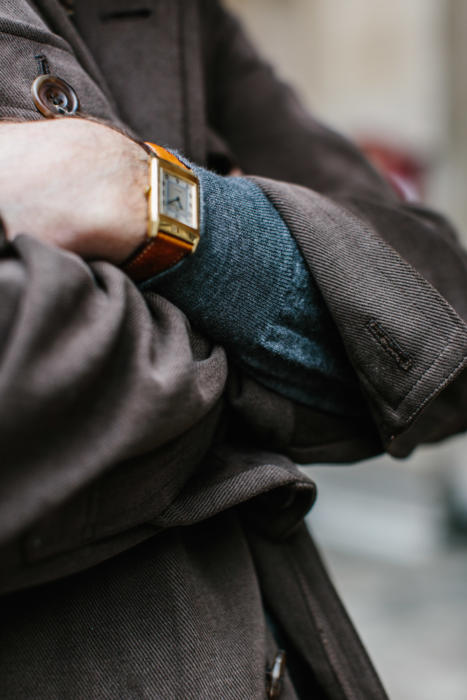 Elsewhere in the outfit are:
Photography: Jamie Ferguson @jkf_man