Pop-up shop: The brands and the opening party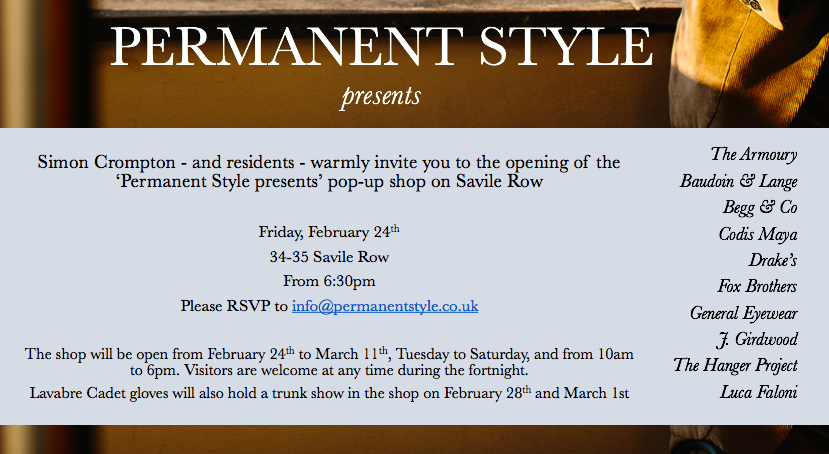 Following last week's announcement of our pop-up shop on Savile Row - under the banner 'Permanent Style presents' - here are some details of the shop and the brands.
I also include an invitation, above, to any readers to come to the opening party on February 24th.
It should be fun, with a new Permanent Style collaboration also launching on the day. If you could RSVP, to make sure we cater correctly, that would be very helpful.
So, to the brands.
Our guiding aim at the start was to bring in products that Permanent Style readers would appreciate - but cannot currently see in London.
That's why we approached Baudoin & Lange, for example.
Allan Baudoin is making simply the best Belgian-style slippers anywhere at the moment, but as he doesn't have a shop, people can't appreciate that for themselves.
Shoes are also particularly tricky as you really want to try them on for size. Now you will be able to.
Luca Faloni I invited with a similar aim in mind.
As I have written about previously, I love his cashmere knitwear - which feels like a wardrobe staple, but is also the finest quality out there (on a par with Loro Piana).
And the fit is great, but again something you'd want to try in person.
He will also have some his shirts, particularly in brushed cotton.
The Armoury, I think readers in London will agree, is a shop we dearly wish we had here.
And so we invited them to send over some of their product, particularly focusing on trousers (love the chinos and denim), bags (Frank Clegg and Ortus) and some other distinctive Armoury pieces, like their lapel chains.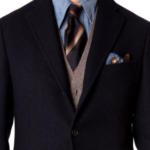 Including The Armoury worked well, because Drake's had asked to have a section - as their shop will be closed for refurbishment during most of our tenure - and the two brands could be managed by the same staff.
So we will effectively be the Drake's shop for a couple of weeks.
I have picked some of my favourites to include, focusing particularly on tailoring and summer-print ties.
Fox Brothers was next, both as an online retailer in Merchant Fox (another online store without any retail) and as in Fox cloth, of which there will be a selection curated by me, for readers to select cuts of.
There are two brands here that readers won't know very well, Codis Maya and General Eyewear, but which fit into something of the same mould.
Codis Maya is a British maker of some of the finest enamel cufflinks, but is rarely presented under its own name.
General Eyewear, meanwhile, is a bespoke and vintage glasses company based in Camden. Both have coverage coming up on Permanent Style.
Added to these were Begg & Co - who have wholesalers around London but no dedicated retail, or a focus on the scarves I wear and have featured.
And The Hanger Project. Kirby Allison now has a UK site and warehouse distributing his hangers, garment care and shoe care, but no retail presence.
Which leaves just two, more personal exhibitors.
J. Girdwood is a new brand being launched later in the year by my friend and ex-Drake's man James Girdwood. It will offer a range of clothing and accessories, and James will also be the day-to-day manager of the Permanent Style shop. This couldn't have happened without him.
In that guise, he will look after the Permanent Style section too, when I cannot be there. As mentioned previously, we will have our books and polo shirts, plus a couple of new launches.
Then there are the trunk shows.
Four are currently confirmed:
Stefano Bemer shoes on the opening two days, Friday February 24th and Saturday 25th
Lavabre Cadet gloves the following Tuesday and Wednesday, February 28th and March 1st
Luca Avitabile and Luigi Solito on the middle weekend, Thursday March 2nd to Saturday March 4th
And Sartoria Formosa, for their UK debut, from Thursday March 9th to Saturday 11th
It's going to be quite a ride. Please do come along and support all of us.