Brand round-up: Alexander Kraft, Loic et Gil, Christian Kimber, Asket
The next in our regular installment of small brands doing interesting things looks at some ties, handkerchiefs and knitwear.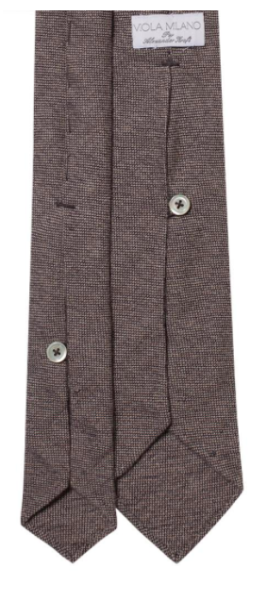 Viola Milano x Alexander Kraft
First up is a collaboration between Alexander Kraft and online accessories company Viola Milano.
Kraft has designed a collection of nine 9-fold ties, unlined, in either cashmere or a small-knot silk grenadine.
The extra folds and unlined nature of the ties emphasise the craft aspect of Viola Milano, while the latter is intended to make the product more about the material and less about the lining - bringing you closer to it.
Whether this approach appeals will be largely personal and subjective. The lack of structure and multiple folds makes the cashmere in particular softer and free-flowing: the ties lose their clean lines, but replace them with a louche, casual look.
While also subjective, I'm clearer on the width of the ties, which I would prefer to have been 9cm rather than 8cm. It might even have helped control that loucheness.
The colour selection, on the other hand, is perfect, as you would might expect from Kraft's classical leanings: charcoal, navy, pale grey, and my favourite, the natural.
Loic et Gil
Kraft's colours certainly come across as more sophisticated than new French tie brand Loic et Gil.
So many people launch tie and handkerchief brands today, often because the minimums are small, manufacturing can be done fairly easily in Italy, and the lack of sizing makes both online sales and stock easier to handle.
It's rare that these new brands actually do something original that shows how traditional and stuck in their ways the established producers are.
Loic et Gil say they launched out of a desire to do just this, but the vast majority of the designs look like simpler, cheaper versions of designs that Hermes, Charvet or luxury marques like Bulgari have been doing for a long time.
They are well made but have little else to recommend them, particularly given the price (183 euros compared to Viola Milano's 144).
Christian Kimber
Someone that is producing genuinely different and strikingly modern accessories is Christian Kimber.
Christian and I know each other from long ago days with Lodger, but given he is now in Australia (with a new shop - congrats there) I see him pretty rarely.
It was only recently that I started wearing his handkerchiefs, therefore, although they've been around for a while.
The hanks are all silk/wool blends, which is instantly less showy, less traditional and easier to wear that silks. I have several from Drake's unicorn prints that I wear on rotation.
But unlike Drake's, Christian's designs owe nothing to traditional squares. They are simple, abstract, and combine muted shades of grey, pink, blue and green, often separated by cream rather than white.
Most importantly perhaps, they pay particular attention to the borders of the square, which often combine two useful colours, and are sometimes broken up. This makes them especially practical when arranged in the pocket.
Asket
A Swedish brand, Asket offers casual basics such as T-shirts, knitwear and polos.
Their pitch is about being transparent, delivering value, and producing essentials.
Much of this is not that unusual. Any online-only brand can deliver better value to the customer than one with a store. Many today have dispensed with logos and traditional marketing. And most are happy to say and show where their things are made.
But Asket are doing a couple of things which are different. The most striking one is offering three different 'lengths' alongside regular sizes. So there is a short, medium and long for every size from XS to XL.
For someone like me, who is forever trying to decide whether he wants a T-shirt that is right for his height or right for his waist, but knows he cannot have both without searching dozens of different brands, this is very welcome.
The other thing that stands out is Asket's breakdown of its pricing, showing what it pays for raw materials, labour and shipping.
Of course, this often raises more questions than it answers. It is also a little disingenuous in suggesting that designer brands simply multiply the same costs, rather than having extra costs they choose to carry. But I can see it going down well with customers keen on transparency.
And most importantly, the quality is good. I tried the 30-euro T-shirt and the 195-euro cashmere sweater, and you'd be hard pressed to find the quality at this price anywhere else.