J Mueser made-to-measure jacket: Review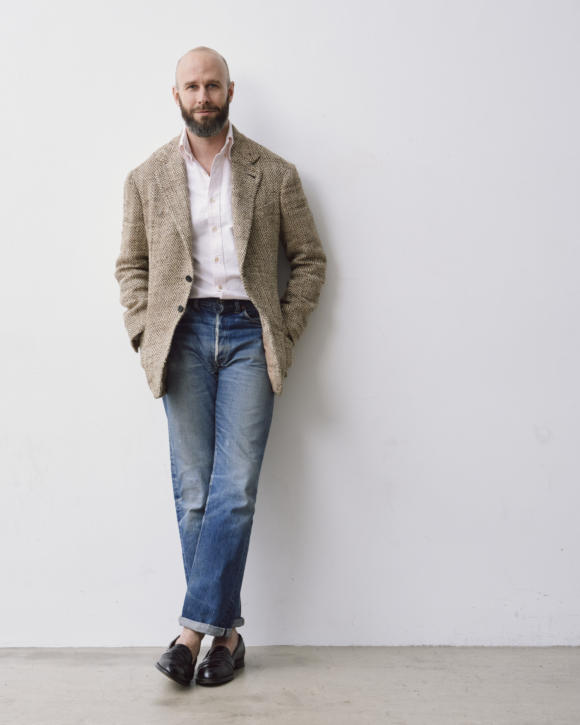 Jake Mueser made me this made-to-measure jacket over the past six months, entirely remotely.
We had one hiccough, but the result was still good and I'd recommend it. It is a solid MTM jacket, in an unusual cloth that I think also highlights Jake's taste and style.
The hiccough came with the third fitting, when an attempt to deal with splaying vents led to the workshop making the jacket rather too long.
New fronts had to be cut for it, and the jacket remade. But the end result was good and I have to say I'm really looking forward to wearing it this summer.
But let's back up a little. Jake (above left) runs a small shop in New York under his own name, J Mueser. He's based on Christopher Street down in the West Village, though has also just opened a temporary store in midtown, in Rockefeller Center.
You may have seen Jake or his colleagues on social media, or around at Pitti, doing a decent job at showing how tailoring can remain both contemporary and stylish. Given the relative lack of good tailoring in New York (beyond the quality default of The Armoury) I was interested to see how effectively Jake was filling this gap.
The only suit I'd seen up close was one Jake made for my friend Jamie a couple of years ago, and that seemed fairly basic - none of the things like a hand-attached collar that I'd look for in a quality (non-bespoke) suit.
It turns out that was an example of Jake's lowest of three tiers of tailoring - the 'Campania', which is offered as ready-to-wear and made-to-order, starting at $1650. The level I'm more interested in is the 'Waverly', which begins at $2450.
Both are made in Italy but the former is a more industrial product, while the latter is cut by hand and made in a smaller workshop.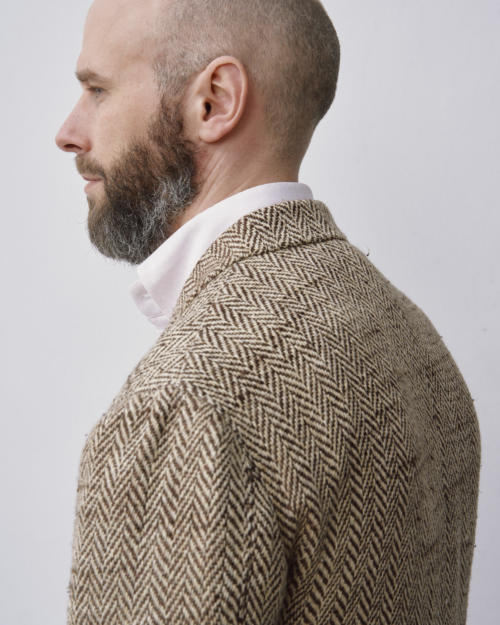 Above both of these is a real bespoke product, known in 'Mayfair', which is made in New York by a group of local coatmakers.
I personally dislike 'bespoke' being used so prominently on the website, given only one of the offerings is at that level. But the word is used pretty broadly, particularly in the US, and Jake describes the top tier openly as 'bench made' which is often the way full bespoke products are referred to in the US.
Jake has also played with using a Neapolitan bespoke tailor, with them cutting and assembling suits that he measures for in New York, which is an interesting model. But that remains the smallest of the offerings.
At the very least, given this range of tailoring options, I'd say it's worth making sure you understand which type you are ordering, and engaging with Jake and the team on that point.
The Waverly jacket I had made-to-measure was a nice make: hand-felled lining, handsewn buttonholes, shape to the collar and chest.
It doesn't have a hand-padded canvas, which is what stops it being the top level of MTM I've covered on the site (from Saman Amel and Jean-Manuel Moreau for example), but this is the top tier most will want, and I think what most that can afford it should aim for.
It's also worth saying that during the ordering process, it was clear that Jake had a deep understanding of both the dynamics of tailoring and the system he was working with.
The fear with MTM from a new brand, is that it's basically a young stylish guy who's signed up to a basic Munro or similar suit-ordering system, and knows little about figuration or how tailoring measures interact. Jake was clearly not that, and I think that's also obvious in the final result.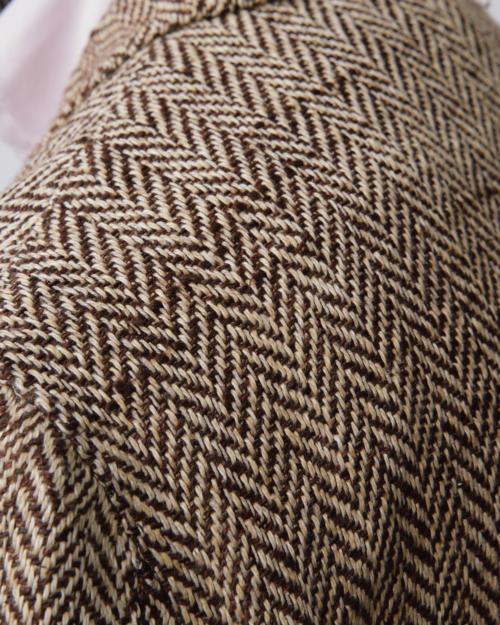 Style-wise, while everything Jake puts out isn't necessarily for me, I love the cloth he tracked down for this jacket. He apparently found it in a sale in New York's garment district, and it looks very much like an old Ralph Lauren Polo one, with its distinctive straw colouring and open weave.
It's a style Polo has done for years, but you could never find from the regular mills. (An attraction of MTM from a brand like RL that doesn't get talked about enough.) Drake's started doing something similar recently as well.
However, it's the loosest and most open version of that cloth I've ever seen - you can literally stretch a swatch of it by a couple of inches on the bias. That makes it hellish to tailor, and means the jacket may well grow a bit over time.
Jake had used it for a few other people already, however, and seemed to know how to control its behaviour. Plus it was a look I was really interested to try, even if it meant the jacket was that much more rumpled and casual.
As mentioned, we conducted the whole process remotely. I took my own measurements, and we did three fittings over Zoom.
This is not the way Jake normally works. Remote services are usually restricted to a more basic MTM with the Campania line, where a couple of fitting jackets are sent and simple adjustments made. Or video calls are used when a customer can come once to the shop, but not a second time.
My experience is a bit of an exception therefore, one Jake was happy to make because I was pretty experienced, and because he was familiar with what I had made in the past.
However, the strong end result reflects even better on him as a result, I think. The custom service is only available if you visit the store, but if he can make this jacket without ever seeing me in person, it should be as good or better if you did visit.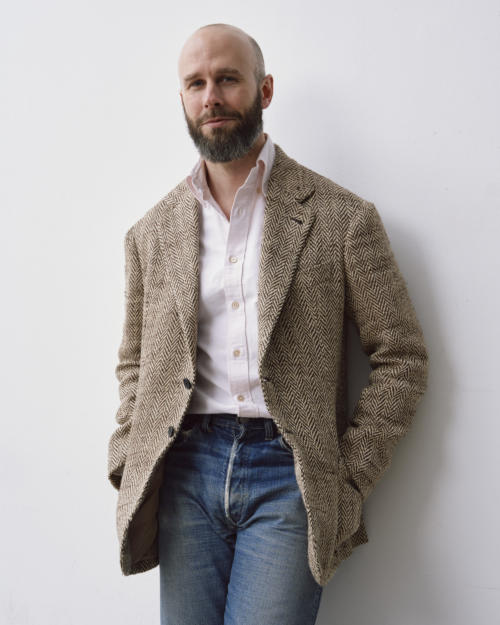 The jackets I received (from New York via Italy, with Jake checking them each time) were pretty basically stitched together, but most of the fundamentals of fit were strong from the start. The first fitting was pretty big and long, but the balance was spot on.
The only significant issue arose at the second fitting, when making the jacket slimmer caused the vents to gape a lot, pushed out by my 'prominent rear' and hollow lower back.
This is a common problem for Neapolitan tailors I've used, although I have to say other top-end MTM makes (Saman Amel, The Armoury, JM Moreau) dealt with it without a problem.
The jacket went back, and at the next fitting was perfect, except the front was now long - just over an inch longer than before. Jake was unsure what caused it, but said the fronts would have to be remade, using new cloth.
The final jacket was very good, as you see here. So it's not worth trying to work out what caused that issue, much as I love to play with the 3D twisting and turning of bespoke patterns in my head.
I wouldn't say the jacket is perfect. The vents could still have a bit more overlap for example.
But this was a good result, done entirely remotely, in a difficult cloth. In particular, I'd say the latter should be borne in mind when looking at the fit images. The fit is strong even in a tricky material like this - a hard worsted would flow beautifully.
If anyone has any other questions about the jacket, for example the style or cut, please let me know in the comments.
A 'custom' suit in the Waverly make like this starts at $2450. My jacket cost $1950.
It is pictured in the first outfit with a pink PS Oxford shirt, my vintage Levi's, and Alden full-strap cordovan loafers.
And in the second outfit with the PS Cashmere Rugby, the same jeans and loafers, and a hand-tooled RRL belt.
Photography: James Holborow