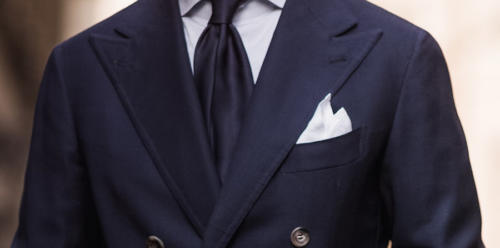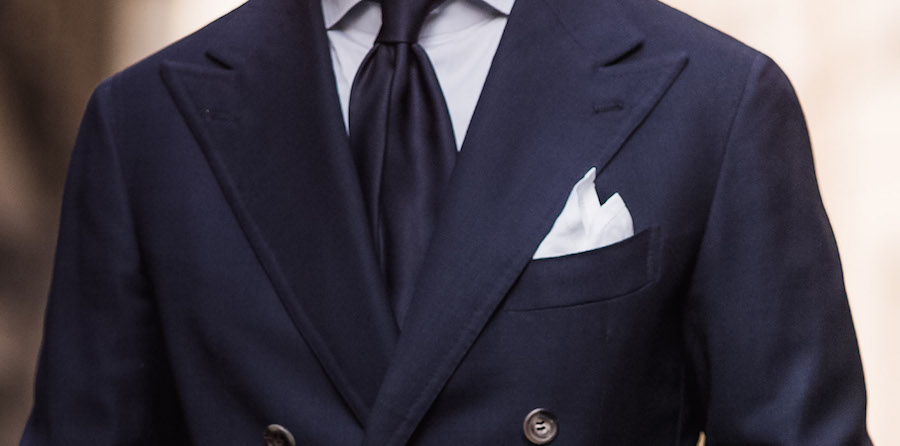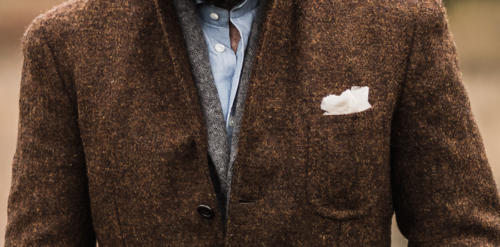 Handkerchiefs are not easy for a modern man. Few things are as conspicuous and unusual. Enough people wear ties and waistcoats to make them anonymous – even hats, which change the silhouette more than anything else, are more likely to be forgiven for their practicality.
One easy way to reduce the impact of a handkerchief is to soften its contrast with the rest of the outfit. In fact, of the three main things that affect the formality of a hank – colour, pattern, texture – it is colour that makes the biggest difference.
Above I have shown three outfits of mine to illustrate this softening.
At top is a pure-white linen handkerchief, worn against a navy hopsack jacket. The contrast between hank and jacket is high, creating a smarter, more formal outfit. That contrast is down to the jacket as much as the hank, of course, but a pure white hank on any jacket is going to be smart.
In the next image is a cream linen handkerchief. The difference with its cousin is small, but there is a definite softening of the contrast. This is helped by the sandy colour of the jacket, which itself is closer to the cream of the hank. The outfit overall is intended to more casual, and this is reflected in the choice of handkerchief.
In the third picture we have a cream cashmere hank (all are from Anderson & Sheppard). The cream colour is similar to the linen above, but the effect is softened further by the material, which has greater texture and absorbs more light. This is the most casual outfit of the three – with tweed and denim – and a stark white linen hank, as in picture number one, would be far too smart for it.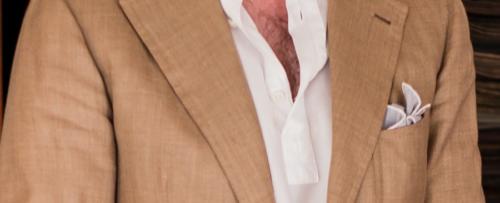 One other variation to consider is grey, above. As with cream, the grey removes contrast in the handkerchief and so softens it. In this example the white 'shoestring' around the edge also introduces some contrast, keeping in relatively smart, but overall it is not as formal as the plain white alternative.
I find this formality of handkerchiefs interesting because it is slightly different to other items of clothing such as shoes and ties.
The effect of those three variables (colour, pattern, texture) is broadly the same: more colour is less formal; more pattern is less formal. But the order is different. Texture is crucial to the formality of a shoe (suede/calf) but less so a handkerchief (silk is usually less formal than linen, but more formal than wool).
The most important thing to consider with a hank is colour and contrast. If you want to wear one and stand out just a little less, dial down both of them.