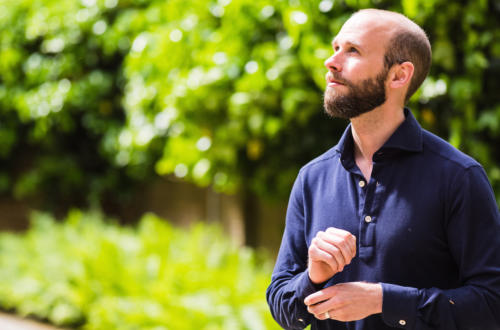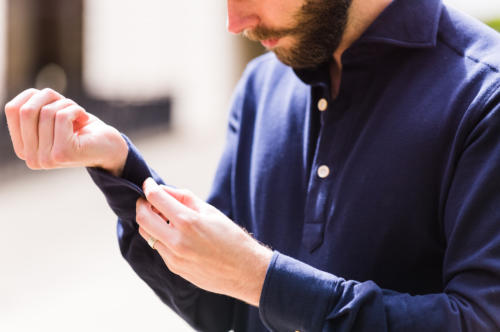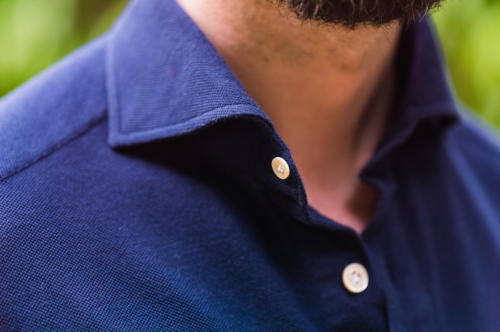 **Available to buy here**
Over the past few months I've been working with shirtmarker Luca Avitabile and Caccioppoli on a range of ready-to-wear long-sleeved polo shirts. We've now completed work on them and they will go into full production in September.
However, I have 50 final, perfected samples available now if readers would like to get a jump on everybody else.
The polos are available across five colours, four sizes and two styles (buttoning halfway, and buttoning all the way through like a shirt). As a result, there are only 1-3 available in each combination. So get in now if you have a particular size and colour you want.
We have no smalls in the button-through style, but otherwise all sizes have at least one available. I'll post an update at the top of this post when different styles, colours and sizes sell out.
You can see the five colours here: white, navy, grey, blue and racing green. My particular favourites are the navy, as worn above, and racing green – which is just the right shade for a navy jacket. The mother-of-pearl buttons also look really nice against the white.
The polos cost £145, with orders made through me – [email protected]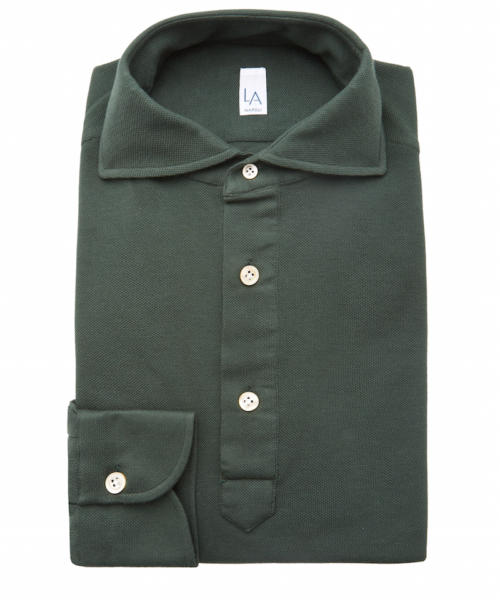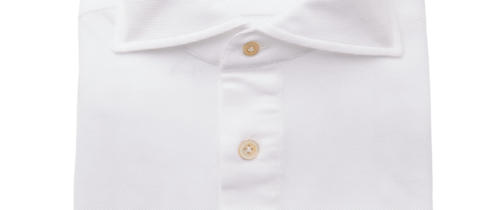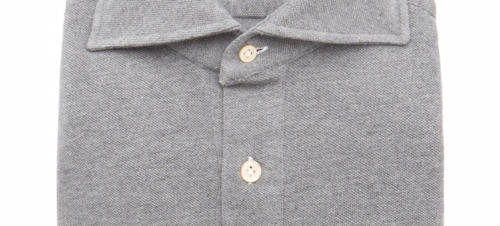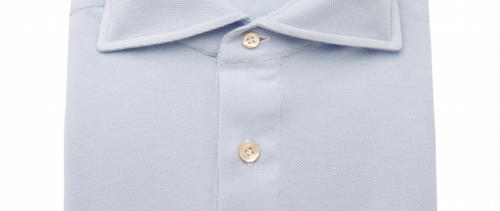 More details:
My key aim was a polo that worked well under tailoring
They are designed to be tucked in and so cut long, with tails like a shirt. This way they do not come out of the trousers and have a cleaner finish through the waist
They are pre-washed, so should not shrink. Do please wash on cool and line dry, however
They are made with a collar stand, in order to stand up and roll around a jacket collar, but also have rubber collarbones in case you want the collar to not roll and remain stiff
The material, from Caccioppoli, is one of the most important aspects. Previously I have had bespoke ones in both winter and summer weights, and neither have been quite right. The summer ones lack body and can be too transparent; the winter ones are too heavy to wear in the summer. This fabric is not only a beautiful quality, but is a mid-weight that (in England) could be worn three seasons of the year. On its own in summer, or in Spring or Autumn with a shawl-collar sweater over the top


I wear a medium, and have a 38-inch chest and 15-inch neck. The measurements for all the sizes are (in centimetres):
Chest Waist Yoke Sleeve Body
S 102 92 40 61 75
M 106 96 44 65 76
L 116 106 47 69 81
XL 124 114 48 69 81
Other points:
Payment is through me using bank transfer in the UK or PayPal elsewhere
Shipping is £8 in Europe and £14 elsewhere
I'm happy to accept returns, but can't pay return postage
Any other questions please let me know