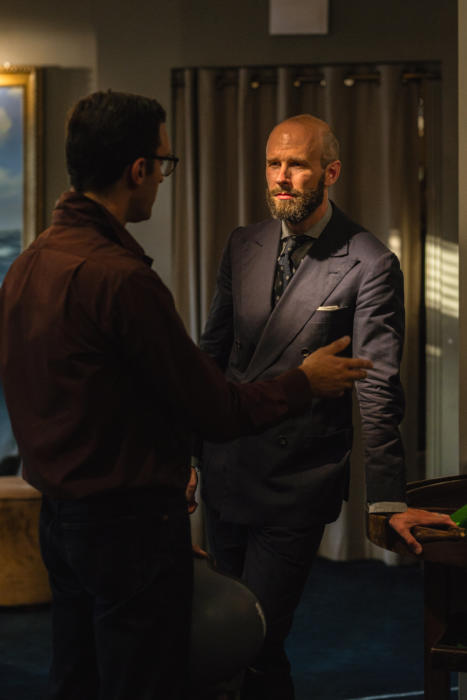 Wearing a dark shirt with a tie is an easy style to get wrong, I think.
It used to be quite widespread in the 1990s: dark maroon or navy shirts with a strongly coloured tie. It seemed to be worn by a certain kind of salesman.
If done right, though, I find a dark shirt under a suit can be an unusual and attractive combination, particularly in the evening.
The key is perhaps not to add colour in the shirt, but stick to soft, muted fabrics that - as a result - still provide an effective backdrop to the tie.
And not too hard or shiny in the finish too. That helps keep it subdued as well, and in the background.
My favourites are a grey shirt (darker but muted version of white) and denim (darker but muted version of blue).
The denim, too, should not be too strong a colour.
Indeed, I'd go as far as to say that strong-blue denims are harder to wear with tailoring generally - with or without a tie. And yet most shirtmakers offer these primarily, when a softer, weaker colour would complement more colours of jacket.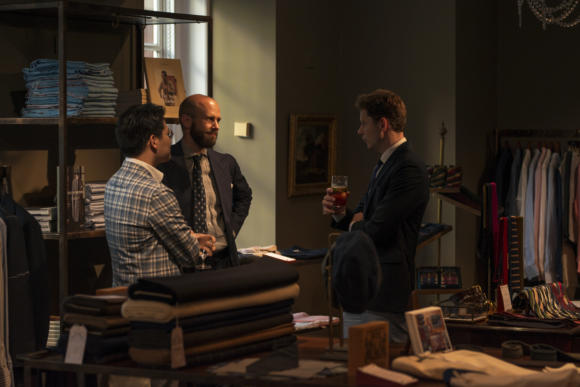 I've shown examples here from two events in the past year or so.
First, from the opening party of our pop-up shop in Fortnum & Mason: Permanent Style Presents No.3.
Here the shirt is a mid-grey linen, worn under my Musella-Dembech navy-cotton suit with a navy tie from Shibumi.
The woven-silk has a repeated white pattern of the Florence fleur-de-lis, or giglio. And there is a white-linen handkerchief in the breast pocket, worn as a simple square.
I like the fact that in this situation, despite the navy suit and silk tie, this is clearly not a corporate look. Rather like denim or chambray, it immediately separates it from office wear.
The fact the suit is cotton helps too of course. But even with a sharp worsted, the grey shirt would have that effect.
The second example is from our Japanese Symposium, in Tokyo earlier this year.
Here I'm in the same navy suit, but with a denim shirt and navy large-knot grenadine from Drake's. The handkerchief is the same white linen, worn as a square, and there is a touch of decoration in the gold and lapis-lazuli lapel pin.
It's hard to remember how conscious this was, but I think I felt the denim shirt - with its greater texture and fading - suited a plain tie rather than a patterned one, and chunky, casual grenadine silk rather than a standard woven.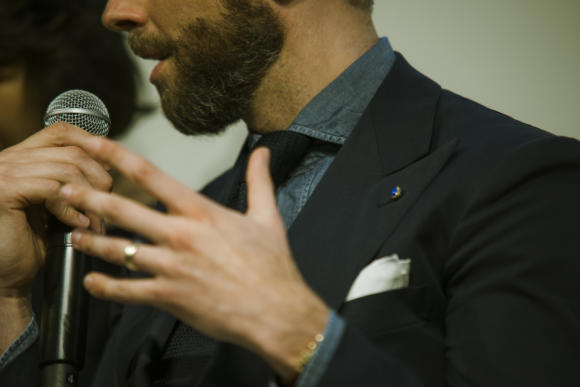 The theme of modern evening wear in general is also relevant here.
I commented in the recent 'Five casual suits' post that a sharp suit could become the standard for evening wear in the future. And that much as we would bemoan the loss of black tie, it would be a welcome outlet for wearing the sharpest of bespoke tailoring.
In that situation I think a dark shirt is a useful way to signify that this is evening wear.
Jewellery, such as the lapel pin, is another way to do that. And it's something you can add when going out in the evening (as well as a handkerchief, perhaps) rather than having to change.
My pin is actually a stud for a dress shirt, but one whose long bar makes it easy and secure in a lapel. It is part of a set sold by Kirby Allison on The Hanger Project, and that I've worn for several years.
Unfortunately I rarely get to wear black tie, so the studs are underused - and this is a nice way to re-use them. As well as being a piece of decoration that is both personal and precious.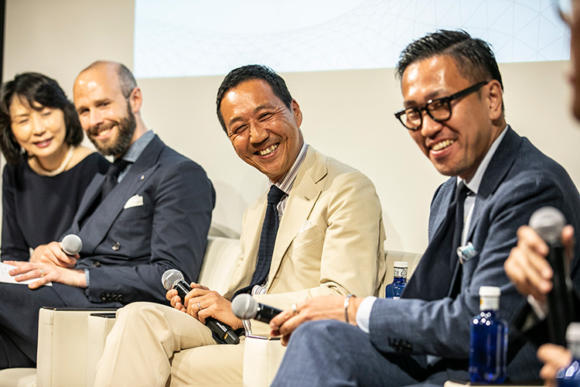 If you have a navy suit and grey or dark-denim shirt, I suggest trying this in the evening.
And if you don't have either, I recommend at least commissioning a dark denim one - it works well on its own with a tweed or cashmere jacket and flannels too.
In the portrait of my outfit below - taken for Men's Ex magazine - I'm wearing the cotton suit with my dark-brown Philippe Atienza shoes. In retrospect, black might have been better. Which is what I wore at the Permanent Style Presents opening party.
The grey shirt was made by D'Avino, the denim by Luca Avitabile.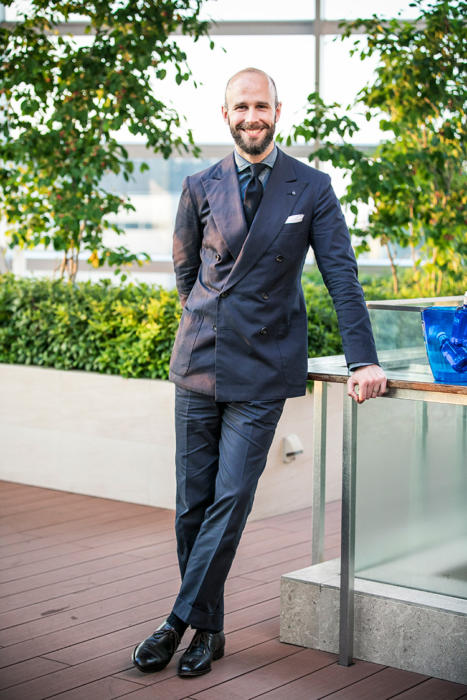 Photography of the party, Alex Natt; and of the Symposium, Ko Tsuchiya.