Desert boots (and knitwear, and bespoke) at Anglo-Italian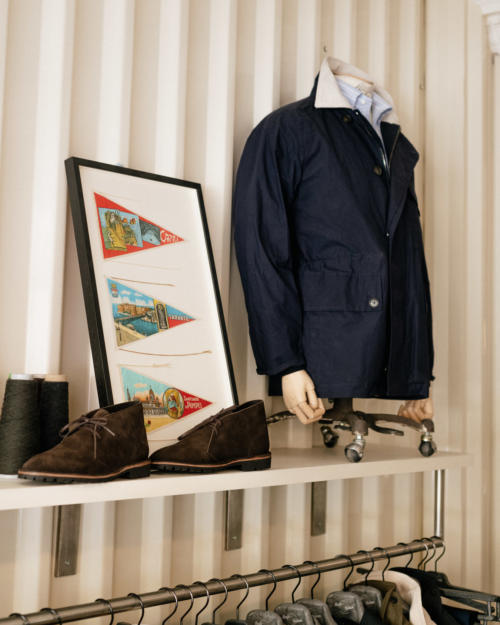 Somehow, Jake and Anglo-Italian manage to keep relatively under the radar here in the UK, despite being one of the few classic-menswear shops keeping that spirit relevant.
Perhaps it's because they don't actively seek out mainstream coverage, or because so much of the business is overseas - the shop has almost become a showroom for an online store, such are the international sales.
Whatever the reason, I think it means Jake's consistent innovation often goes unheralded.
Anglo-Italian is one of the few shops in London selling good flannels, good oxford shirts and good brogues. But there's always an original point, an angle, that shows each piece is being considered fresh each time. Whether it's travel flannel that wrinkles less, or vintage stubby lasts on the shoes, there's always a viewpoint - albeit a very subtle one.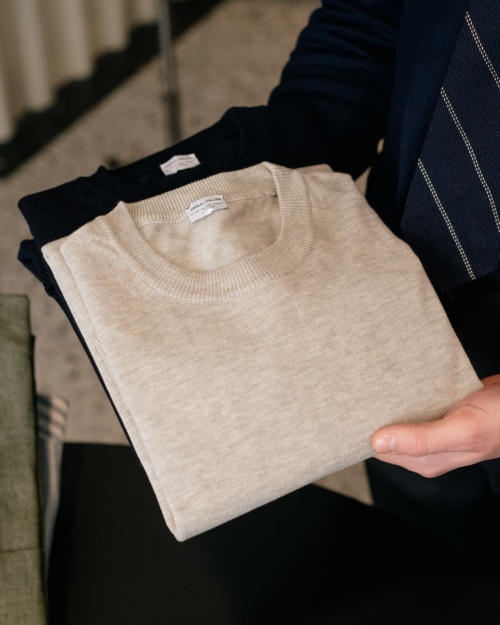 Some of these tweaks are my style, some are not.
For example, in the current collection I love the Ice Cotton crewnecks (above). 'Ice Cotton' is not an Anglo term - it refers to a particular yarn - but Jake's version is a touch shorter, with a smaller collar, such that it works on most people without a shirt underneath. (Or it does on me, which does happen that often.)
On the flip side, I see what Jake is doing with the Sport Sweatshirt, which is made with cotton on the inside but merino on the outside. The idea is to replicate the feel of a cotton sweatshirt, but with a smarter outward appearance - one more in keeping with the Anglo look.
He succeeds, but it's not something I personally want. I prefer to have one or the other. With merino on the outside, there's only part of the sweatshirt feeling, and I like full merino knits on their own too. For a different approach to sweatshirts, I probably prefer the Armoury's Indoorsman Sweatshirt, with its waffle knit.
But this is a personal preference; I know others would disagree. And far more important is that Jake is constantly doing these things, all the time. So there are always new things I love.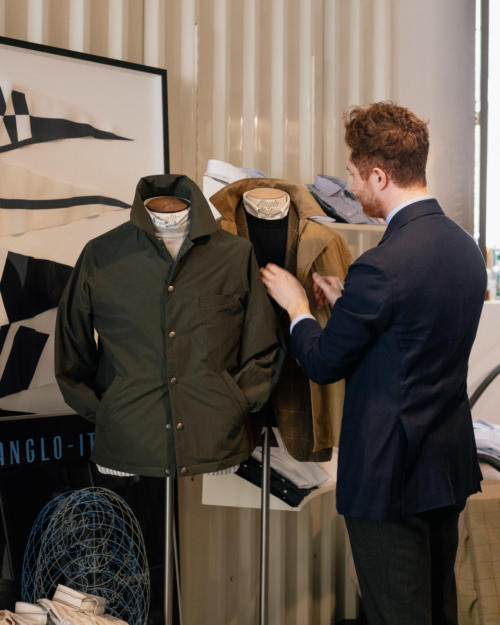 One of those is the Anglo Desert Boot, which I picked up a couple of weeks ago.
Most of the desert boots I've had in the past have been of lesser quality - the likes of Clarks and similar - or have been styled more like a regular dress shoe, with a more structured toe and so a smarter look.
Jake's thing with shoes generally is to give them a low profile. Which means a toe that slopes downwards when seen from the side, and less of a spring (so the toe is flatter to the ground).
With the loafers that also means a lower vamp, further down the foot, and that's replicated subtly by lower lacing on the desert boots. They also have a lower height at the back, which makes them look even more laidback, and stops them getting caught on a tailored trouser leg.
It's striking how different these things make the boot compared to my Shanklins from Edward Green, for example. I love them, but everything from the height to the toe to the thin welt to the makes them look like a smarter, luxury style.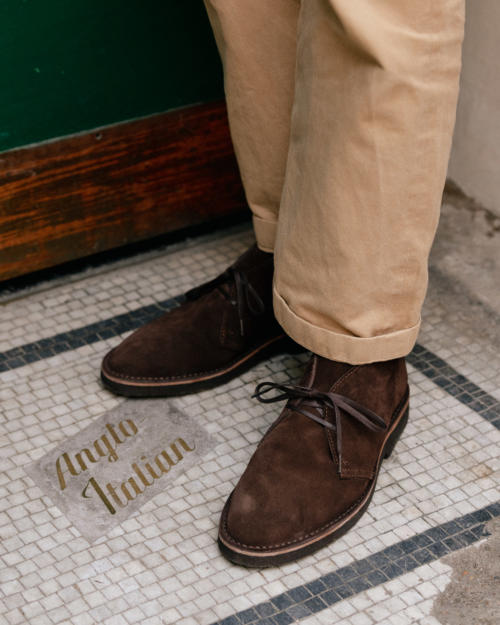 Jake designed the boot as something to wear with tailoring as well as T-shirts and chinos.
I would wear it with tailoring, but only the most relaxed kind. Certainly, with flannel trousers and a crewneck. Not with something like my Sexton flannel suit. And only possibly with my Panico flannel suit.
Just as interesting for me, though, is that the relaxed shape means they work with even more casual things than Anglo-Italian sells, such as the hoodie and workwear chinos shown on me above.
Colour-wise, a tan boot might be a touch nicer with this outfit, but the softness and low profile of the desert boot work really well.
And I think this is something men could get a lot of use out of. Because often the temptation with a casual outfit like this is to wear trainers, or perhaps chunky boots. There are few options in between. And if you're an older guy who doesn't want to wear trainers, or its too warm for big boots, these are a really nice alternative.
The quality is good too. It's a simple make, as with most desert boots - stitchdown construction, no lining. But the suede is thick and supple, and the crepe sole seems to wear well.
Crepe soles can be pretty cheap, and when they are the edges quickly fray - that's what happened with cheaper ones I had in the past. The bits can be cut off, but you don't want to be doing it all the time.
The Anglo ones use a denser, harder crepe that suffers less from this problem. They're also single, dark colours: almost as bad as the fraying on crepe is the natural-coloured soles that have the edges painted black. Given the texture of crepe, that always looks messy.
I was a little concerned when trying on the Anglo boots, that the place where the two pieces of leather overlap on the inside of the shoe, seemed to move around and rub. But that settled down quickly, and now they're very comfortable.
I sized up slightly, taking a 9 when I'm normally an 8.5.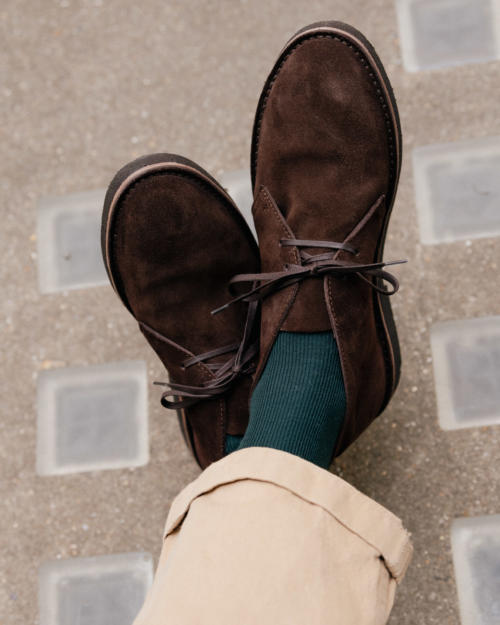 Jake says he knew the best way to get a more refined version of the desert boot was to have them made in Italy, and that's probably a good way to think about it. They're an Italian version of a Clarks boot (and indeed the maker is an old Clarks supplier).
Among other boots I have or have tried, the Edward Greens are beautiful but seem to have more in common with an English dress boot. Alden is similarly low in profile, but leather soled and rougher. Carmina is more similar to Edward Green, but not at the same quality.
Lastly, Anglo just recently started offering an MTO service on the boots. For £300 (up from £245) you can pick your suede, size and sole - light crepe, dark crepe or Vibram (which I like less).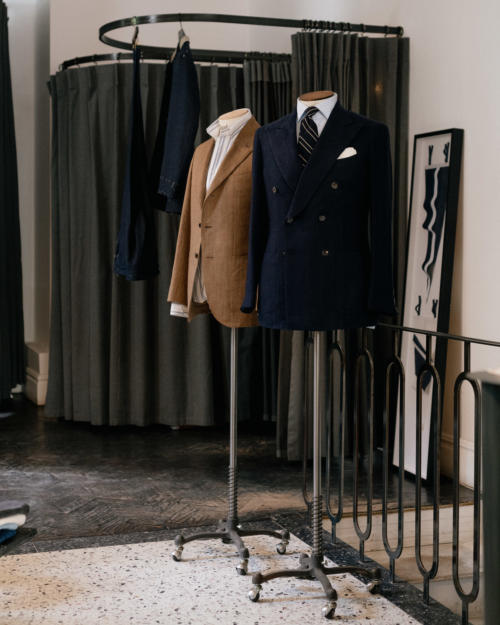 Actually, one more thing. As readers have noticed and inquired about, Anglo-Italian are in the process of setting up their own bespoke tailoring.
This will be housed in a new space around the corner from the current shop, and managed by a young cutter and coatmaker hired last year. In the intervening months Jake and the team have had great fun pulling apart all his old bespoke suits and learning little making details.
The service will offer the Anglo-Italian style, with its soft shoulders and roomy fit, in a full bespoke service - full hand work, full fittings process etc.
Prices will be good for anything using Anglo-Italian cloth. Jackets start at £2700 including VAT, suits at £3350. Anything using another bunch will be more expensive, with suits around £3500 for example.
More on that service soon.
Clothes on me: Real McCoy's sweatshirt in 'Milk'; old Army Chinos from The Armoury; black bandana from Clutch Cafe.
Photography: Alex Natt @adnatt