Gaziano & Girling bespoke loafers (and the beauty of refinement)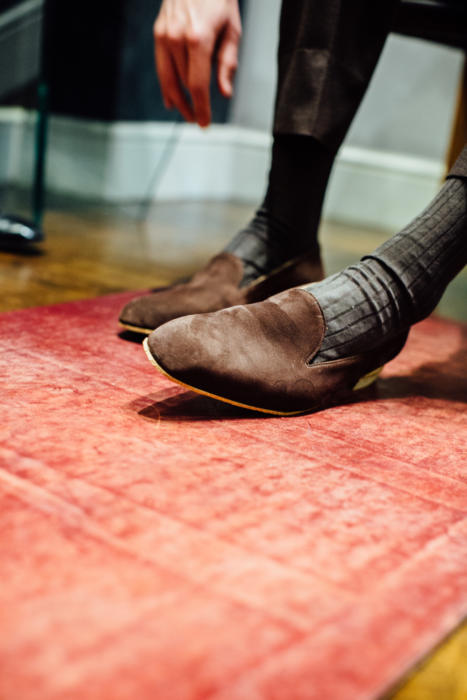 The older I get, the more I wear well-made clothes, and (most importantly) the more I think about clothes, the simpler I seem to dress.
I am rarely without my navy grenadine tie. I now have Crispaire trousers in three different shades of grey. Everything above the waist seems to have its first iteration in navy (only later being bought in other colours).
I'm packing for a week-long trip at the moment (to Japan!) and the clothes I've laid out are almost embarassingly subtle and conservative.
Navy or dark-coloured jackets; grey or cream trousers; dark-brown shoes in various shades and textures; most colour and variation is in the hanks, ties or scarves.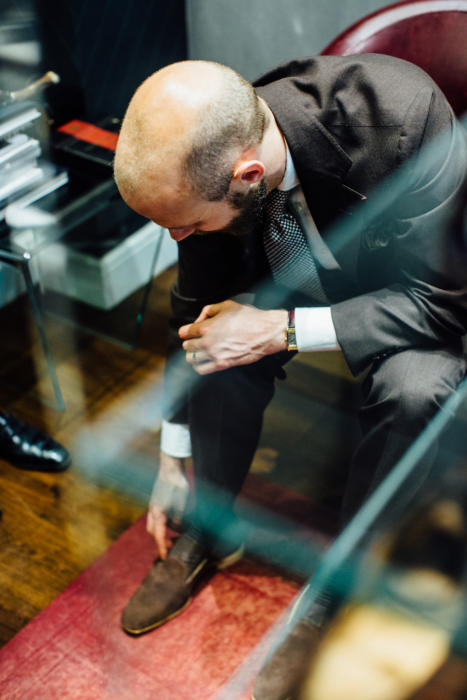 Of course, there is a particular virtue to such a restrained wardrobe for travel, where it's helpful if everything goes with everything else.
But this approach also focuses more on the subtleties that first got me hooked on bespoke: the elegant flow down the back of a jacket; the precise sweep of a shirt collar; the patina of a well-made (and well maintained) leather bag.
It is these points of fit, texture and quality that encourage a refined style. One that has probably always been my aim: to give the impression to a casual observer (as I have said before), of simply being well-dressed.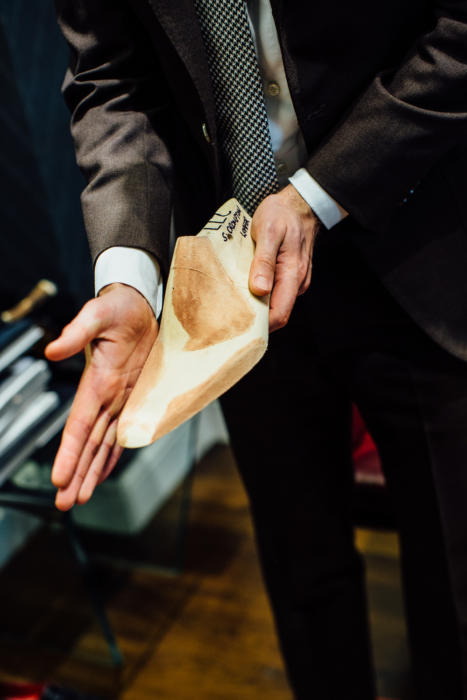 All of which is mere preamble to the commissioning of the brown-suede slip-ons from Gaziano & Girling pictured here.
I have several other pairs of brown-suede shoes: round-toed lace-ups from Edward Green; square-nosed slip-ons from Stefano Bemer; pointy derbys from Corthay.
But none of them fill the precise place of this G&G pair. And rather than expand the wardrobe into different colours or constructions, I choose to retain the same material and shade, but fill in small 'gaps' in style.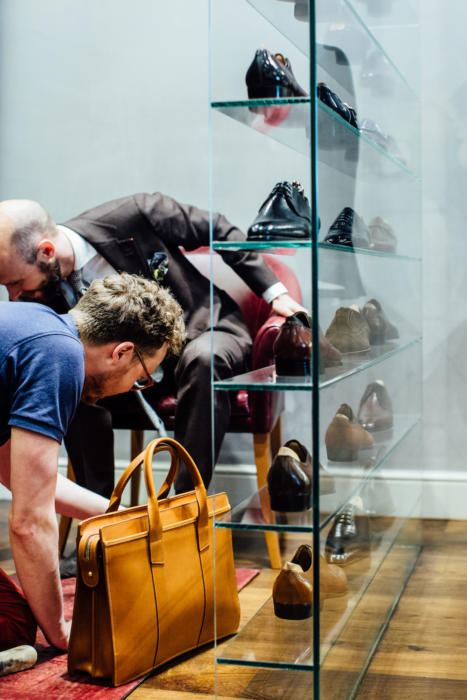 This attitude of refinement and simplicity extends to the style of the slip-ons as well.
They will have no decoration - no band, no medallion, nothing.
The beauty of the shoe will be in the shape of the last, and the bespoke make through the waist and heel. This is my first pair from Daniel (pictured) having had my other G&G slip-ons made by Tony, and I'm very excited to see the results.
At this first fitting, we had some issues with tightness in the heel and across the joints, but otherwise they looked good.
The prominence of a Frank Clegg bag, by the way, is down to the photos being from a Clegg photo shoot we did recently. You can see the bag itself, which is both beautiful and practical, here.
Photography: Jamie Ferguson @jkf_man
Other items in the outfit can be seen in my Dalcuore review here.