Video: Audie Charles on swapping a shirt for a sweater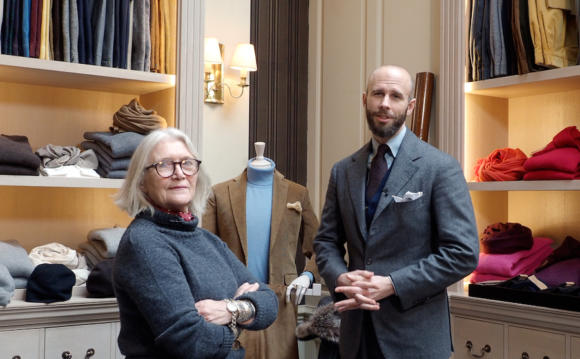 It's dress-up time!
In this second video with Audie Charles at the Anderson & Sheppard Haberdashery, Audie dresses me in five pieces of knitwear from the shop, showing how she thinks they can add variety.
In Audie's view, men too often go for a shirt under a jacket, when knitwear can be more interesting, more comfortable, and neater when you take the jacket off. It's also great for travel.
Interestingly, Audie agrees that this expresses some of the core attitude behind the Haberdashery. While the bespoke A&S shop round the corner would always be shirt-and-tie, the Haberdashery team want to show how tailoring can do double-duty, also being dressed down.
As Audie mentions, personally I would put a neckerchief or bandana into the crewneck sweater. And I probably prefer the shawl-collar sweater with just the T-shirt underneath. But it's really interesting seeing what pieces, textures and colours Audie picks out.
Audie's other recommendations include:
Putting a silk neckerchief underneath the collar of a roll neck, if you don't like the feel against the skin
To wear a T-shirt under knitwear, even if merino is nice on the skin, to save on laundry
To play around with shirts, ties and knitwear under tailoring, to keep it fresh. Like moving paintings around at home
Using knitwear (like hers) with a slim arm and high armhole, so it fits more easily under a jacket
To not always wear a pocket square - to consider it as a possible variation, rather than required
The previous video with Audie, showing how to look after woollen knitwear, can be seen here.
Other practical videos we've produced are (also all on the YouTube channel):
Thank you to Lloyd and the whole team at Campaign for Wool for help with this video
The Haberdashery website and shop, where all the pieces can be found, is here.