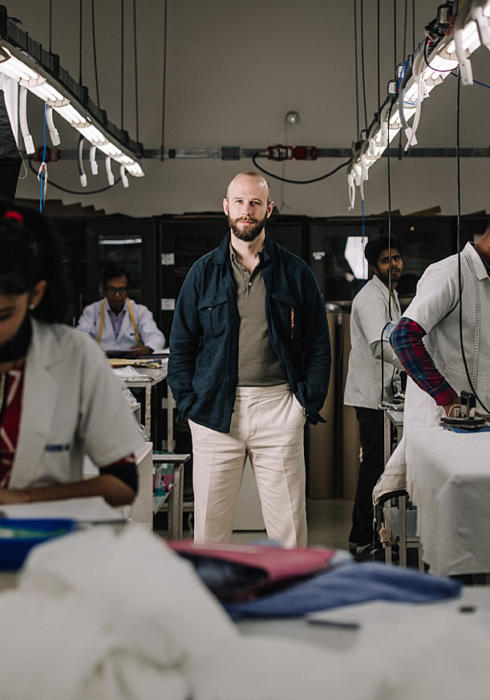 Travelling to India on holiday this Easter gave me a reason to get the hot-weather clothing out early. It was unseasonably hot even for there, with the temperature pushing 40 degrees.
We took the opportunity to visit the 100 Hands factory in Amritsar, and that's where I'm pictured above. (Full report coming on Monday.)
Cream trousers from Eidos in a slubby cotton/linen felt smart enough there for what was a working appointment – but also casual enough to wear on other occasions during the trip, such as dinner in the evening.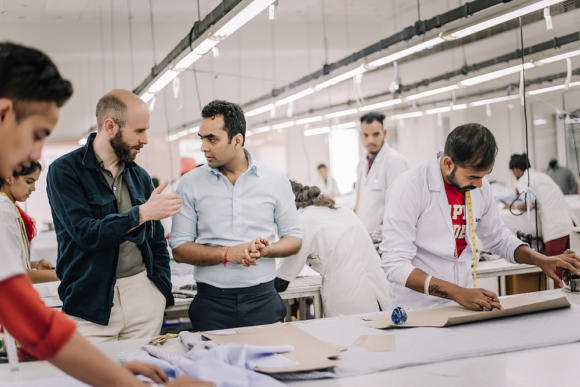 Here they're worn with a nice Aspesi fully-fashioned polo shirt. Trunk has them at the moment, and they'll feature in our regular Summer Top 10 piece in a week or two.
Nice slimmish fit, and the refined feel of a knit rather than normal cut-and-sew polo.
Over the top is my Drake's linen overshirt, which did such good service last year.
As ever, I like the fact it has just the two, breast pockets and none on the waist.
Perhaps my favourite new purchase, however, was the canvas shoes above, by Japanese brand Doek (also stocked at Trunk).
I've wanted a cream canvas shoe like this for a while – something that will get battered like Chuck Taylors, and therefore look casual and much-loved. But ideally better made and unbranded.
These are perfect, with nice vintage touches like the overlapping layers of rubber at the toe.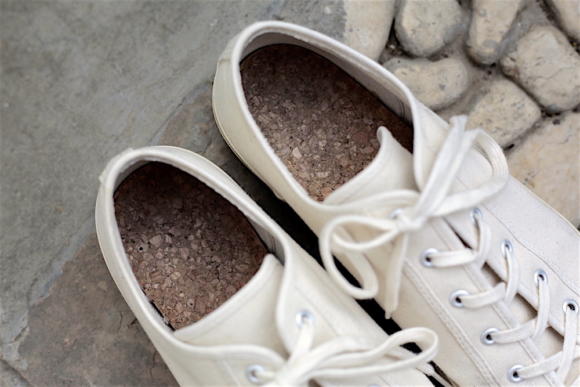 The only downside of the vintage style is in the insole, which is a single layer of cork rather than the normal cotton over foam.
This provides less support and feels uncomfortable at first, but after a few wears I no longer noticed – and did a lot of walking in them. I also found that they were more comfortable than other canvas shoes without socks.
They got dirty quickly, as you'd expect, but were easy to wash with a sponge and soap and I'm told can be (delicately) machine washed.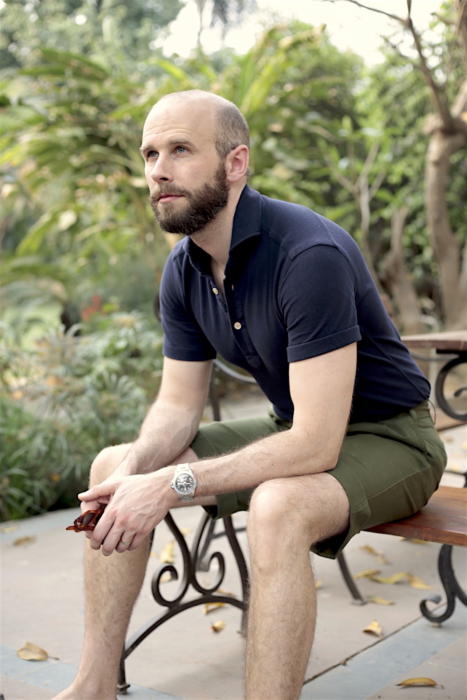 The other polo shirt I took, naturally, was one of our short-sleeved Friday Polos. (New batch coming in a month or so.)
This navy one has worn in nicely, with some subtle fading around the collar and placket.
The shorts I'm wearing are also a collaboration, the last prototype (hopefully) of a model that first made appearance last year in Naples, and should be ready in a month or so.
So many shorts – to my eyes – are one extreme or the other. Very narrow or very wide; very short or very long.
These are a balance: straight, and finishing just above the knee. Sartorial touches are left to the small pleats and turn-ups.
There will be this washed green with belt loops, and a smarter navy with side adjustors.
The sunglasses don't change: Starsky model from E&B Meyrowitz.
The other footwear I loved was one I bought out there: traditional Punjabi juttis, pictured above.
I posted a picture of these on Instagram and joked that they were hand-sewn and hand-patinated.
They are of course – just very roughly. A single thick, coarse thread binds the sole to the two overlapping pieces of the upper.
This is not very neat, refined, or strong, and of course is only one line of thread where bespoke shoes have two. But otherwise it's similar. From the leather, it's also clear that the dye has been painted on (cf. Saint Crispin's).
There is no real comparison to make between them and bespoke dress shoes, but I make the point merely that any process can be done roughly – it's execution that matters.
Juttis are made without a left or right, and are very stiff to start with; but over the holiday they became increasingly comfortable. They're now a slightly eccentric slipper for home.
It's a beautiful, warm day in London today and feels like summer is just around the corner.
I'm looking forward to getting my cotton knitwear, Sagans, and linen trousers out of the wardrobe to join these pieces that travelled.
Here's hoping it's sunny where you are.