What to wear with the kids at the weekend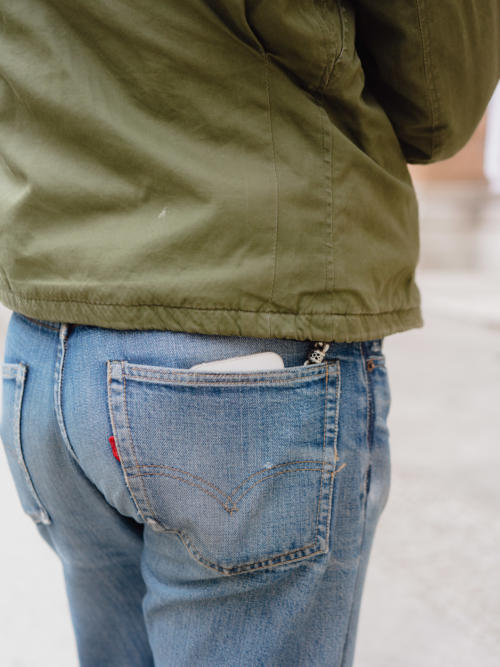 I get asked surprisingly often what I wear with my children at the weekend - when there's a chance I'll be running round a park, on my knees in a playground tunnel, or simply within range of a ketchup spill.
There seems to be a presumption that, because many of the clothes we cover are expensive, they must be delicate too, and therefore not up to this kind of activity.
Not so. Most of the really casual clothing we cover looks better with wearing, washing and general abusing. You can normally machine wash it and the more you do the more it will fade, fray and acquire personality.
Today's post is a brief rundown on the kinds of things I mean, with examples from new and old outfits. If any of it doesn't suit your situation, or doesn't seem tough enough for particular weekend activities, let me know.
The starting material here is, of course, denim. Everyone wears jeans, and anyone that admires the beauty of jeans will know they're better the more they are worn and worn.
Indeed, a guy working in a denim store would probably be envious of the amount of time you spend on your knees changing a nappy, or crawling around the floor looking for Playmobile. That's great wear - something he can't replicate just standing around a shop.
I'm not suggesting you should be thinking about fade optimisation - quite the opposite. Buy some great denim, wear it all the time, and forget about it. Perhaps know the basics of how to wash it, but don't worry if you need to do so fairly often - the fades and frays will still come. And that applies to other denim too - jackets, chores, shirts.
The other default materials are similarly tough cottons - canvas, Ventile, vintage sateen.
When I wrote about my canvas chore jacket (above), I mentioned that many of these materials could be worn both top and bottom: the canvas could equally be used for tough chinos or for carpenter's pants; denim could be jeans or a jacket; military sateen could be fatigues or an M65.
Most readers won't want to double up on any of those, but it's good to bear in mind they can be swapped - the chore with jeans shown above could easily be the other way round, like chinos and a heavy denim shirt.
The jacket I've shown at the top of this piece, and above, is an eighties RAF pilot's jacket in Ventile, but it's the same olive drab as a pair of fatigues or a jungle jacket; we're playing with the same colours.
The nice thing about Ventile, of course, is that it's cotton, so although basically waterproof it ages in the same way as many of these other materials. My Nigel Cabourn parka, below, is the same.
Underneath these three colours of cotton go T-shirts, or a shirts like oxfords and chambrays. All tougher, heavier versions that look better with age in the same way.
A robust oxford shirt like a PS one gets better and softer as you wash it, and so does a chambray work shirt, as highlighted in the recent style piece about Alessandro Squarzi (above).
That article was actually a good example of the difference these kinds of materials make. His combinations could well have been trite, even cheap, were it not for the quality of the jeans, shirts etc and the way they had been worn in, fading and acquiring just as much character as a pair of bespoke calf-leather shoes.
Then of course we have sweatshirts, which we covered recently here. Wool is great for knitwear of course - and in fact easier for little spills and spot cleaning - but overall cotton is easier to wash and wash.
One area wool can be useful in this kind of wardrobe is with outerwear or overshirts, like the type pictured above (from this article).
It might seem strange to think about this collection in terms of materials, but it makes sense again with wool, in that the best pieces will be made of tough, even coarse wool that can stand a lot of abuse.
Leather is the same, like my Chapal flight jacket and horsehide jacket (below). Both tough, both better with age. And it goes for waxed cotton like a Barbour or Wax Walker.
So we've got canvas, sateen or denim tops/bottoms; T-shirts and oxfords or chambrays; sweatshirts; wool overshirts; and leather, Ventile or waxed outerwear.
What else? Shoes are usually boots in leathers that age well - cordovan, a pull-up leather - or canvas shoes like tennis shoes, plimsolls, trainers.
There's probably a significant point here about types of wear.
When you buy good vintage, you usually appreciate fad and fraying, but want to avoid stains. It's the same with looking after these weekend clothes: you can treat them badly in many ways, but it's good to have some knowledge of dealing with stains and spills, so they last long enough to age in other ways.
I love my old Doeks (below) because they have been scrubbed fairly regularly, so they still look pretty clean even though they're fraying and splitting.
How about Summer? Pretty much the same goes, just in fewer clothes, shorter clothes, or lighter clothes: hard-wearing shorts in the same materials as the workwear chinos, a lighter-weight chambray, a jungle jacket rather than an M65.
There's a lot of rich material here for future articles actually, as different pursuits all have their own particular garments and ways of dealing with their associated rigours. Fishing, hiking, hunting (particularly safari), being a photographer anywhere on location, all have their own ways of dealing with the requisite use, and their own styles in doing so.
Perhaps making a den in the woods with your boys should be just thought of in the same way.