Blackhorse Lane chinos: Review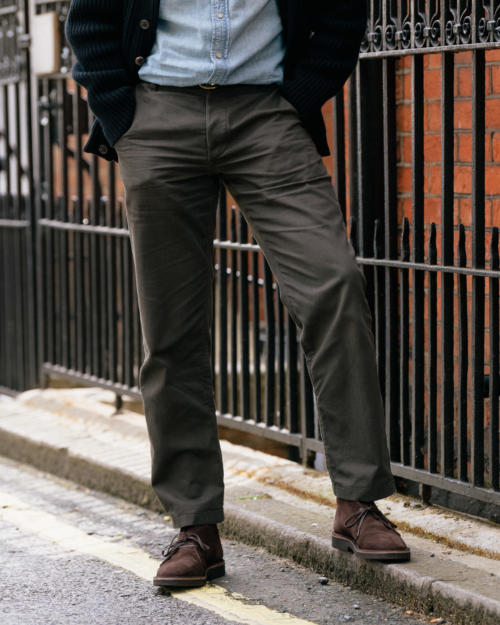 This review of Blackhorse Lane Ateliers (BLA) chinos might serve two purposes.
First, it covers the London maker as part of our ongoing series on chinos - which you can see all chapters of here.
And second, it reviews Blackhorse Lane's made-to-measure service, which they only properly introduced a couple of months ago.
Because while I like the leg line and general style of the BLA chinos, the rise is too low for me and the seat a little too tight in relation to the waist.
The RTW chino is made in what's called the W11 model whereas I prefer their NW1 style, which is much higher in the rise. (Front rise of 30cm rather than 24cm.)
Even then, when I've had NW1 jeans from BLA I've asked them to take the waist in a little. Although I guess for some people that's something they might just cinch with a belt.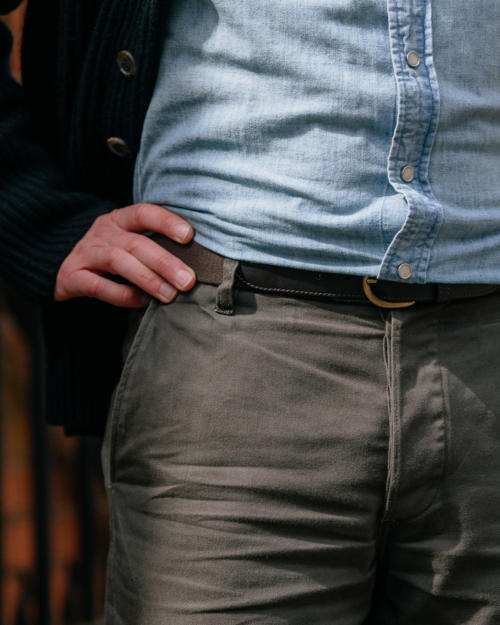 These chinos are made from a Japanese left-hand twill cotton.
As discussed previously in our article reviewing The Real McCoys, the left-hand twill means they are more immediately soft than a right-hand twill, and more similar to most mainstream chinos in that regard. The downside is they don't hold as good a line.
The cotton is heavy compared to anything mainstream though, even if not quite as much as the Real McCoys pair or similar repro brands. It's more on a par with Rubato (covered here) in that regard.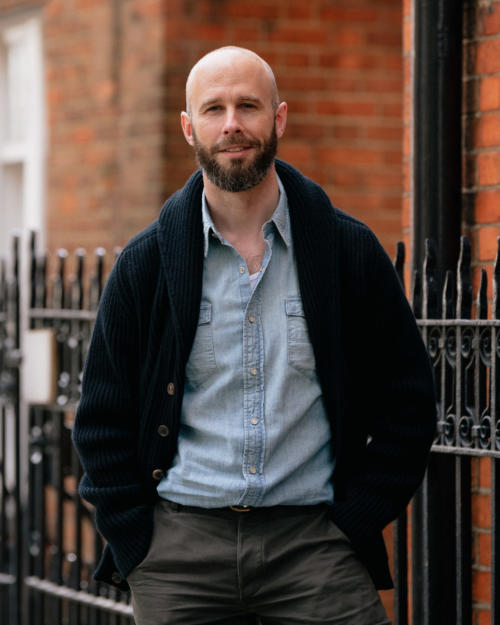 Blackhorse Lane like to improve parts of the product where they can. It's their USP when it comes to jeans - as we've covered in detail here.
In most areas I welcome this, but not all. For example I find their pocket bags rather heavy on the chinos and lighter weight denims.
The material lasts longer that way, but it isn't as nice to use and sometimes feels quite bulky. Plus pocket bags are pretty easy to replace when they do wear through.
That's something I requested to change on my MTM pair, and I know they're looking at it for future iterations of the chinos too.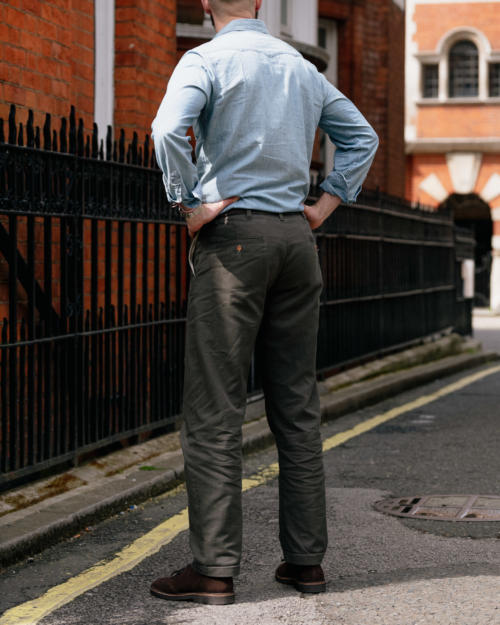 I also asked to swap the buttons on the chinos for rivets, which was a mistake.
My beloved old Armoury chinos have a riveted fly, like jeans, so I thought I'd try that on this pair. It seemed sensible to do the same with buttons on the back pockets as well.
I wish I hadn't, because the brass rivets don't go that well with the grey/green cotton - to my eye - and stand out too much. Even a silver metal would have been a mistake I think, and I noticed afterwards that my Armoury pair just had jetted pockets.
Otherwise, though, the MTM changes I requested were perfect: the rise of the NW1, plus an inch taken out of the waist.
In terms of fit, these were a vindication of the Blackhorse MTM service.
In terms of make, there are small points where you would say the finishing isn't as precise as Rubato or Real McCoy's.
This isn't as important as with smart clothes, but it is noticeable here and there.
I'm also not much of a fan of the diagonal buttonhole BLA uses at the top of the fly. It's meant to be easier to fasten, but I find it harder. That might be a little subjective though.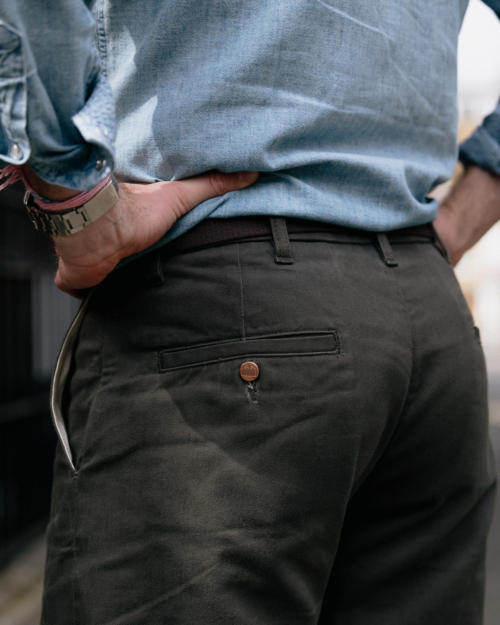 I'd make one point on fit here, given a couple of readers were asking recently about the fit of RTW clothes.
It's generally worth having the waistband of trousers as tight as is comfortable. The tighter they are, the less likely the trouser is to slip up or down, and the more likely a shirt is to stay in place. Both things are annoying and feel like poor fit, functionally.
You can often have the waistband tighter than you realise. Try it with side adjustors on tailored trousers: cinch them in and see whether you stop noticing the tightness after a few minutes.
I find men often have trousers too loose at the waist, and then complain about them slipping down or shirts coming untucked.
The exceptions are belts, which are harder and bulkier than trouser material and so more likely to become uncomfortable. And real high-rise trousers, which can be less comfortable when tight because they're gripping onto your stomach rather than your hips.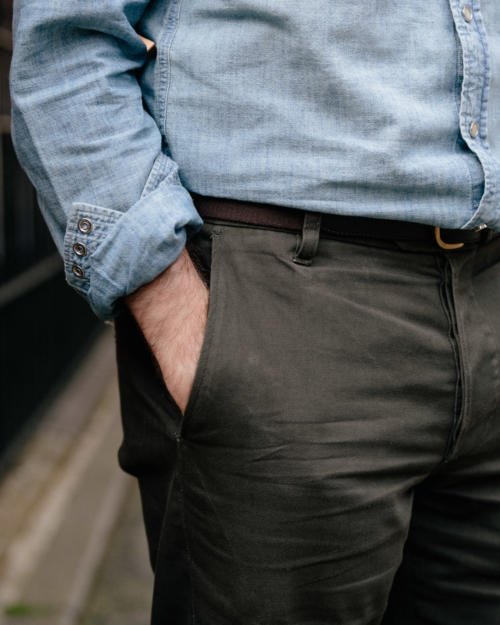 The dark green colour of these chinos is unusual, but I've found it surprisingly versatile.
Greys often look a little strange in casual materials like cotton (corduroy is an exception), yet we all know how useful the colour can be in trousers.
This dark green almost works as well. It's good with white or blue shirts, light grey knitwear or navy. And black, brown or white shoes.
It fits very well into a cold-colour capsule too, and I find myself wearing it often with black knitwear, as shown above.
Overall, the BLA chinos are a great, solid option, and have the advantage of an effective MTM route.
They're not cheap, at £280 for ready-made and £450 for the MTM. But they are made in London, if that's something you like to support.
I don't tend to iron my chinos, by the way, except after washing, but if you prefer a cleaner look than that shown here, you can do so every few wears.
That will also lead to more fading around the edges and seams, which you may or may not like. If you want to minimise fading on cotton, you can always dry clean instead.
I would also never iron a crease into chinos like this, because they're not intended to be that smart.
The only style I would do that with would be smarter chinos like those from Rubato. But even there I tend not to. The look veers between old man and hipster, for me, and I usually prefer to be someone more average.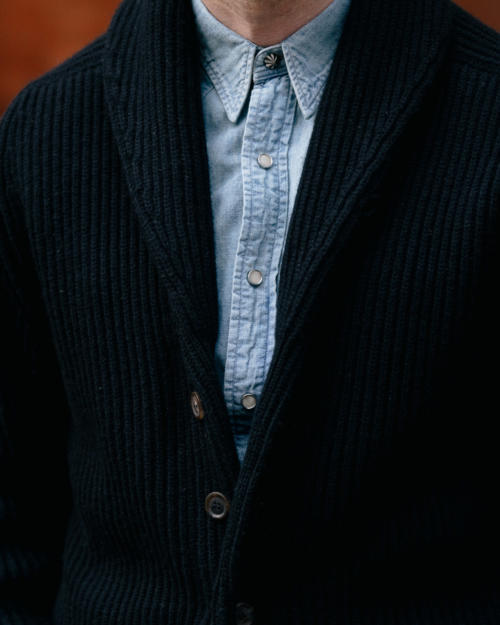 You can see the rest of the top half of this outfit in this article, covering the Begg & Co cardigan and RRL denim shirt.
The desert boots from Anglo-Italian are covered here. The webbing belt is from Anderson & Sheppard.
https://blackhorselane.com/collections/chinos-trousers
Photography: Alex Natt @adnatt
*Update: I've just been told that Blackhorse Lane are switching supplier for the cotton, as the Japanese mill has discontinued that line. All current chinos are still from that Japanese twill though, and any new material used in future batches will stay as close as possible to the current one*