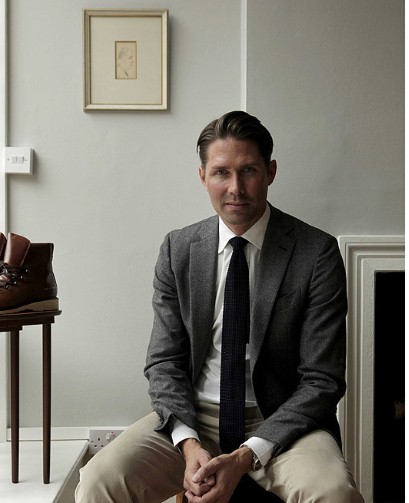 It often seems odd quite how many men wear jeans outside the office, and no other trousers. I was sitting in a taxi with three friends a while ago, all facing each other as you are in a black cab, and it struck me that we were all wearing mid-blue jeans, in a vaguely straight cut, without any distressing or rips. They were pretty much interchangeable.
And then you go into the pub, and look around, and realise that all the other men are wearing the same thing as well. It's a little spooky when you start noticing it.
Everyone knows why jeans are popular. They're comfortable, hard-wearing and universally accepted. But as important, I think, is that they are a great backdrop to other colours, clothes and textures. The material and colour of blue jeans means they go with black and white, bright colours and muted colours, shirt and t-shirt.
They go with everything. And they effectively separate socks/shoes from shirt/jacket as well, so you don't have to worry about harmonising these other items.
I find this with the unusual items I buy – the bright green jacket or spectator shoes, for example, that have featured in previous posts. When I'm considering buying an unusual item, my first thought is "it's alright, I'll wear it with jeans." And they do both look great with jeans; it is that bit harder to combine them well with suits or flannels. My problem is I end up with too many unusual items and wearing nothing but jeans!
Those in the US have it slightly easier. For them chinos are almost as ubiquitous as jeans, and while the former is not quite as adaptable, it does mean the Americans are trained to matching a different material with the other items in their wardrobe. Not just jeans.
This also leads me onto my suggested solution for British men. Stay with your favoured material, cotton, but experiment with different permutations. Try cords, chinos, gabardine. Try different weights and weaves in each of those – within what you might think of as chinos, for example, is a world of materials from the very rough to the very smart, the heavy to the lightweight.
Don't wear suit trousers, please. In London you often see men wearing worsted wool (suit) trousers with trainers and t-shirts and, while it can occasionally look funky, you never think to yourself – 'oh yeah, that really works.' It is unusual and that's all.
Finally, experimenting with different cottons will help men survive the summer. As the temperature increases, you see men gradually shedding layers and shoes, until they are in thin t-shirts, flip-flops and jeans. They never lose the jeans. No matter how heavy they are, they never lose them until (deep breath) it just gets too sweaty and they plunge into shorts.
There are other options. Don't be scared of real trousers.
Pictured: Mats Klingberg of Trunk, in Incotex chinos