Ascot Shoes 'Kaan' cordovan shoe: Review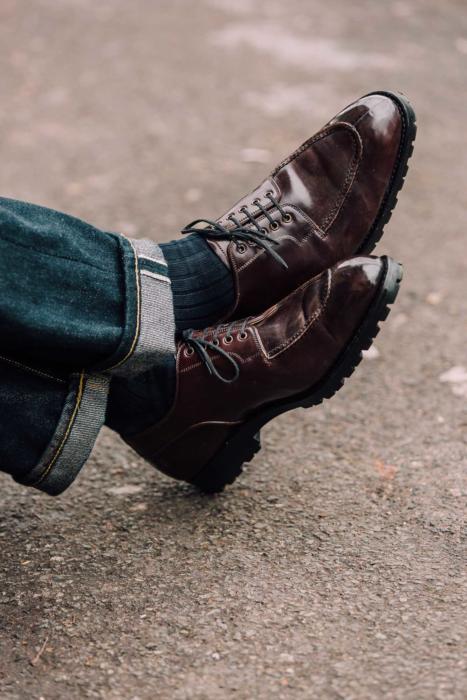 Last year Karl Chu offered to make me a pair of shoes under his Ascot Shoes label for review.
I had known Karl (pictured below) for a while, but mostly through his hosting of bespoke shoemakers in London - such as Masaru Okuyama - in his old space on Savile Row and now in the basement of Mark Powell in Soho.
I'd never tried the shoes he sold himself, which are both from Hungarian shoemaker Vass (Karl is the European agent for their non-bespoke) and the Kaan model, which is partly made by Vass and partly in Northampton.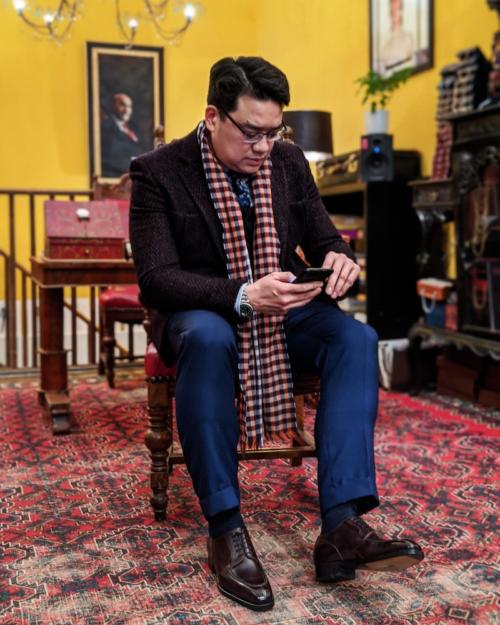 I was interested in Vass because I'd never had any before (always a driver as far as this site is concerned) and because Vass is known for making hand-sewn shoes at slightly more affordable prices.
This kind of hand-sewn construction, with both the welt and the sole stitched by hand, is mostly only available from bespoke makers, and therefore priced in the thousands. Vass costs around £900 from Ascot in the UK and $735 from No Man Walks Alone in the US.
The reason is historical. Like many smaller economies, most shoemakers in Eastern Europe never industrialised, and therefore have continued to make all their shoes by hand, the old-fashioned way.
I've visited a few of these, including in Warsaw a long time ago.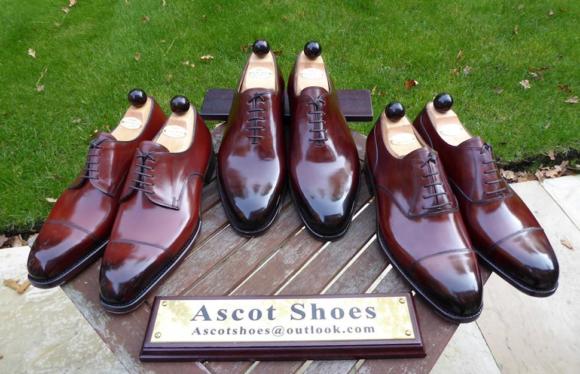 Karl's main job is running a software consultancy, working for investment banks. But he takes time off to work on his shoe projects. And that time off is getting longer: his current 'shoebbatical' has lasted a year.
Karl started by introducing Vass to the UK, where they weren't otherwise available, and eventually became the local agent. Other work, such as hosting bespoke makers, is more a passion project and he doesn't (at least initially) charge a fee.
The bespoke makers he currently works with are Masaru Okuyama, Ginza Clematis and Korbinian Hess Ludwig from Germany.
Appointments for the various services are available in three London locations: Mark Powell in Soho, English Cut in Marylebone, and Taylor & Son also in Marylebone, where Karl also offers bespoke shoes that he measures and fits.
And in Paris appointments are possible at Chato Lufsen.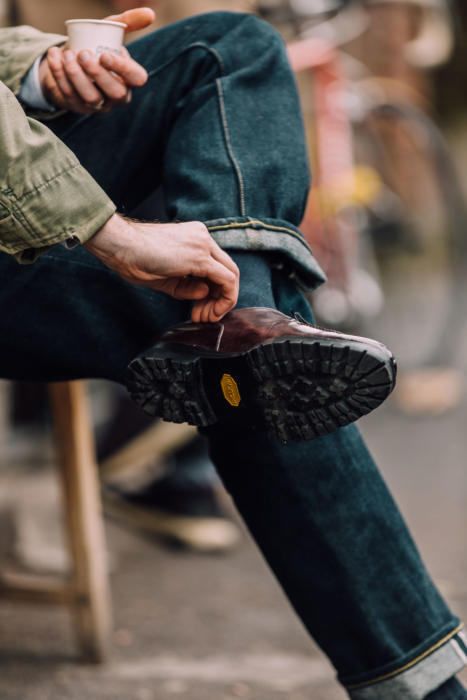 The lion's share of the business is Vass ready-made and MTO, however, and around 40% of that is the 'Kaan' model. (This is also more expensive: £910 for calf, £1295 for cordovan).
Karl developed this out of a desire for a split-toe derby with a hand-sewn apron, in different leathers and lasts. He originally asked English makers such as Edward Green and John Lobb to make one to order for him, in alligator and on particular lasts, but this wasn't available.
So he found a maker in Northampton that would do the clicking (cutting) of the leather, and then sew the uppers with the U-shape around the apron the traditional way - by hand, with a pig's hair bristle (like the Edward Green Dover).
He then convinced Vass in Budapest to do everything else: hand lasting, hand sewing the welt and sole, and hand finishing.
With my shoes, I introduced an extra layer of complication, asking for my Kaan to be in cordovan.
I had admired the Alden split-toe blucher in cordovan for a while, and thought this was a nice way to make a similar shoe at bespoke-level quality.
Karl's maker was initially reluctant. Cordovan is about 30% thicker than calf, and harder. Sewing it with a bristle, and punching the holes, would not be easy.
And so it proved, with a few broken needles. But it was done in the end, and the maker is happy to make them again in the future (I'm told four have been made since).
Wearing the shoes now, I'm not entirely sure the technique is suited to cordovan.
The way it works, the outer section of the upper is turned upwards at the seam, while the middle part (the apron) is kept flat, meeting the outer section at 90 degrees.
This means the inside of the cordovan, the raw edge, is exposed. It's not an issue with most leathers, but with cordovan the inside is paler and stands out a little more.
It's probably clear from the photos that the cordovan also made stitching around the apron (and internal sewing on the toe) a little tricky, and the edge uneven as a result.
Cordovan might be more suited to the machine stitching that Alden uses, which doesn't expose the edge of the leather. ('Leather' used for simplicity, as cordovan is of course not really a leather or a skin, but a membrane.)
The look and the shape of the Kaan were great.
One thing that had always put me off Vass was the impression that all the designs and lasts were chunky and round - a little rural, a little old-fashioned.
But this is probably just because those styles have become most popular. The F and U lasts are actually pretty slim, with a rounded and squared toe respectively.
I liked the look and shape of mine, on the U last - slimmer than the Alden would have been, and elegant without being too long.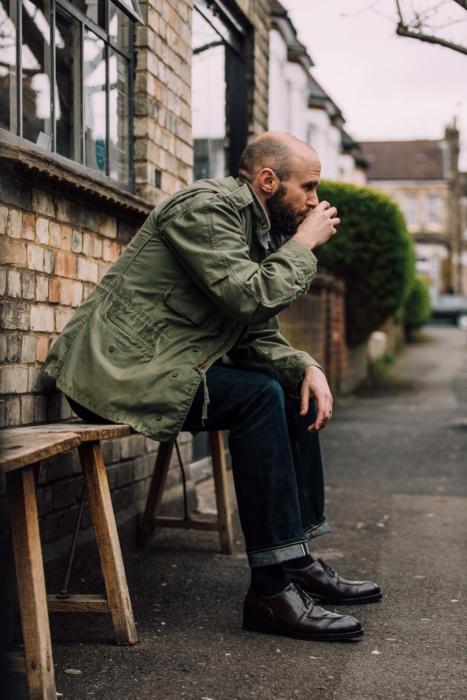 The length, though, was affected by an issue over sizing.
At the time, Ascot was based in the Cad & The Dandy rooms on Savile Row. PJ there took me through the process, we tried on various U-last Vass shoes, and settled on a size and design.
There was clearly some miscommunication, because the shoes that came back were a size too big. My feet are almost a half size different, and there did seem to be some lack of understanding about ordering different sizes for each foot (something Karl offers with MTO). But even then, they were too big.
With two insoles, they were comfortable and wearable, though perhaps a little long for my foot (causing double creasing on the vamp). This is the pair I have now, and are shown in the images.
Karl says he thinks he knows why the miscommunication happened, and it shouldn't happen again. But I might look at Alden pair in the future if the size issues bother me too much.
There was also an issue with the sole, which was meant to be a thin rubber but came as Vibram.
However, it's actually one thing I really like about the finished shoe. It makes the look a lot heavier and more rugged, but with denim I think it's nice - and very practical as a rain shoe, with the cordovan as well.
That, of course, is more of a personal style point, and it might be a look others dislike.
I should also say that, although I've heard of issues with Vass quality control from others, in every other way the shoes were very well made. Although of course with the Kaans the clicking and closing are not done by Vass but in Northampton.
In the images, the shoes are worn with my Blackhorse Lane jeans (NW1, 18oz), vintage field jacket with fur lining, striped PS Oxford shirt, and lambswool cardigan from Drake's.
More images of that outfit on the article about the lining, here.
Photography: Jamie Ferguson. MTO Kaan shoes in cordovan cost £1620