Introducing: The Madras linen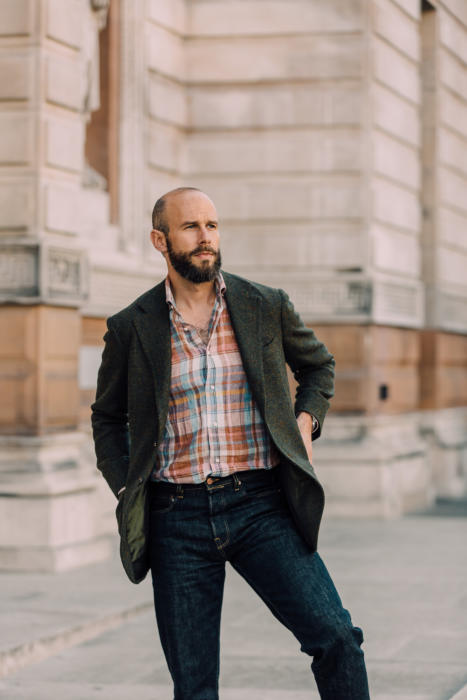 There is a certain preponderance among men to order bespoke shirts in loud checks.
This must be the case, because most patterned materials offered for bespoke are bright and loud. Even though the ones available in a mill's full collection - offered for brands to buy in bulk - are rather subtler.
I generally dislike those loud checks. They can be fun, but are more often crass. And they're not easy to wear. As a result I have very few checked shirts.
So last year while at Milano Unica, when I saw a pattern I particularly liked in Thomas Mason's full collection, I decided to order it in bulk myself.
This is the cloth - a Madras-inspired riot of blue, orange, pink and yellow, woven and washed to look faded, almost vintage.
It is 100% linen, and is clearly inspired by the bright cottons imported by the British from Madras, and made famous by Brooks Brothers in the US with its 'guaranteed to bleed' shirts.
This is not designed to bleed, but it was deliberately woven with delavé yarn, which is used in textiles to create a faded effect: the dye fades with industrial washing, allowing the mill to pick the look they want.
I went through a few different washes before settling on this one: not too bright, but too so faded that you can't make out all those different colours (I count eight in total).
Once in this state, though, it shouldn't fade more than a regular shirt when washed at home.
I find the pattern and its washed look goes with jeans (as pictured) as well as smarter tailoring. It helps that those colours themselves are so appealing: tobacco brown and turquoise, navy and burnt orange, mustard yellow and cream.
I've worn it with jeans and loafers; with a tan blazer and green trousers; and with white-linen trousers and espadrilles.
It's particularly nice with warmer colours like green and tan, I find; but it helps if those colours are fairly strong, so there is enough contrast with the shirt.
In the pictures, it is worn with Blackhorse-lane jeans, Alden full-strap loafers, and a green tweed jacket*. The shirt was made by Simone Abbarchi.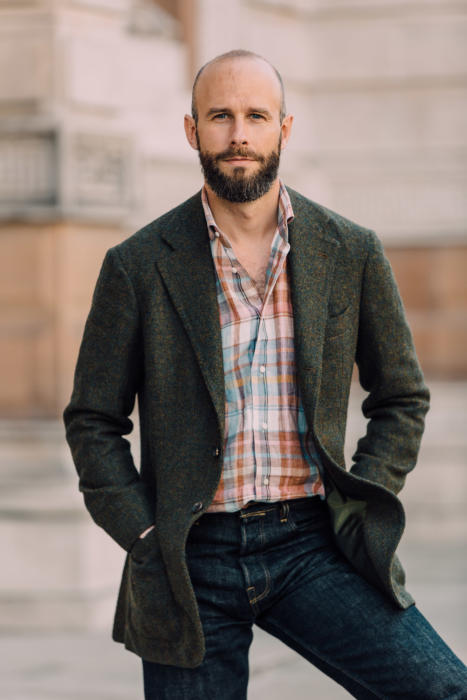 The cloth is available for readers to buy in 2-metre lengths, like the PS denims and oxfords. And launched now so there's time enough before the summer to have it made into a shirt.
It is not, for the moment, available as finished shirts. This is partly because the cloth has been bought by a few brands from the same Thomas Mason collection, and so shirts wouldn't be exclusive to PS. You will probably see it this season being used by Emmett and Sid Mashburn, among others.
It is exclusive to PS as cut lengths, however, for all those that have their shirts bespoke or made-to-measure.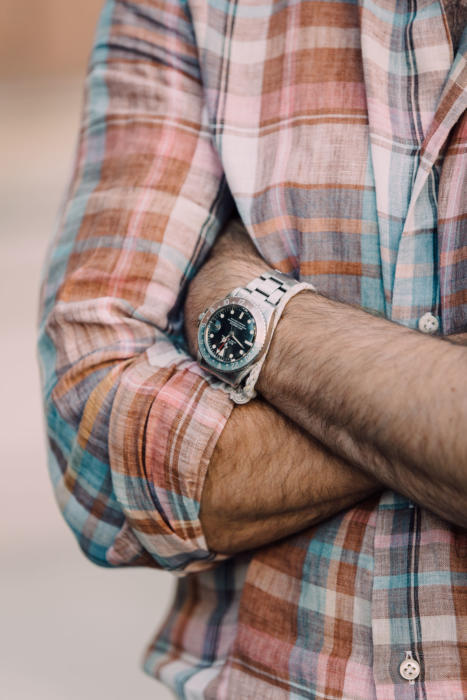 Other details:
The linen cloth weighs 123-129 g/m2

Like the other PS cloths, it is shipped in 2m lengths, which is generally good enough for someone up to 6'3'' in height. But it also depends on your other measurements, so best to check with your shirtmaker

If you want to send it straight to a shirtmaker, put them as the shipping address, including your name as a reference. And let the maker know it's coming

It is available to buy on the PS Shop here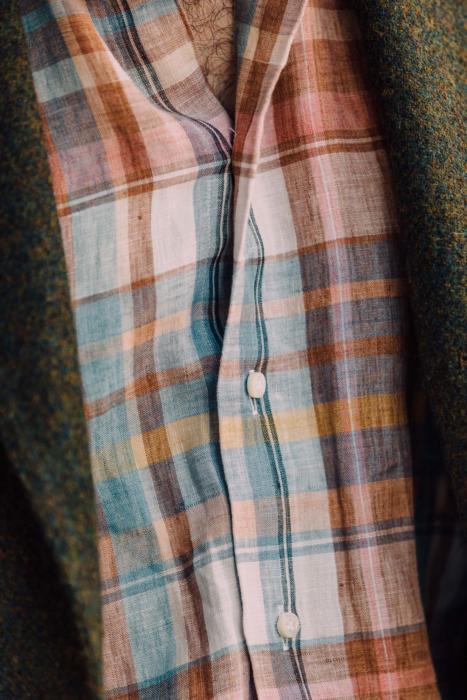 I love this shirt, and really look forward to wearing it this summer. It's so rare I find colour and pattern that I really like, so this is an enjoyable exception.
It's an added bonus that it already looks like a lived-in favourite.
Photography: Jamie Ferguson
*This was the second jacket Biagio made me, which also didn't fit especially well - it looks fine unless you do it up! I've since given it away.