Today, the question I get more than any other is: what cloth should I use for a sports jacket?
Selecting cloth for a jacket is not easy, at least once you've gone beyond the navy blazer. Compared to a navy or grey suit, there's a dizzying range of materials and colours.
Indeed, I've been told by a couple of mills that 'oatmeal' has become a popular category in recent years, which I like to think is partly driven by my recommendation.
The cloths I recommend to readers - in answer to that question - usually have a few things in common:
1. They're muted and subtle, making them suitable for professional wear as well as casual;
2. They're dark or light enough to wear with grey trousers (by far the most popular trouser colour);
3. They have some surface detail in either colour or weave, to separate them clearly from the trousers (and add some interest);
4. They don't have big checks or other patterns, which makes them versatile enough to work with a plain shirt, and support a brightly patterned one;
5. And they're practical. Not necessarily a hairy tweed but not delicate cashmere either - something that will last well
There are some options like this every season from the mills. But I rarely find a set together, and after a few months they're gone, never to return (like that oatmeal).
So I thought it would be useful - and certainly fun - to develop a small selection myself.
I decided to work with Joshua Ellis, who are probably the premier mill for luxury jacketings in the UK. I spent a good long time in the archive, with my criteria above. And I came up with a cloth and weave I absolutely loved, in three versatile colours: oatmeal, brown and green.
This is the result. I'm extremely proud of it, and love the little I've been able to wear it over the summer months. It will be a staple come Autumn.
[The cloth is available to buy, in 10cm units, on the Joshua Ellis website. Full details on purchasing at the bottom of this article.]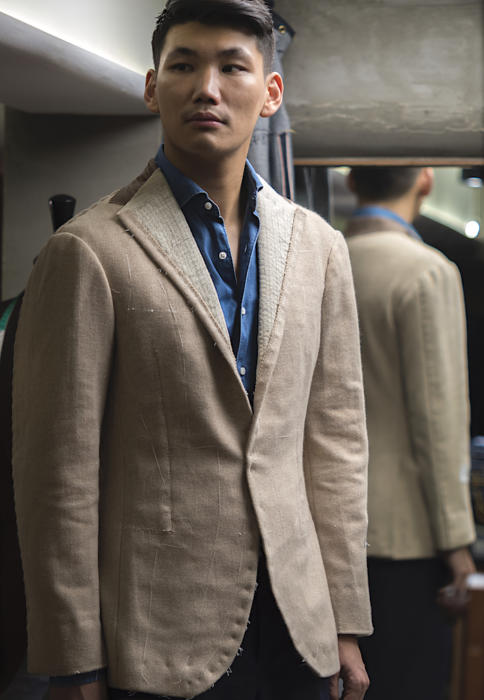 The fibre
Our first choice was the fibre to use (cashmere, merino, shetland etc).
I decided to use Escorial because I've had it before (in my Drake's collab jacket) and loved how it felt and performed.
Escorial is a very rare wool restricted to a few flocks of sheep in Australia and New Zealand. Its name comes from the original flock that was owned by Spanish royalty, and exported to Australia before dying out at home.
More importantly, though, are Escorial's properties. First, it feels like cashmere but wears like wool: it's wonderfully soft to the touch, but stronger and more robust than cashmere, and so better suited to a long-lasting jacket.
And it has two unique characteristics, which are its breathability and natural stretch, both created by the fibre's natural curls. The stretch is akin to elastane or a similar synthetic: the jacket I'm wearing feels almost more like a chunky sweater than a piece of tailoring.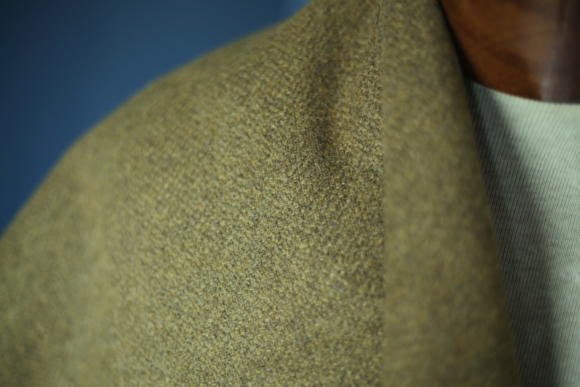 The weave
Next choice - the yarn and the weave. How would we introduce enough texture or colour variation without being over the top?
My favourite tweeds are usually from Harris, with their distinctive colour variation in the yarn. The colours are subtle, but distinctive: somehow both sophisticated and playful.
So when I found an archive piece at Joshua Ellis with a similar variation in cashmere, I jumped at it. This was a dark, soft brown, but with shades of orange and yellow in it that reminded me of Harris tweed.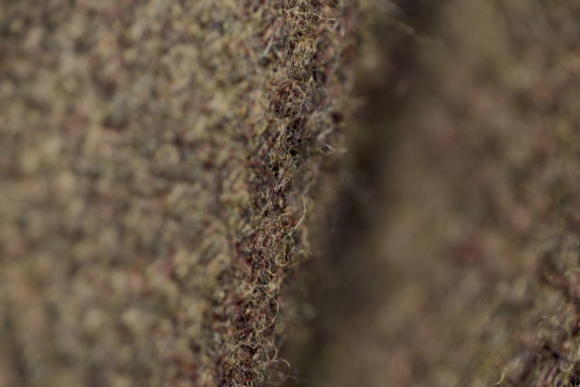 So we used the same colours and finish, just in Escorial wool. The finish was particularly important, as the washing is what causes the fibres to burst and come to the surface, mixing the colours and giving the cloth a lofty, airy feel.
The only other change we made was to add texture more by using a thicker yarn (three ply) and a weave called a Russian twill - basically a tiny herringbone.
One lovely result of this is that the resulting weight (400g, 14oz) exaggerates the properties of the Escorial. It feels even softer and stretchier.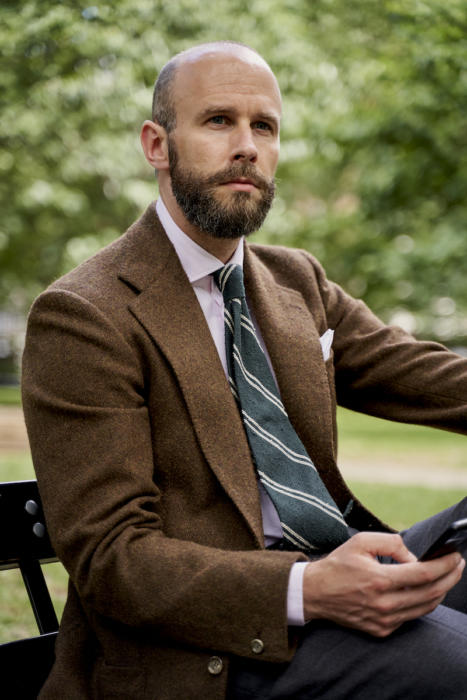 The colours (three)
Last, but perhaps most important question: what colours would we do?
Well, I always say that the two dominant colours in casual jacket cloths are brown and green. The problem is that these are usually quite strong and bright. So we would do more muted, urban versions.
And I had to add oatmeal, because it's proved so popular with readers and I've found it so personally useful. It remains, for me, the best colour after navy for a business jacket.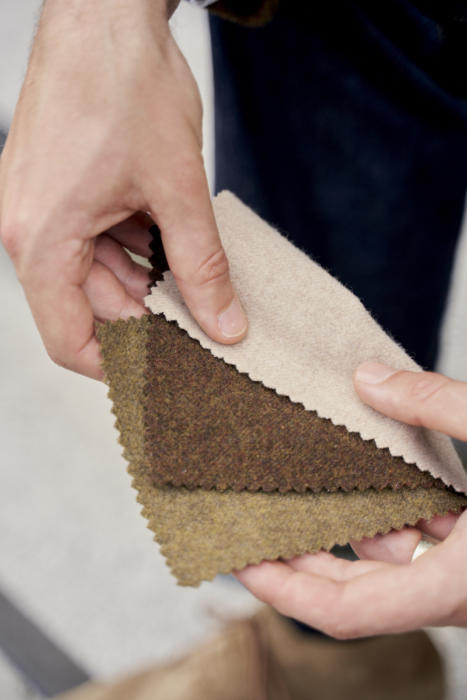 The brown was the one we found in the archive; the green is the same as that Drake's collab (as there was such good feedback on it too); and the oatmeal was a close replication of my Caliendo jacket.
So that made a capsule collection of three.
All of which work in a modern office; all of which go with grey trousers, whether flannel or high-twist; and all of which are strong enough to work with other trouser colours they don't match - so beige, green and brown.
Frankly, I know a lot of readers that could do with all three, if they don't have something similar already.
How to buy
The only downside of using so much Escorial is that cloth is expensive. It costs £165 a metre (with local currency prices set in euros, pounds and dollars by Joshua Ellis) - and that's with me taking a lower margin than normal retail, as I do with most things we sell.
There's also not a lot of it. Neither I nor Joshua Ellis could afford to put too much into stock. But then, if it sells out we'll make some more next year. This is not just for Christmas.
Ordering is not through me, but through the Joshua Ellis website here.
We had to do it that way because the cloth has to be cut to order. I can sell set lengths of shirting on the Permanent Style shop, but if I did that with Escorial there'd be a lot of expensive wastage.
So you can order through the Joshua Ellis website, and request how much you need in units of 10cm. I need 2.1m for a single-breasted jacket, but it will vary with your size. Always safest to check with the tailor.
We also have a limited number of sample cards, with swatches of the three colours. If you would like one you can also do so through the Joshua Ellis site. There is a small charge that is refundable if you ever place an order.
If you want to send the cloth straight to a tailor, by the way, that is also possible (and saves on shipping twice).
Just put them down as the delivery address - but with your name - and please let them know it's coming, to avoid any confusion.
Any questions, please let me know. As ever, it's with a little swell of pride that this special cloth goes out into the world. Treat it well.
Jacket pictured on me, made by Sartoria Zizolfi. Oatmeal pictured in basted fitting, being made for Chris by Prologue Hong Kong. Images of the green being made up will follow.
Samples of the cloth will also be available to see (and touch) at the Permanent Style Presents pop-up from September 10.
Photography of me: James Holborow