Drake's was one of the first menswear brands that really inspired me, back in the days when I'd sit in Michael Drake's study going through old decorative art books, dissecting patterns.
Drake's managed to combine craft and style, deep tradition and wearable modernity, in a way that is still rare.
It is a very personal honour therefore, as this site approaches its 10-year anniversary, to have my name alongside Drake's.
Perhaps it is best thought of as a styling, though, rather than a collaboration.
It comprises a full outfit - jacket, trousers, shirt, tie and handkerchief - where I've selected one of my favourite materials for each, creating a look that I love, and is rather different to the classic Drake's aesthetic.
Each item is available in stock in Drake's stores, and we will be hosting a made-to-order event on Wednesday this week for anyone that wants to tweak their own version. (Or indeed order any other MTO.)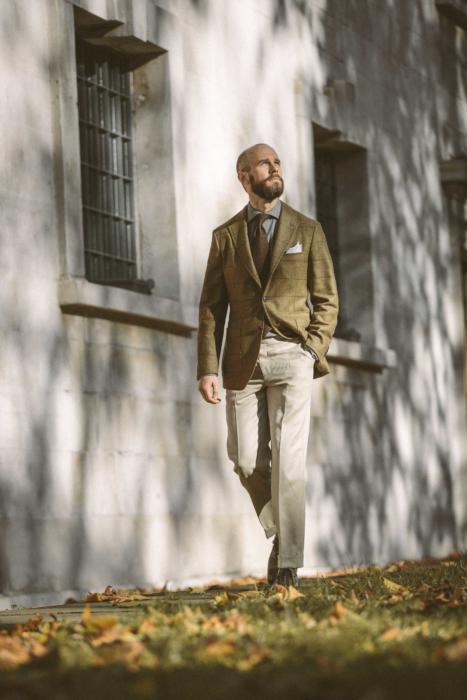 The outfit was based on these lovely photographs Luke Carby took of me at Pitti a couple of years ago.
Back then I commented that I liked the sombre green of that Escorial cloth - with its faint purple checks - and the slightly urban look of the grey brushed-cotton shirt.
It's not office-formal, nor country-casual, but something in between.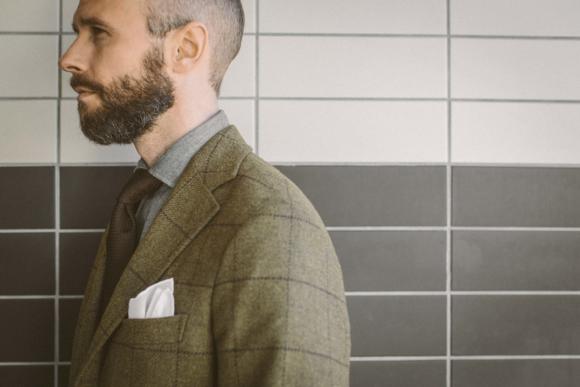 For the RTW version we went to Escorial again for the cloth, making it up in the Drake's three-roll-two style with patch pockets and self-lining in the front.
The shirt is in a similar brushed cotton, with a spread collar.
And rather than copy the original knitted-silk tie, I went for a brown small-knot grenadine - just because I love the 9cm-wide version of this from Drake's so much. I wear the navy version constantly.
That tie also has a small tweak I'm fond of: no keeper. Because a tie flows so much better without tucking in the back blade.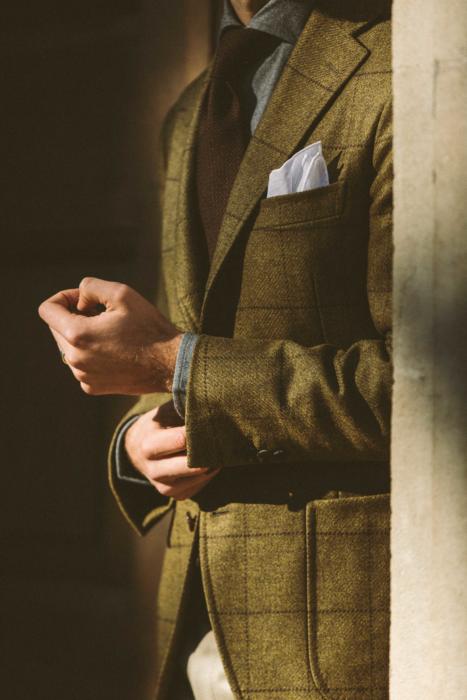 For the trousers, we selected a putty-coloured cavalry twill, which again is made up in Drake's standard style.
I've been wearing cavalry twill so much since writing about it back in March, and this colour is the most versatile of the lot. Pale and muted enough to go with any jacket (save mid- to light grey).
The handkerchief is not unusual, being a white 100% linen, hand-rolled. But it is my favourite.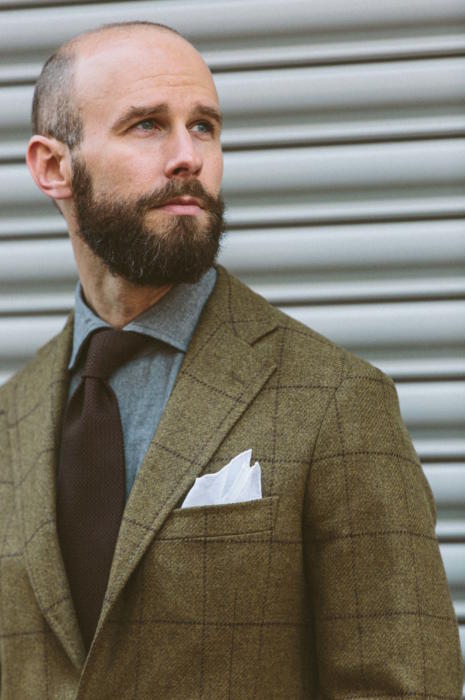 One thing that is nice about the jacket design is that the lack of lining (and self-lining in the front) emphasises the natural stretch of Escorial wool.
I wrote about its crimp-based fine-merino properties on that original post, but you do feel it far more in this jacket than in my bespoke one, because there is no lining getting in the way.
Although readers have suggested it in the past, I've never wanted to design tailoring - primarily because so many other people do it so well.
However, it is nice to do something like this with Drake's, where I can pick cloths and as a result have the jacket and trousers available to anyone buying RTW or MTO.
These couple of months are always the biggest for menswear.
Compressed by the factory summer shutdowns at one end and Christmas sales at the other, it feels like almost a year of sales are squashed into a few weeks.
That's certainly been the case with my collaborations (sorry everyone), and it is with events too. But if you can make it down to the event this Wednesday, please do.
It's at the Drake's Clifford Street store, from 6pm-8pm. Drake's will also have their new range of made-to-order swatches to browse.
(The jacket pictured is a standard 38 chest, which is a pretty good fit on me apart from the length - the one thing I would change with MTO.)
Prices on the collaboration pieces (with links to the Drake's site):
Jacket: £1995 (Escorial is not cheap!)
Trousers: £395
Shirt: £155
Tie: £135
Handkerchief: £60
Photography: Jamie Ferguson @jkf_man