Brand round-up: Rubinacci, CQP and Carl Friedrik
A slightly smaller set of reviews in the brand round-up this month, with more focus on the details.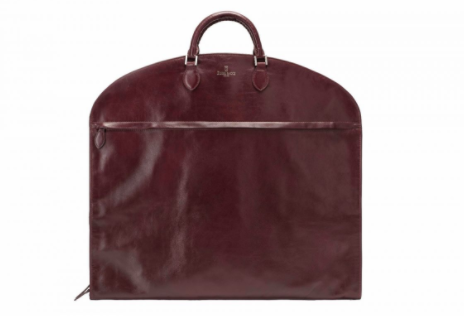 Rubinacci suit carrier, £1200
therake.com/brands/rubinacci/bags
First up is this leather suit carrier - or garment bag - from Rubinacci, being offered by The Rake on their online store.
The key aspects a suit carrier requires to be practical, in my experience, are lightness of weight and flexibility of use.
As a suit carrier must be carried in the hand all the time, it cannot be that heavy.
Most are not made in leather for that reason, and when they are the skin is often split so thin that it loses the leather's natural appeal.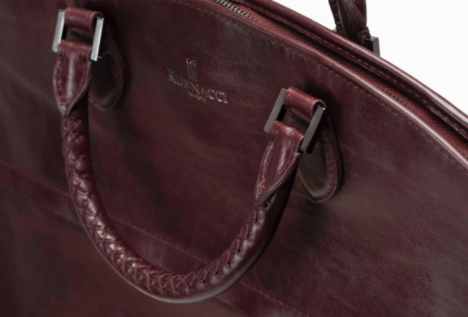 This Rubinacci version manages to find a good balance, being light in weight yet using a nice, veg-tanned leather.
I have used it to carry suits to and from the office and never felt it is too heavy.
The lining is not as appealing, being made from a slippery synthetic. And the method of inserting the suit is original but perhaps a little fussy (it involves four flaps, four straps, and eight button options). It can also realistically only carry one suit at a time.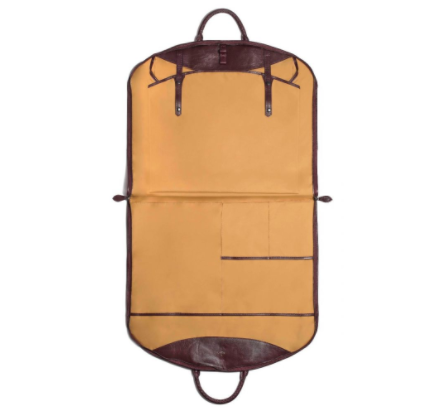 But the carrier does have a large variety of internal and external pockets that make it highly practical.
Most of the time it's worth avoiding carrying much more in your suit carrier than a single suit. If you don't, the whole thing becomes heavy very quickly.
It's nice to have the flexibility to put in a shirt or tie if you need to, however, and this Rubinacci version has four pockets of various sizes, a big zippered outside pocket, and a sleeve to enable the bag to be attached to the handle of a rolling suitcase.
Both black and burgundy deerskin are nice, although I like the richness of the burgundy.
CQP Racquet sneakers, £240
www.trunkclothiers.com/cqp-racquet-white
Regular readers will be familiar with my love of Common Projects sneakers. (Or trainers; I must stop reading so many American sites.)
While I can't see myself switching fundamental allegiance to another brand, I'm always interested in alternatives - for context if nothing else.
Most white trainers don't offer anything different to Common Projects.
They are either simply cheaper in materials, more expensive for no reason other than brand, or have various designer bells and whistles. (Actually, studs seem to be the current fashion.)
Swedish brand CQP, however, does. Its Racquet sneaker is very similar to a CP in terms of leather and construction, but is unlined, making it softer and lighter.
This feels lovely, as you have a much closer connection to the soft leather and the way it moves and moulds.
However, the downside is that the upper is less smooth and smart (less of a problem with suedes) and offers less support to the foot.
The last shape is also stubbier than a CP Achilles, making it more a casual court shoe than a dressier, loafer-substitute sneaker.
CQP's Tarmac model does have a longer last and is lined - but it's also more of a mid-top.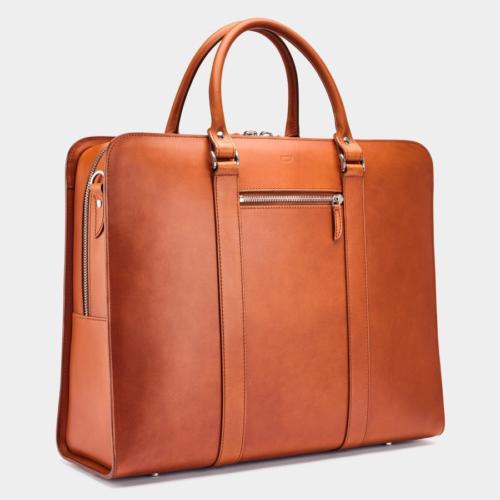 Carl Friedrik Palissy 25-hour bag, £441
The Swedish brothers behind Carl Friedrik have had an interesting few years in menswear.
Originally their brand was called Oppermann, and it made classic leather bags in Asia that were distributed through wholesale to various stores.
After a while, they became frustrated with the wholesale model and wanted to do retail themselves - going direct to consumer and spending more on production.
So they moved manufacturing to Italy and began selling online.
Then earlier this year, a trademark dispute over the name Oppermann forced them to rebrand - to Carl Friedrik. (Their grandfather's name, away from their own surname.)
Fortunately, the product is strong. It is decently made from Tuscan veg-tanned leather, in Naples, with Raccagni zippers and a nice water-resistant lining.
I particularly like the cognac colour, as it is the least treated of the leathers and therefore ages the quickest - in a similar fashion to the Hermes Barenia leather (though not of the same fineness).
There isn't much to designs in bags and small leather goods. (And shouldn't be, really; who wants an odd and unusual briefcase.)
But I would highlight the way the Palissy 25-hour bag is designed to increase its capacity.
It is slightly taller than most briefcases, but not much wider, and narrows toward the top. This makes for a bag that could easily cater to a single-night trip, but doesn't look too out of place commuting to the office.