Introducing: The short-sleeved Friday Polo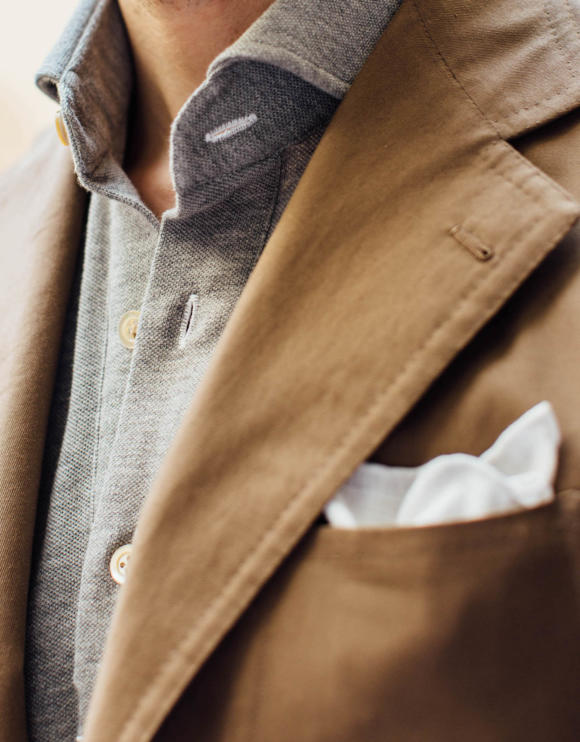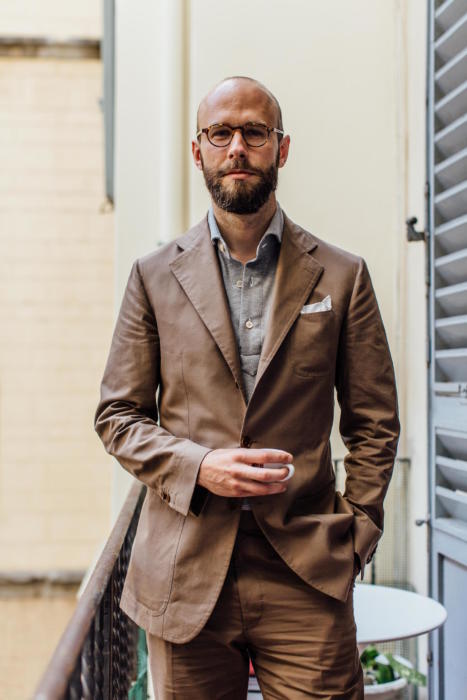 * For stock availability, please check the Shop page of the website*
A new iteration of our Friday Polo is available from today on the Permanent Style shop: a short-sleeved model for the summer.
It is made in the same Caccioppoli piqué cotton as the long-sleeved polo, in two colours: our standard navy, and a slightly paler grey (which I personally prefer to the grey of the long sleeves).
The short-sleeved polo has also been cut slightly shorter than the long-sleeve, with a squared off bottom edge. This means it could be worn untucked if desired, though it is still primarily designed to be worn tucked in, under a jacket or knitwear.
Other than that - and the short sleeve of course - this is the same Friday Polo as has sold out continuously over the past two years. The same high, two-piece collar, the same hand-sewn details around the collar and sleevehead (supervised by Luca Avitabile in Naples), and the same great-value price.
It is available to buy on the shop now. Please state your preferred size and colour in the notes when you order.
(The Friday Polo continues to be below normal multiples, not have VAT added, and now benefits from a very depressed pound. Or rather readers benefit, I don't!)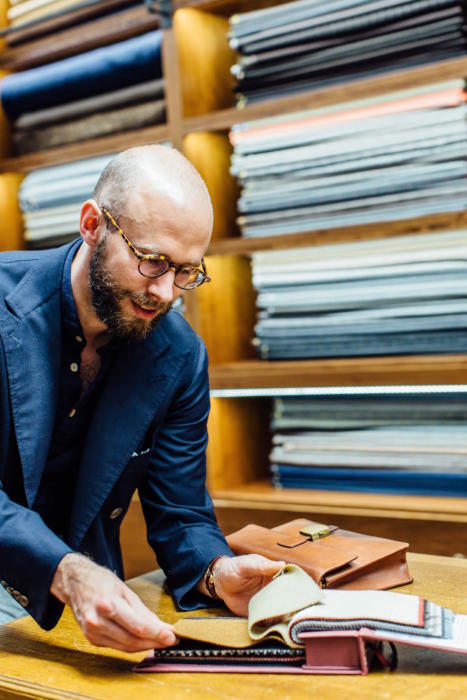 Quite a few readers had requested a short-sleeved model over the past six months, and I'm glad to finally have it ready.
We spend a little time on the length and finish to the bottom edge, as well as the shape of the sleeve - which you will notice doesn't have the tight ribbing at the bottom, which I've never liked, preferring and simple turnback and stitch of the cloth itself.
There will be more long-sleeved Friday Polos, but not until the Autumn. And we only have 100 of these short-sleeved models available, which I'm sure will go fast.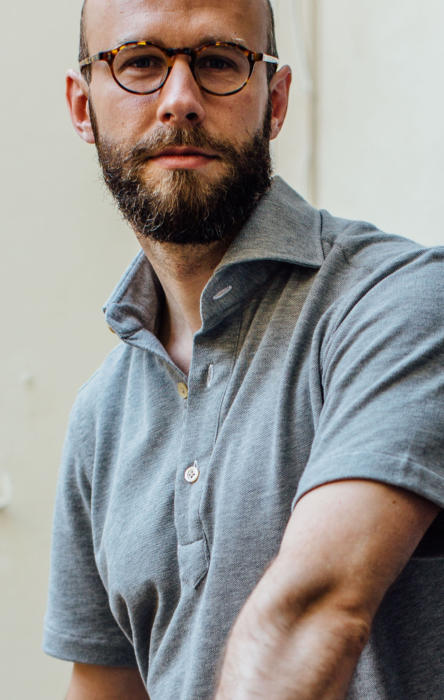 The Friday Polo is pictured here in two outfits - under my olive-coloured Caliendo cotton suit (full review of that next week) and under my navy hopsack double-breasted jacket (also Caliendo).
I find this grey works particularly well under dark jackets, in a similar way to grey shirts I like and have worn from Luca and from Simone Abbarchi. It is a chic and casual alternative to the normal white or pale blue you'd expect under a jacket.
The navy is very versatile, and I particularly like it tone-on-tone under a navy jacket. I'm pictured here discussing a new commission with Taka at Liverano & Liverano in Florence.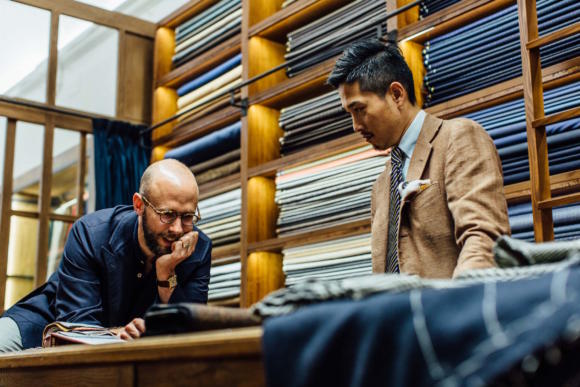 The details of the short-sleeved Friday Polo, and way to order, are:
Basics
Two colours available: Navy and Grey
Four sizes: Small, Medium, Large and Extra-large (see table below for dimensions)
Price £150
Available solely through Permanent Style
Buy from the shop page here
Shipping
Postage is £9 in the UK, £11 in Europe and £16 anywhere else in the world
Packages sent by FedEx from Naples (tracking number available on request)
Returns and refunds available if the product is in a resellable condition, although we do not cover the cost of return postage
Product details
Mid-weight Caccioppoli pique-cotton fabric
Hand cut and partly hand sewn, all in an atelier in Naples that makes for several big designer brands
Cutting and work overseen by Luca Avitabile, bespoke shirtmaker
Mother of pearl buttons
Stand collar, like a shirt, to help it sit under tailored jackets
Slots in the collar for shirt-stays
Squared off tail and front, but a touch longer than most polos
Shirts will not shrink when washed, but should expand slightly in the waist. Do wash cool and line dry
Sizing
The shirts have a moderately slim fit
I am wearing a medium and have a 38-inch chest
If you are unsure about fit, we recommend comparing the measurements below to a polo shirt you currently own. They are in centimetres.
Chest Waist Yoke Sleeve length Body
S 102 92 40 20.5 70
M 106 96 44 21.5 71.5
L 116 106 47 24 73.5
XL 124 114 48 24.5 75
Photography: Jamie Ferguson @jkf_man