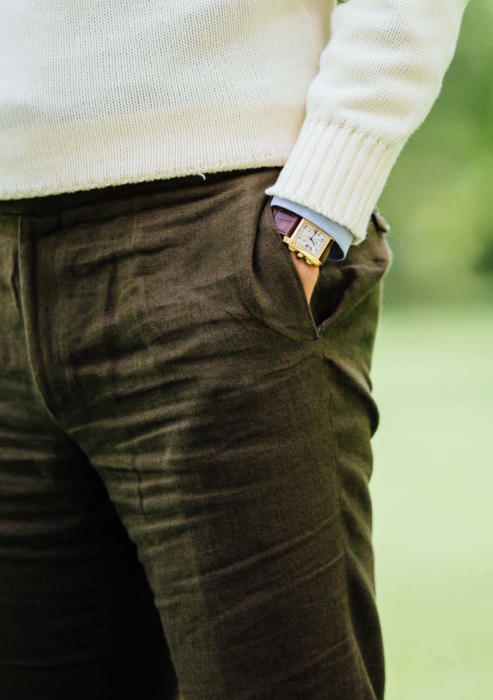 Simon,
Would you be willing to do a post on (casual) summer dressing? It's the area of dress I struggle with the most.
Every time I go on summer/spring holidays I find myself browsing through the internet looking for a good mix of casual and elegant summer dress, but mostly end up with a dissatisfying mixture of being over- and underdressed at the same time.
Parker
–
Hi Parker,
The central problem of dressing for warmer weather – whether in the summer or on holiday – is that you can't wear as many clothes as in the colder months.
Most of the elegant, classic dress we discuss involves layers – particularly a jacket or knitwear over a shirt. Without that, everything starts to struggle.
There are, however, various ways to mitigate this. And they all relate to your point about dressing more casually on holiday too.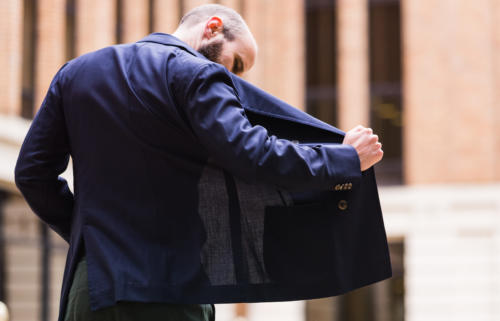 1 Lighter weight clothes
The first and perhaps most obvious thing is to wear cooler clothes. This means both different materials and lighter weights.
So wear an unlined hopsack jacket or lightweight cotton jacket. Wear linen or lightweight worsted trousers. And wear linen or linen/cotton shirts.
This is one of the pleasures of dressing for summer. New materials feel different on the skin, and often brig back happy memories of long days outside.
I would also include wearing loafers/belgians/espadrilles without socks (or the little, invisible socks) under this point. Again it's about wearing the same categories of clothes as the rest of the year, but adapting them for the heat.
(This doesn't have to be that formal either – I recently saw a beautiful indigo-linen bomber jacket in Hermes that would do exactly the same job as the tailored jackets described above.)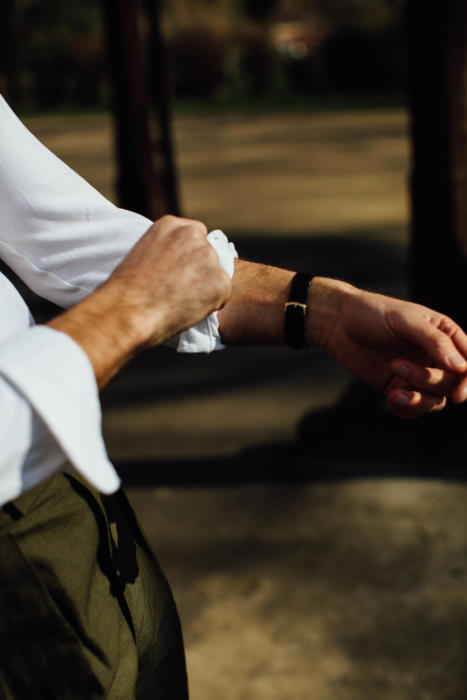 2 Fewer clothes
Sometimes it is either too hot to wear a jacket, or you want to be more casual (eg on holiday).
In this situation I'd just wear a shirt, but retain more formal trousers. A lightweight button-down and espadrilles would be much elevated by a beautifully cut pair of cream-linen trousers.
And to take the casualness a step further, you could swap the button-down for a polo shirt (such as those sold on Permanent Style for instance – more coming soon I promise).
It is amazing how elegant you feel on holiday wearing a fine polo tucked into tailored trousers, with those loafers or even trainers on the feet.
I like my grey polo with tobacco-coloured linen trousers in particular (and pictured above, Adam's white polo with green linen).
3 Lighter, brighter colours
That talk of green and tobacco also reminds me how nice it is to reflect the sun with paler or brighter colours.
Personally, as soon as I see that the weather in London will be sunny and warm, I immediately pick something to wear that couldn't be worn at any other time. Cream gabardine trousers, for instance, or spectator shoes. There are so few such days in England that you have to grab and celebrate each one.
The cream cotton sweater pictured from Anderson & Sheppard is another example. It illustrates both the first point about wearing the same clothes, just in different materials, and this one about reflecting the brightness of the day.
Incidentally, the navy cotton/cashmere hoody that featured in my post on colour combinations is also a good example of swapping materials with the seasons. Except there, it remains navy and therefore more versatile (particularly on hot but not particularly summery days).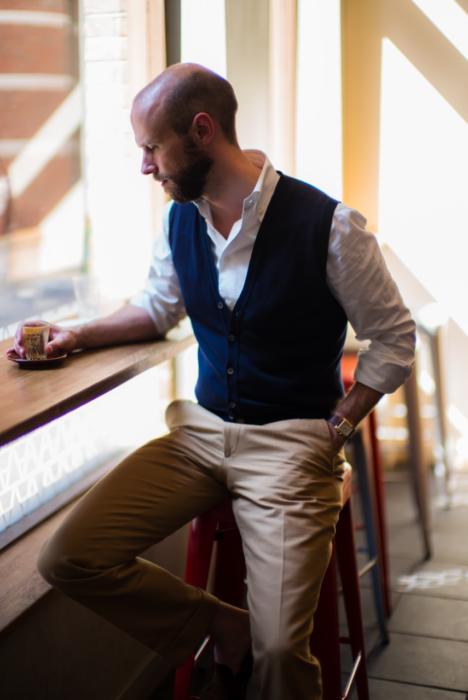 4 Casual clothes, but elegantly done
Finally, if do need to dress more casually (as I know many will do on holiday) make sure you put the same thought into cut and fit as you would with formal clothes.
So if you do wear shorts, take some time to find a cut you like. Not too narrow (as most of them are unfortunately) and not too loose. In a great cotton or linen. Richard James has some nice ones at the moment, as does Massimo Alba at Trunk.
If you wear shorts, maybe dress up the top with a smarter shirt. Wear espadrilles or belgians rather than sandals – they're actually cooler, and no one has to see your toenails. And wear a top-quality panama hat, perhaps, rather than one from the local market.
I hope that gives you plenty to think about Parker.
If I wear going on holiday tomorrow, I'd pack a few tailored linen and cotton trousers, some polos, one or two linen/cotton shirts, and a single jacket I could throw on in the evening.
Add to that a lightweight sweater, Zabbatiglia espadrilles and my EB Meyrowitz sunglasses, and I'm all set.
Simon