Introducing: The button-down Friday Polo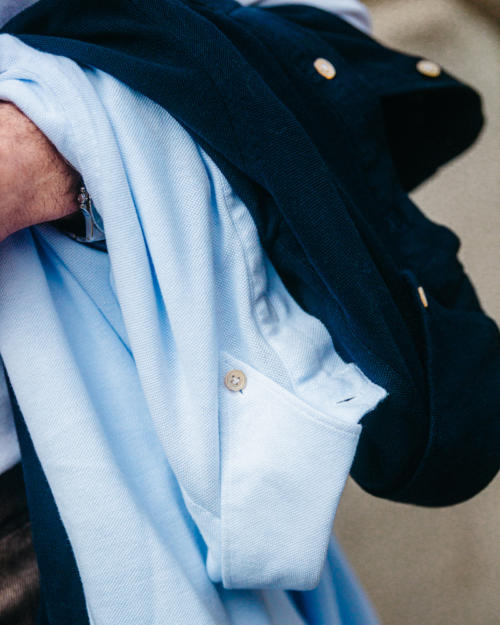 Picking what to offer in this next iteration of the Friday Polo was not a hard decision. So many readers have asked in the past few months for a button-down version of the PS polo.
That may be because there are more out there at the moment; or it might be because the other PS shirts are all button downs, and readers like that collar style.
Either way, the only difficulty was deciding on colours.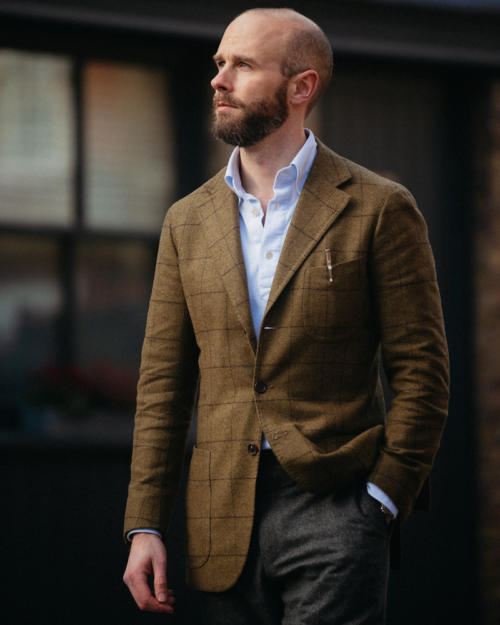 Though there again, the decision was partly made for me.
I've wanted for a long time to offer a light-blue version of the Friday Polo. It's the most universal and versatile colour of shirt, after all.
But the blues that Caccioppoli offered in the distinctive comfy piqué cotton we use were always too strong. Not the classic men's colour, and not that useful outside of strong sun.
Finally, last year, they introduced a really pale blue that was perfect. That's it shown under a lightweight green tweed jacket above and below.
So for colours we went with this pale blue, navy (always the most popular) and white. It felt like a good classic range for button downs.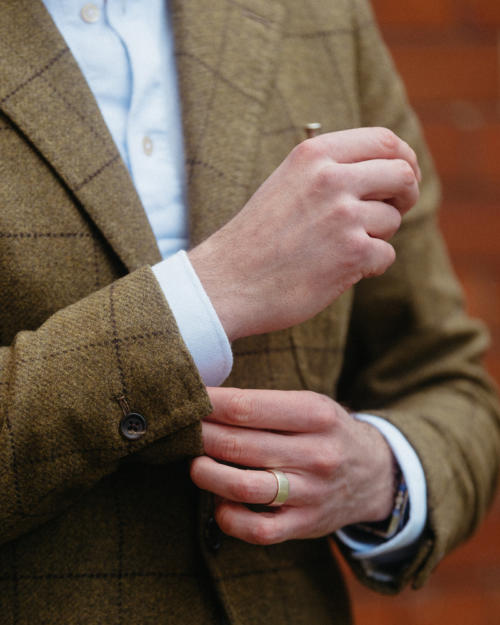 Apart from the collar, these Friday Polos are the same as the classic style, introduced here on Permanent Style in 2015 as a casual alternative under tailoring.
The shirt is long, with fronts and tails the same as a dress shirt - not a polo shirt.
The collar is made with a proper, reinforced stand collar, so it sits up proud under a jacket (rather than collapsing under the lapels).
And that material is a heavy piqué that can be worn year-round, not just in summer.
There are also both aesthetic and functional elements of handwork - so hand-sewn buttons and buttonholes, but also a hand-inserted sleeve and hand-rounded collar, to give the Friday Polo the same functionality as a good Neapolitan bespoke shirt.
It is designed to be, and has become for many people, the perfect thing to wear in a casual office to look well-put-together but in no way corporate.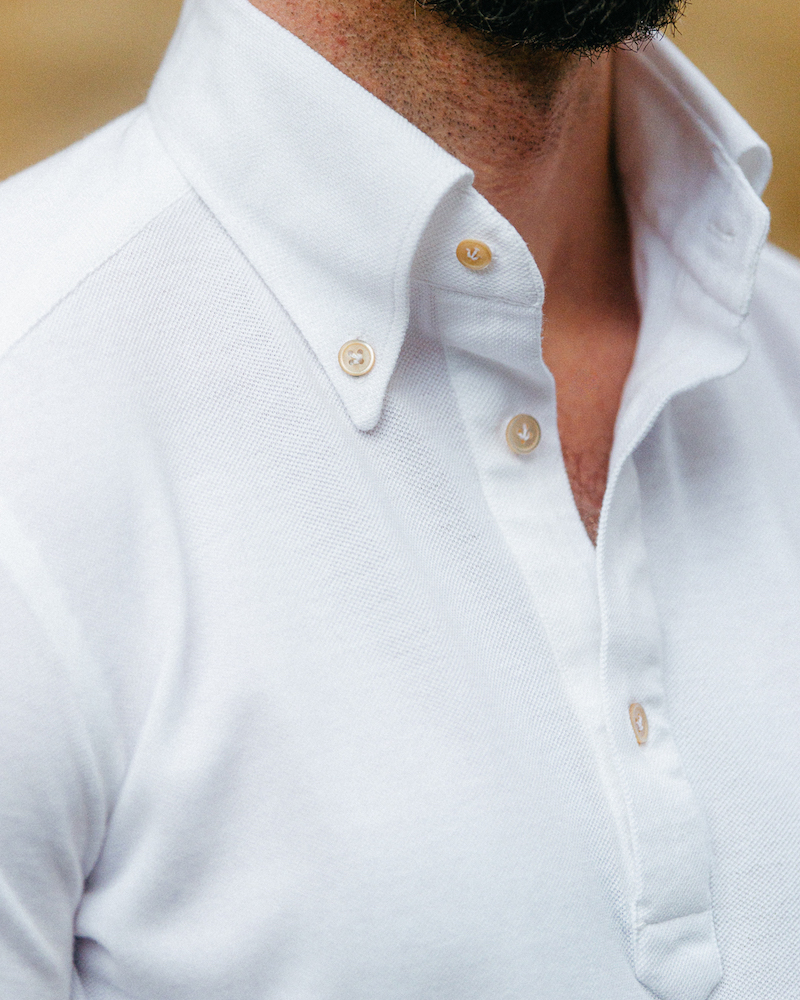 Oh, and by the way - for any copycats out there - the Friday Polo is not a generic name for a shirt in this style. It is a very specific name and design, put together by myself and shirtmaker Luca Avitabile.
I had to ask one Korean brand to stop referring to their version as a 'Friday Polo' last year, and their response was that they thought the name was just what English people called a polo shirt.
I'm pretty sure I believe them. Either way, they've now stopped using the name. Even though they're still selling the same design, in the same colours, in much cheaper cloth.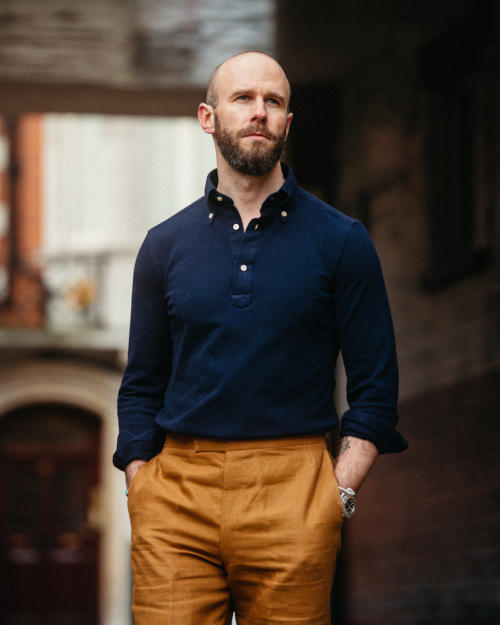 There are more details about the Friday Polos, their making in Naples and the cloth on the shop site here.
Meanwhile from a style point of view, I've pictured the navy polo (above) with tobacco-linen trousers, to show how nice a colour it can be with similarly strong tones in the summer. See also cream and most greens.
And below - in order to show the opposite use - the white polo is underneath the shawl cardigan we sold recently with Anderson & Sheppard, and brown whipcord trousers. Much more for chilly Spring mornings.
That trouser material is 9518503 from the Holland & Sherry Dakota bunch - probably the best range of whipcords or cavalry twills. The charcoal is great too. Both are 13.5oz.
The green checked jacket was part of the Drake's collaboration we did a couple of years ago, using Escorial wool - details here.
That's worn with trousers in Fox mid-grey flannel (CBT5/A1285/22, 13/14oz), while the linen trousers are the bottom half of my Dege & Skinner suit.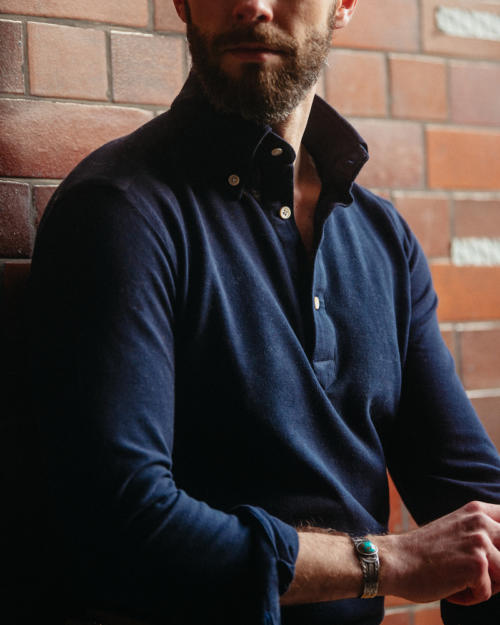 The button-down Friday Polo is available on the PS shop page here. (Although some has already gone to the waiting list, who had an alert about the availability yesterday.)
There are details on sizing and other points there too. We will do the normal-collar Friday Polo again, but not until the Autumn.
Do shout if you have any other questions.
Thanks, Simon
Photography: Alex Natt