New Dartmoor colour – and what to wear underneath
Whenever I choose not to wear a shirt, my most common alternative during the working week is a collared knit - like the Dartmoor pictured.
This manages to be both elegant - mostly due to the collar and fine gauge - and very relaxed and comfortable. It's a good example of what we might call classic sportswear (a far cry from modern sportswear...).
As men dress more casually, it's pieces like this in the wardrobe that I think will become fundamental. For while they're obviously not related to the corporate suit-and-tie, they're equally removed from the normal casual default of T-shirt, jeans and trainers.
A fine collared knit can be worn with fine worsted trousers, with woollens like flannel, and with the smarter types of chino - such as a Stoffa basketweave or the pair pictured, made by P Johnson.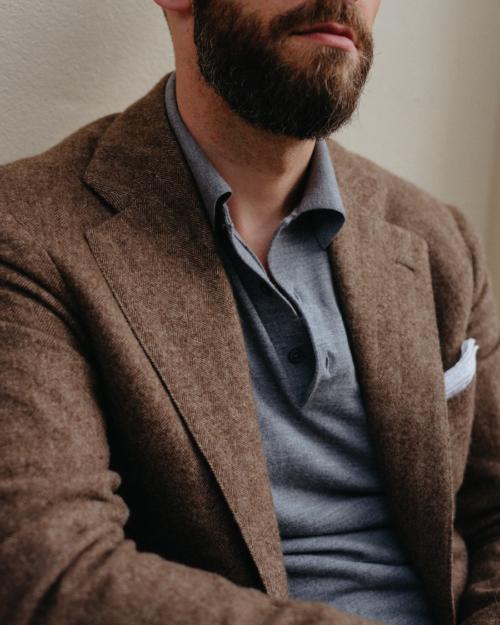 The first question readers usually ask about knitwear like this is: what do you wear underneath?
It's an interesting one, because while you can wear fine merino against the skin - and it is perfectly comfortable - it then needs to be washed fairly often. Not as much as something in cotton, given wool's natural anti-microbial properties, but certainly every two to four wears, depending how much you sweat.
For some people, seeing someone else in knitwear that appears to be worn against the skin also just feels uncomfortable, even if it isn't for the wearer.
So the obvious thing to do is wear a T-shirt under it. But then that bright, round neckline makes the look much more casual - as you can see if you compare my look here with the one in this article.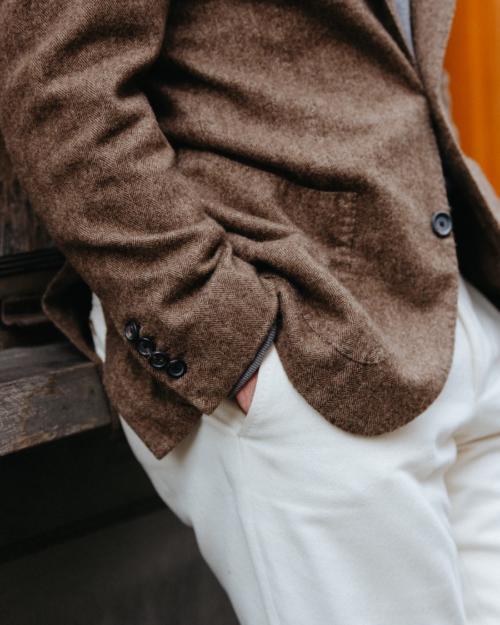 Personally, I quite like wearing a vest underneath. It's what I was doing on the original Dartmoor shoot, and what I'm doing here with the new colour launched today - a flannel grey.
A vest creates a much lower neckline - only occasionally visible underneath the knitwear - as well as avoiding the lines you get on the sleeves, where the T-shirt sleeve ends. And I find I do need something underneath the merino, for comfort.
The only problem is it doesn't solve the washing issue. You're still going to sweat into it. I don't find this too much of a problem as I don't sweat too much, but I might avoid wearing a knit like this on a warmer day, for that reason.
It also helps if you're good at looking after and washing your knitwear in general (see video with advice at that link).
The last option is a T-shirt some kind of low neck. I have a deep V-neck one from Sunspel (my vests are also from Sunspel) that I sometimes wear if I want that alternative.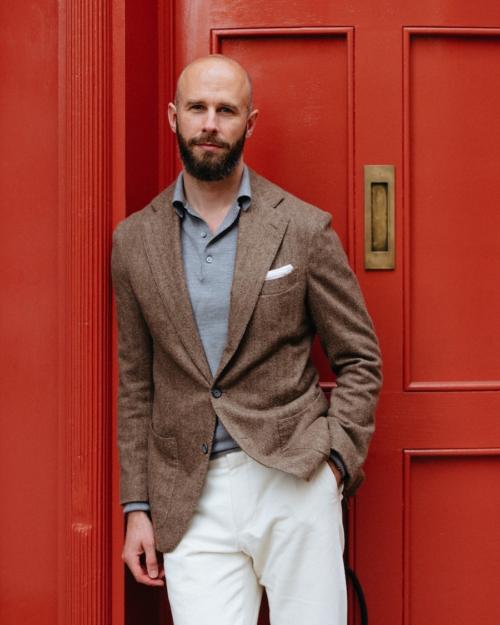 Returning to the versatility of the knitwear, this particular design works under a jacket, which is unusual. The collars on most styles either collapse under the jacket, or quickly flip outside of it.
The Dartmoor was designed so the collar was strong and high enough to sit above the jacket, and roll around the edge of it too. Of course, it's still soft wool, and isn't going to have the structure of a shirt - I find I have to briefly rearrange it when I put the jacket on, or after moving around quickly. But it's better than any other knit collar in that respect.
(Full details on the collar and how it was designed with Italian knitted Umbria Verde on the original Dartmoor article here.)
With this new stock, we also reduced the length of that collar slightly. Readers had commented that when worn without the jacket, the style was a little too dramatic. So we've trimmed the points by 0.5cm, while still keeping the same structure and the height at the back.
Again in response to customer requests, we've also stocked a very small number of XS and XXL, to test out demand.
Last, a word on the colours of knitwear to wear under tailoring.
This is a tricky area: nothing is quite as versatile as the white or pale blue of dress shirts (and white and blue themselves rarely work in knits).
I find navy looks great under a navy jacket, and under other dark, cold colours - such as the brown donegal shown below. Really dark browns or greens, like my Zizolfi tweed, are also good options.
Mid-grey is really versatile in terms of jackets it goes with - it looks great with almost anything.
The only issue is the trousers, given you can't wear grey trousers with it. My favourite here is cream, as pictured, but navy, dark denim, and dark browns or greens are also good. Being dark helps as paler colours (such as beige) often don't provide enough contrast.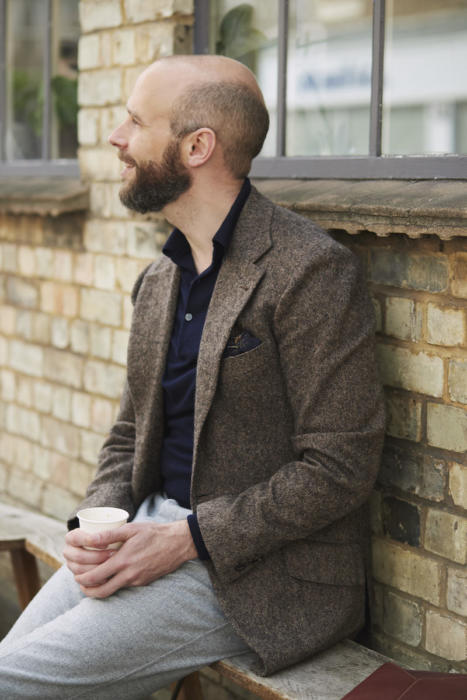 The Dartmoor is available now on the PS Shop site here.
It is made by Umbria Verde in Italy - one of the finest makers in the world, and we deliberately use the finest work they offer, with smooth seams and fine detailing. (Luxury brands they make for normally charge over £500 for knitwear of this quality.)
Read more on Umbria Verde's work here.
In the main pictures, the Dartmoor is worn with:
Details on the navy-Dartmoor outfit here.
Photography: Alex Natt @adnatt