Friday Polos back in stock – with new Olive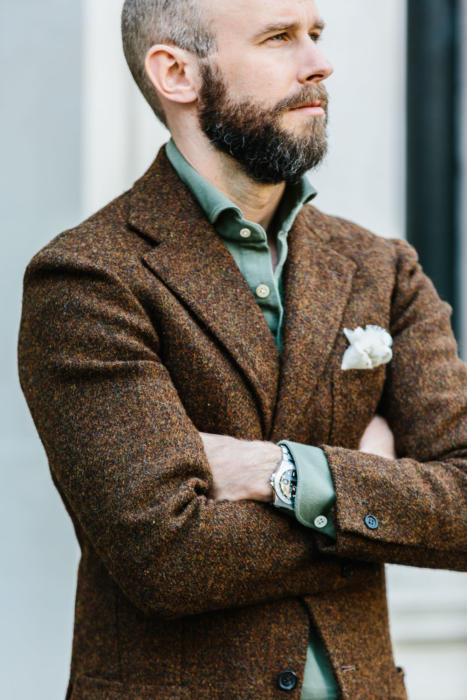 The much-loved Friday Polos, which I design and produce with shirtmaker Luca Avitabile in Naples, are back in stock. Thank you to everyone that has been waiting so patiently.
As per usual, we have produced them in four colours. However, as I know they have been going for a while and many readers have several already, we have concentrated on more unusual ones.
So we have:
- reproduced the brown Friday Polo, which was a relative newcomer to the selection
- done a run of white, which hasn't been available for a year and readers have consistently asked for
- kept navy, as it is always the most popular
- and added a new colour: olive
The olive, pictured here, is a subtler and more muted cousin of the original green.
It is perhaps a more sophisticated colour, which I find works nicely with mid-blue denim or cream chinos, and under navy, tan or brown jackets.
In these images I am wearing it with my brown Harris-tweed jacket from Elia Caliendo, and Levi's bespoke jeans. The pocket square is cream cashmere from Anderson & Sheppard.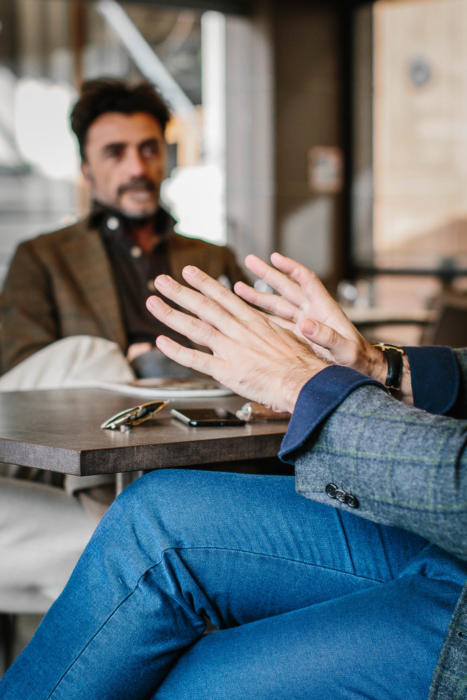 Recently, I've found a few readers have enquired about Friday Polos and not been aware of the handwork that goes into them, in the workshop in Naples.
I think this is important to emphasise, because it's something that separates them from most other models out there, and makes them considerably more expensive to produce.
There are five points of handwork, with the most important being the functional one - inserting the sleeve into the armhole by hand.
Doing this enables the maker to get greater fullness into the top of the sleevehead, yet have a relatively small armhole.
It enables greater movement (just as it does in bespoke tailoring) and makes it easier to wear under tailoring, which of course was the aim of the project in the first place.
You can see the handwork on the outside in the prick stitches around the armhole (above). And more obviously on the inside.
The other points of handwork are aesthetic. Nice to see and know about, but without any effect on how the polo wears.
Those are: hand-sewn buttonholes, hand-attached buttons, hand-finished placket and hand-sewn gusset.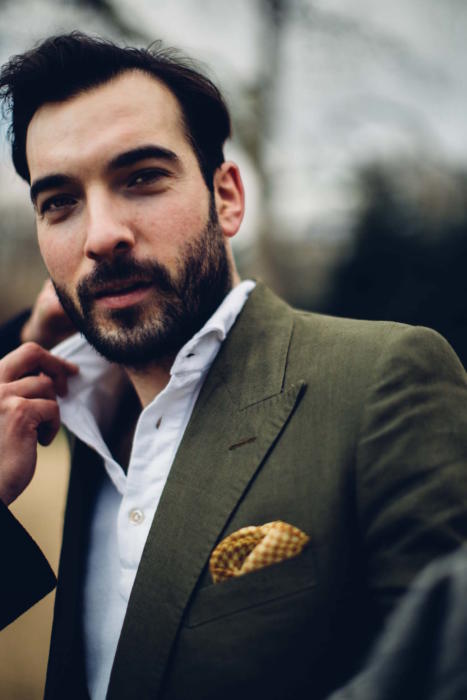 If anyone isn't familiar with the Friday Polo, below is a quick summary.
Sizing information is available on the polo page of the shop site too.
The project was launched with Neapolitan bespoke shirtmaker Luca Avitabile, who has been making my shirts for a few years.

The idea was to make the perfect polo shirt to wear under tailoring, using the best materials and where possible the same make as Luca's bespoke shirts.

Everything is hand cut, with five points of handwork.

We use a mid-weight Caccioppoli pique-cotton fabric, good for three months of the year (in England), which is more substantial and luxurious than most piques.

Stand collar, like a shirt, to help it sit under tailored jackets

Long tail and front, as it is designed to be worn tucked in

Mother of pearl buttons

Slots in the collar for shirt-stays

Sold at below normal retail price. With a standard retail mark-up these would be closer to £250. Prices quoted ex-VAT, as most customers are outside the EU

Four sizes: Small, Medium, Large and Extra-large (see table below for dimensions)

Shirts will not shrink when washed, but should expand slightly in the waist. Do wash cool and line dry

Shipping by courier, from the UK

Available from the

shop page here

. Details on

returns and exchanges here
All images: Jamie Ferguson @jkf_man