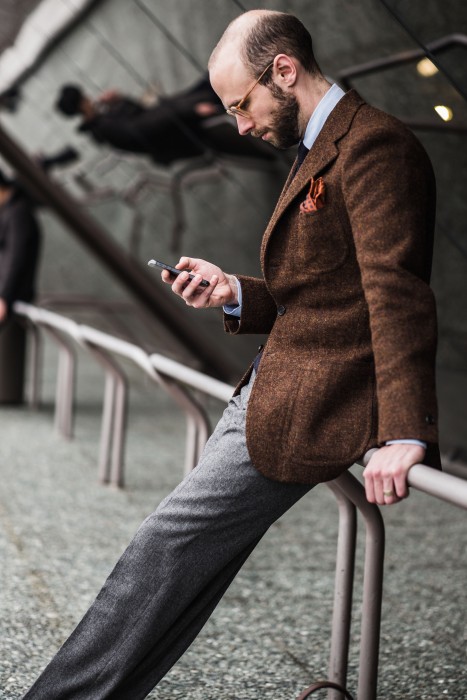 A few of the pictures of me from Pitti this year. Above, in brown tweed Caliendo jacket (more on that in a couple of weeks), Anderson & Sheppard flannels and Ralph Lauren madder-like orange handkerchief.
Tweed such as this goes well with lots of colours, but particularly autumnal ones such as burnt orange and dark green. The navy tie (just in shot, from Viola Milano) anchors the outfit. Its grenadine texture and the madder of the hank are both better with casual cloths such as tweed, for me, than regular silk.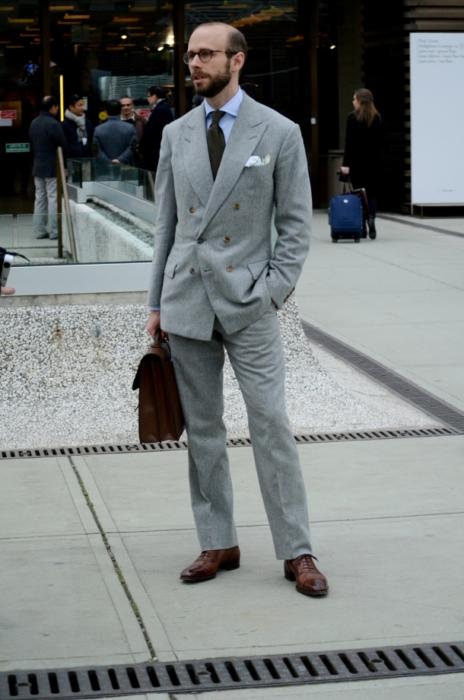 Anderson & Sheppard flannel suit, dark green Isaia tie and cream handkerchief with lime-green edging from Lissom & Muster. Tan bespoke oxfords from Gaziano & Girling (again, detailed post coming soon).
This jacket has the narrowest wrap-over of any DB suit John Hitchcock cut for me – 3.5 inches – and I specified it for all subsequent double-breasteds. It has all the advantages of a narrow wrap, such as a larger gap for shirt and tie, but is far enough away from the trendy one-and-a-half-breasted jackets at Brunello Cucinelli and others.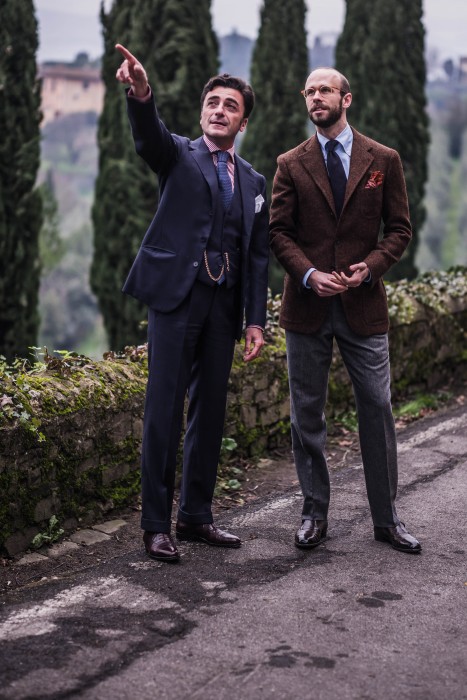 With Tommaso of Stefano Bemer, with whom we always stay. Note the roll of the shirt collar around my tie. I asked Luca of Satriano Cinque to lengthen my button-down collars slightly to achieve this roll, and it means the shirt works both with and without a tie. Otherwise the button-down lies flat and rather lifeless when fastened. Shoes are Edward Green Top Drawer.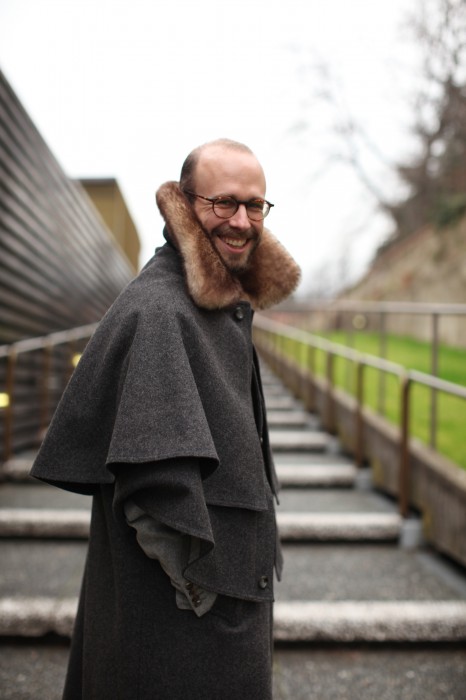 Trying another version of Miguel's Portugese cape. A better colour than the brown I tried before, and a better size (the smallest) but still a little too extravagant.
Other pictures around the net, including on Thousand Yard Style, Manolo and Pitti Immagine on Instagram.