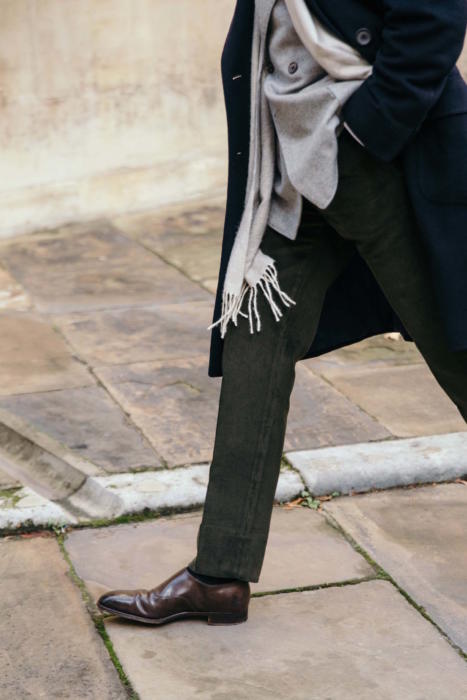 Everyone gets stuff wrong. We all have outfits we look back on years later, and cringe.
Fortunately, I believe this is something where you learn and progress. It is not a cycle of fashions, where every few years you wear something different, and dislike what came before.
I dress a lot better than I did 10 years ago. This is because I know myself more, and what suits me, but also because I know understand better.
This article is a small reflection on what I've learned, with some illustrations. As ever I'd be interested to hear yours too.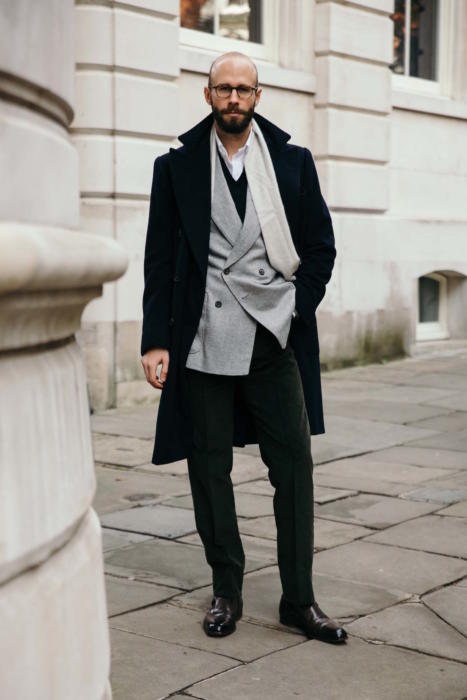 There's nothing really wrong with this outfit, shot for a Drake's article back in 2016.
The colours all work well together, with enough contrast between them, and the trousers are sufficiently dark, which is rarely the case with cords.
However, there are a few things I would change today. First, the jacket is really a little too smart for those trousers. It's partly the material (cashmere) and partly the cut, which is the sharp, slightly dramatic style of Cifonelli.
Although the cords are dark and slim, they're still corduroy. Something like a charcoal flannel or high-twist wool would have been better.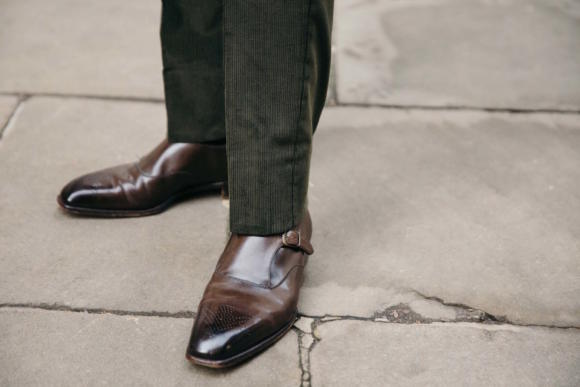 Second, the monk-strap shoes are probably too smart as well. A loafer would have been a better choice. Something like my Belgravias would have gone with the cords just fine, while actually also being a suitable partner for the Cifonelli jacket.
Interestingly, reading through that article five years later, I still agree with everything.
Its point is that corduroy can be fairly smart if the colour is dark and the cut slim. That's true, and the colours selected to go with it are all pleasing.
It's just that the style of the jacket and shoes is too smart. It's pushing the combination too far.
Other small things I'd change are probably swapping the V-neck sweater for a crewneck. And choosing a paler colour for it, so the jacket doesn't stand out as much.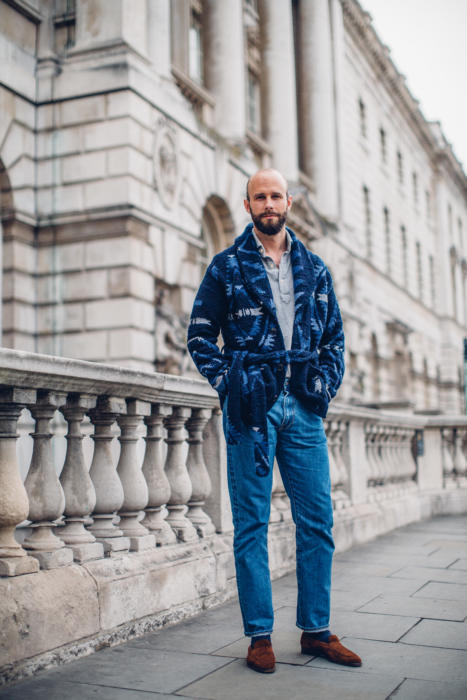 This second outfit, from the following year, is similar in the small tweaks it needed, I think.
The hand-knitted cardigan from Ralph Lauren is still one of my favourite pieces, and I wear it all the time. But not with a polo shirt.
It looks better with a white T-shirt, just because of how casual and relaxed the cardigan is. And white or even a pale-blue oxford are better partners than a grey piqué cotton.
The loafers are a little too smart too. As with the Cifonelli/Drake's combination above, I think the colour combinations are great (pale denim with snuff suede) but the formality isn't, quite.
The loafer is the Pimlico from Edward Green, which is on a fairly slim, long last. Something like the Piccadilly would have been better, or even a low American-style vamp like the Duke.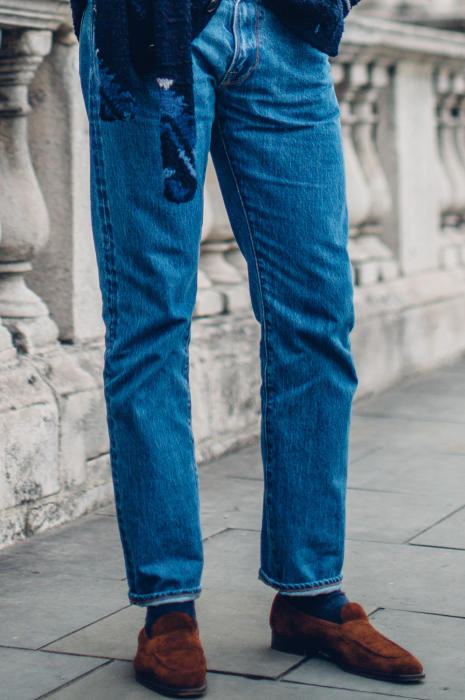 I have to say the jeans from Anglo-Italian haven't grown on me over the years either. Mostly for quite personal reasons.
The carrot-shaped line works OK with jackets, but I find it's a little too slim-ankled for casual clothing. And the wash looks too artificial to me too. I think this is just because I'm so used to the more organic, personal look that comes from wearing in raw denim, or buying vintage.
For all those reasons I rarely wear the Anglo jeans anymore - even though the fit was great - and would wear my vintage Levi's with a look like this instead.
Oh, and that cardigan looks a lot better unbelted.
This outfit is only here to illustrate one thing: that I have a habit of buying blousons too small.
I think it's a hangover from tailoring, which is so flattering, where you pretty much always want the waist to look slim (even if there's plenty of room there).
It took me a long while to accept that the cut of a blouson is the opposite - the whole appeal is the large back, cinched into tight hips. It's not dissimilar to the contrast between a shaped overcoat and a flowing balmacaan. They're both lovely - just in very different ways.
This tendency is particularly annoying because this Ralph Lauren blouson was so beautiful in every other way. And I got it in the sale. And I had the choice between Small and Medium. And I made the wrong choice.
It took me three years to finally accept it was too small, and sell it on. (And by the way, credit to reader 'Gus' who made this point on the article, quite correctly.)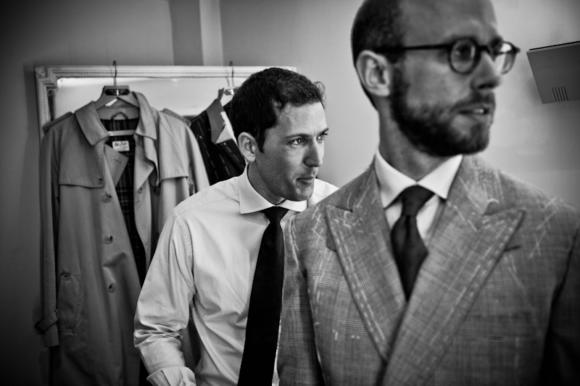 What else have I got wrong over the years?
Not that much, luckily. I think I've largely dressed conservatively, and that's served me well. Even back when this site started, 13 years ago, I tended to prefer simple, dark combinations, what we called the 'Italian background'.
I did buy too many Prince-of-Wales suits (above). That was an early obsession. I also bought too much structured/dramatic tailoring, and probably had too many things double-breasted.
Basically, I did what many young guys do, if they like tailoring, and chased the more exciting purchase over the more useful one. Something Aleks and I discussed a lot here.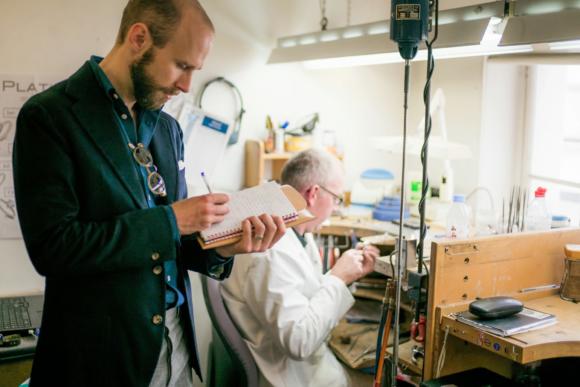 The same motivation was probably why I tried so hard to make waistcoats work. They're just so flattering, and elegant - but unfortunately look more and more anachronistic.
I also pushed for dark shirts to work under tailoring - especially dark denims (above). But they just don't look that good unless they're the enzyme-washed kind. Better to accept that RTW, or just wear navy under navy.
Looking back on those old images, I certainly wear glasses a lot less than I used to. Although I still love them, I think I'm just better looking without. The only ones I do wear are the Bonnet acetate and Eyevan wire frames.
Finally, advocating wearing the collar of this Caraceni jacket up was a mistake. That look works as an occasional, functional move - when a cold wind whips down the street. But not as a default setting, and not in tailoring this formal or summery.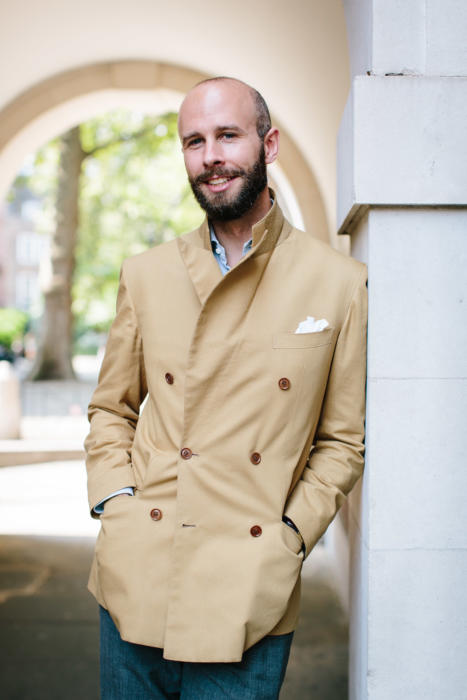 Interestingly, I find I dress more simply today than I used to - certainly when it comes to tailoring - but I'm no less excited about what I wear.
Instead of double-breasted Prince-of-Wales suits, I get excited about the shade of a yellow oxford. Instead wearing a fedora, the patina on my loafers. They're more subtle things, but no less enjoyable.
Perhaps the most obvious sign that this journey has been a progression (rather than going round and round in circles) is that I find I'm more often complimented for wearing outfits that feel familiar, tried and tested.
They're not exciting and new, but they looked good and continue to look good. Something like this cap, coat and cream below. There is a very particular satisfaction in that.