Maison Bonnet glasses: Review
These glasses I had made at Maison Bonnet recently are absolutely superb.
As I wrote in the recent post 'My glasses' I've tried several different makers over the years, including cheaper and expensive, ready-made, bespoke and made to measure.
These from Bonnet are as good or better in almost every category.
Which is good, because Bonnet is very expensive and comes with a very high reputation. It's nice to be able to say they live up to it.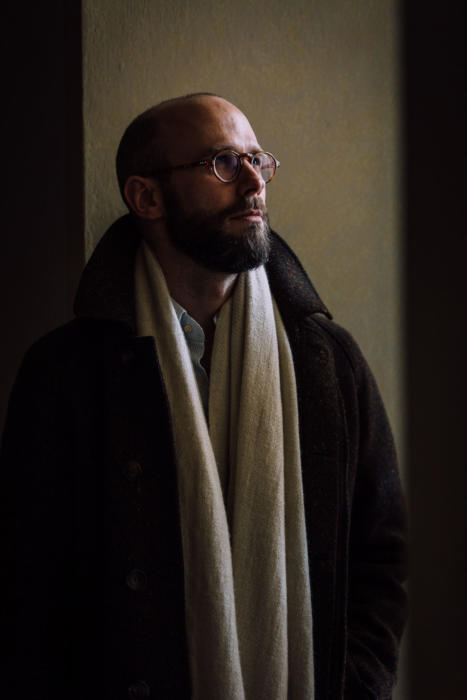 Bonnet had been on my list of reputed menswear craftsman I wanted to cover for a few years. But it wasn't until they opened in London that I took the plunge.
I don't travel to Paris often, despite its proximity - perhaps once a year. And I wanted to be able to easily go back to the shop for repairs or alterations, or even to make more in the future. To establish a relationship, basically.
In my first post on Bonnet, I covered the history of the company, the craftsmanship in terms of handwork, the finishing that produces, and the different services (eg MTM v bespoke).
You can read all that on the post here. In this post I'll cover a little more of the commissioning process, and then review the final product.
Over a long period of trial and error, I've learnt how important personal advice and consultancy is in commissioning glasses. Franck Bonnet (above) was fantastic in that regard.
Franck is the fourth generation of masters in the family, and clearly knows a vast amount about styles of eyewear, fitting and making.
But the thing that came across strongest was curiosity. For over an hour we talked about what glasses I wore and when, what I had before, what I had liked and not liked about them, how I dressed, how I saw eyewear.
Franck listened far more than he talked, always with his head at a slight angle. Suggesting advice and conclusions occasionally, but only when he felt he fully understood.
It was the closest thing to a bespoke tailoring experience I've had with anything outside clothing.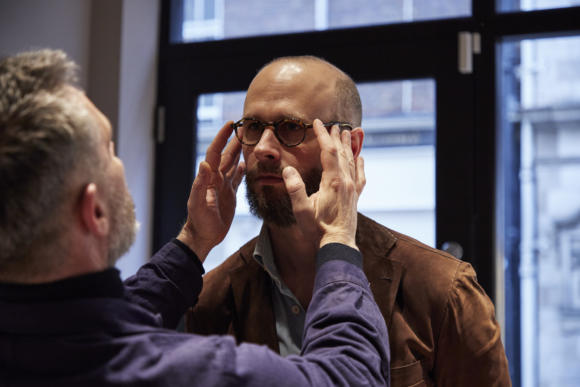 Franck suggested, for example, his father's view that every person has the shape of prospective glasses etched on their face: you just follow the underside of the eyebrows, the sides of the eye socket, the top of the cheekbones and the edge of the nose.
That doesn't mean your glasses should be that shape - but it's the framework around which you're building, like your shoulders, chest and waist when cutting a jacket.
He also made the point that most people try glasses on in a mirror that is too small.
Nothing wrong with using a small mirror, but it's important to look at yourself in a full-length mirror as well. Because that's how most people see you: few get as close as a small mirror would be.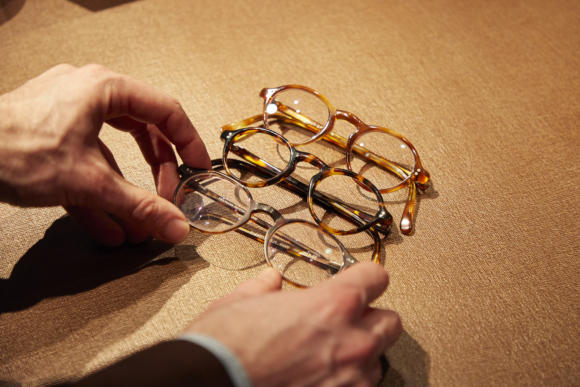 The consultation process was made slightly easier by the fact that I came with a clear idea of what I wanted: a brown acetate frame in a classic 'panto' shape, to replace the Francois Pinton pair I had worn for so long. (Pictured above, below two potential Bonnet frames.)
I knew I liked that style, that it fitted with what I wore and with my lifestyle. Even so, it took a long time of trying on different shapes (from the shop's 400 pairs) to settle on something.
One interesting variation on that original Pinton pair was that the Bonnet ones would be in a lighter, warmer brown.
A lot of eyewear makers have assumed that because I have dark hair and a beard, I need a dark frame. But actually that tends to darken my whole face too much. I can't wear very pale acetate (eg here) but a warmer colour like this is more flattering.
A few weeks after that initial consultation, we had the fitting.
Bonnet has a bit of a reputation for long fittings, and it was more involved than anything I've had elsewhere. But I can't argue with the results.
Sitting downstairs, among the files and machinery used to make the frames, I tried them on a total of five times while the nose pads were filed down a little each time. They felt pretty good the first time, but noticeably better the fifth.
Then there was the adjustment of the arms - which takes up most of the time at other makers.
Not just getting the bend in the arm at the right place, but also working two or three times on the tilt, so the angle of the lenses was perfect - and close to my cheeks, but never touching, even when smiling.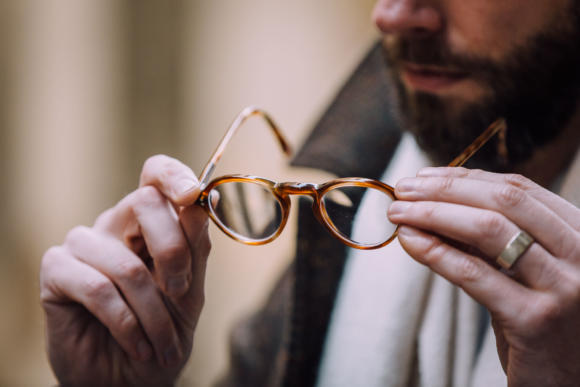 The result, as I said at top, is superb.
A perfect fit: which could be defined as putting them on and immediately forgetting about them all day. Not the smallest adjustment needed since.
And perfect finishing: clean and smooth around the bridge and nose pieces, for example, and perfect transitioning from frame to arm. Something quite a lot of handmade glasses fail to do.
The only thing we didn't achieve was the style objective I set Franck: to make a pair of glasses that I think I'm always better-looking in, than with no glasses at all.
No pair I've had achieve that (the Eyevan pair probably come closest). But of course that doesn't mean I don't think I look great in them - in the same way I look great in many coats, even if my navy Cifonelli is my favourite.
The only big remaining question is price. At €1300 for made-to-measure glasses and €1600 for bespoke, Bonnet is the most expensive maker I've covered.
I think my experience is enough to say that they live up to the reputation. But are they worth so much?
The quality of the acetate doesn't vary much with quality makers. The quality of the work does, as I've mentioned, though it's small.
Service certainly varies, and Bonnet excelled there - fit, advice, styling. The glasses are also all made in France, or partly in London if commissioned here, which will matter to some.
But in the end it must be a question of budget and priorities.
If you have a lot of money, and know that Bonnet delivers in this way across all areas of quality, it might seem silly to spend less money on an inferior product. No matter what the price.
If it would be a real financial stretch, then it's never going to be worth it, given the small differences.
And if you're borderline, then it's a question of priorities - whether you care about small points of finishing or not, of the advice or not, about made in France or not. And of course, whether you want to spend your disposable income on it rather than pushing the boat out on food, travel and so on.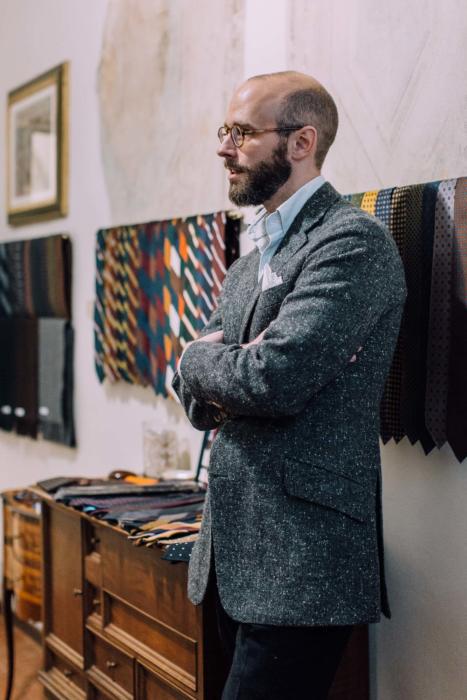 There's perhaps also an interesting, wider point about diminishing returns.
It applies to all areas of clothing. When you pay twice as much for a pair of shoes, you don't get twice the quality. The cheaper maker has done the most cost-efficient things already at their price, so it costs disproportionately more to do the next thing - like employing someone to do handwork, or using more sustainable materials.
It's a big area, perhaps for another post. But I think it helps explain why in luxury menswear prices can be much higher, for only small increases in quality. (Particularly given those companies take a similar attitude to how much should be spent on other things, such as sales and marketing.)
Clothing pictured:
Brown donegal coat, Cordings
Cream shawl, Anderson & Sheppard
Photography: Jamie Ferguson, except shots in the Bonnet shop, James Holborow