Maison Bonnet bespoke glasses: The craft in London
Maison Bonnet was one of the few world-renowned menswear makers I hadn't tried until recently. So it has been great to get to know Franck and the team, since they opened a shop in Mayfair last year.
Having been short-sighted from a young age, I've always worn glasses or contact lenses.
As a result, over the past 11 years of writing this site, I've tried many bespoke and ready-made makers of glasses. In fact, in the process of having a pair made by Bonnet, I took all the glasses I've ever had made to Franck to get his views. That will the subject of another post, in a couple of weeks.
For the moment, I'd like to explain a little bit about the maison, and about the London store.
For if you just walked past the little shop front on Stafford Street, it would be easy to ignore it. There's little in the window, and certainly nothing that suggests Bonnet can fully make some of the best glasses in the world downstairs.
Maison Bonnet is a fourth-generation company, with Alfred Bonnet the first. He was born in the Jura region of France, where the manufacture of glasses has always been centred, and started making his own glasses there in the 1930s.
Robert Bonnet, his son, made Bonnet a brand, opening the store in Paris and popularising it with high flyers of the time: Yves Saint Laurent, Le Corbusier, Jackie Onassis.
In fact, the most distinctive thing about Bonnet might be how many enduring frame designs it has made over the years: all of those Bonnet customers had bespoke frames made that have become standard references for the industry.
The next generation, Christian Bonnet, is the one recognised for the level of craft - he was made a Maître d'Art and member of the Légion d'Honneur. His sons, led by Franck, run the business today.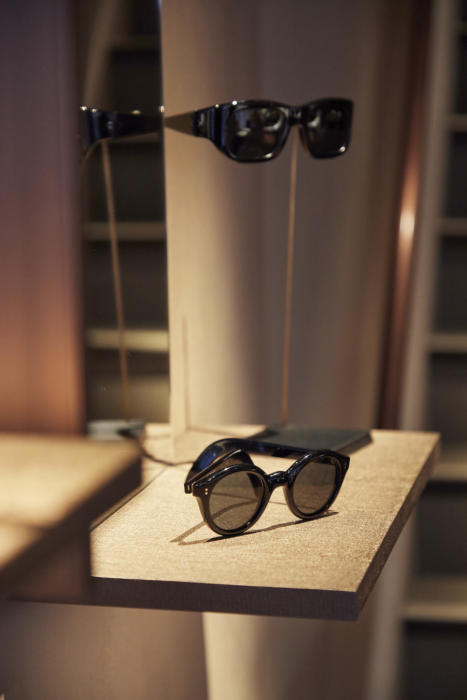 Bonnet makes bespoke and made-to-measure glasses by hand.
In this industry, that means:
a design is cut out of a sheet of acetate, horn or tortoiseshell with a saw

it is filed down with a variety of files

it is polished both with a strip and a wheel

the hinges are mounted by hand with a hammer and nails

and finally the frame is moulded, where needed, to fit the face.
With Bonnet, the basic frame shapes are usually cut out in Burgundy and sent to the shops, where the other stages are done. However, if needed, everything can be done on site - for quick repairs or alterations, for example.
This is something that certainly no casual visitor to the London store would be aware of, and is therefore worth emphasising.
It will probably also appeal to the craft enthusiast - given other high-end shops in Mayfair do their work offsite, and often with freelance makers rather than their own team.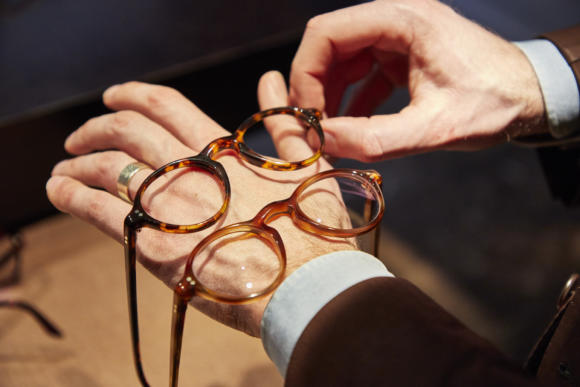 I was impressed at the level of work - indeed, slightly surprised that there would be a noticeable difference to other makers.
I was expecting that with the fit and feel of a pair made for me, given the experiences I've heard from friends and readers.
But I wasn't expecting a difference in the finishing. Yet it was noticeably smoother and more consistent in some areas - such as the junction between the arm and the frame. It will be lovely to see that on a final pair.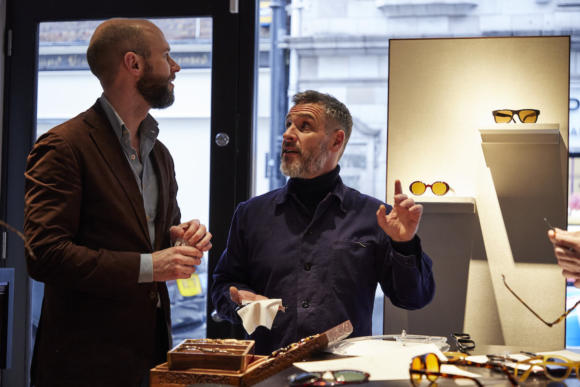 Franck (above) visits the London store regularly, but it is run day-to-day by store manager Arnaud and Loic.
I saw Franck initially last last year, and then went in at the beginning of this year to begin the process of having a pair of glasses made.
I'll go more into that process when I cover my other commissions, and do a final review piece on the finished glasses - but it was interesting to see the approach Franck took to the process.
For example, the London store has over 400 pairs of exclusive designs stored away in drawers (in Paris it's over 1000).
This means that even when you quickly narrow down the design to: optical, panto shape, narrow pupillary distance, shallow depth (as I did automatically based on years of trying different designs) there are still more than 20 options to work from.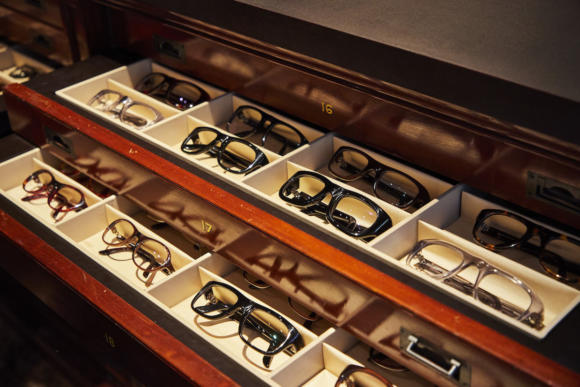 It's also worth saying that in my experience, using specific designs and tweaking them - rather than starting with a blank piece of paper - is a safer approach to commissioning bespoke glasses.
They are something that have to be on your face all day, after all, and work with many different styles of clothes.
Unless they're sunglasses, they shouldn't be that unusual. If they are, they just won't be worn.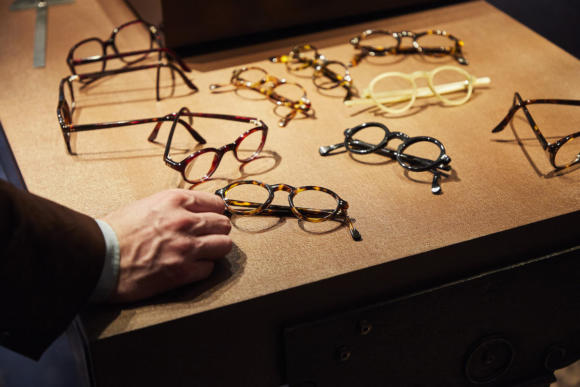 Bonnet do offer a made-to-measure service, which is where the customer picks a design and just makes it a little smaller or bigger.
But whether that works for you depends on whether there is a design that is almost perfect already (rather than the fact you want something quicker or cheaper).
For example, we found a panto shape that I really liked, but to really suit my face, it needed substantial changes to the bridge and bottom of the frame shape. So it had to be bespoke.
As mentioned, upcoming pieces will look in detail at the final result, as well as my other glasses.
Prices (not cheap...): €1300 for made to measure, starting price with acetate; €1600 for bespoke.
I am wearing: Bespoke shirt by Luca Avitabile in PS Everyday Denim cloth, and bespoke nubuck jacket from Sartoria Melina
Photography: James Holborow