Learning to dress my body better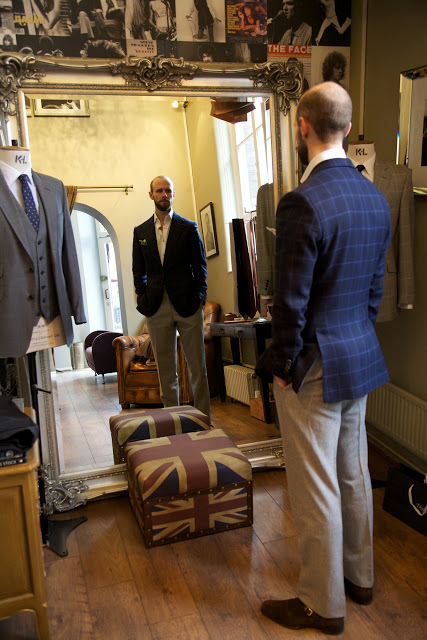 I've learnt many things over the past 13 years of writing Permanent Style, but one I've learnt most intimately is how different clothes suit my particular physique, and physiognomy.
This does come up on PS, in articles about collar height perhaps, or trouser rise. But I've never reflected on it as a whole, and I thought it would be helpful to do so - as a specific partner to the more general articles elsewhere.
Let's start with the positive. I am tall, and I am slim. These are probably the most important things in terms of making clothes look good, and I am very grateful for them.
If you are slim, it is much easier to draw a flattering line between your shoulders and your waist. While the shoulders can be more or less padded, widened or roped, there's little you can do to make someone slimmer.
Even in a shirt or in trousers, it's that waist that makes the most difference. And you notice this especially as you get older. People often say it, and with good reason: the best way to look good as you age is to stay in shape.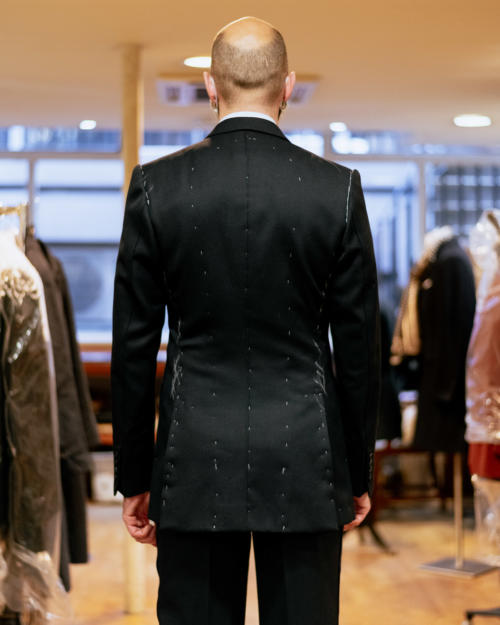 This is much more important that being toned or muscly. In fact, being too muscular can often undermine the look of clothes - particularly smart ones.
A jacket is most flattering when it runs sharply from wide shoulders to small waist, and has plenty of length to do so (hence the advantage of being tall). A big chest or big arms just get in the way.
Even when tailors use drape to accentuate the chest, this is never to distract from the 'V' shape of shoulder-to-waist.
Lifting weights also tends to round your shoulders. It makes the deltoids bigger (on the side of your shoulders) and the top of the trapezius bigger (between your neck and shoulder). But because it can't move the point of your shoulder bone, making these muscles bigger just makes your shoulders rounded.
In fact, I've had tailors tell me it's just impossible to make someone with a body like that look elegant in tailoring. Elegant being the operative word there.
This is also suggested by history. A quick look at the well-dressed men of the past also shows many were slim, but rarely muscly. They were in shape, but little more.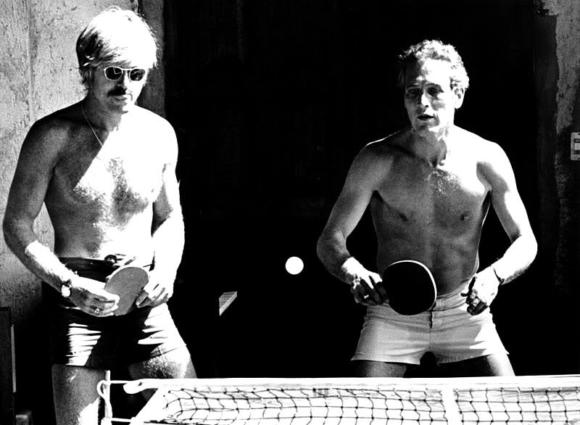 The negative aspects of my shape tend toward the gangly: sloping shoulders, a long neck, a fairly big head.
I've learnt that because of these, I always look better in something collared, like a shirt or a polo sweater. They encircle my neck and frame the face.
I do still wear T-shirts, but always with the awareness that I'm giving something up when I do. I rarely wear crewneck sweaters on their own.
Cutting out categories of clothing is painful when you love them as much as I do. But over time, as you grow into your style, I find you happily do this in return for knowing that the clothes you're wearing flatter you.
This is something else that happens more with age. Even if you stay in shape, things like wrinkles, stooping and exaggerated facial features encourage you to stick with things that bring out your best. It's the best argument against old men wearing T-shirts.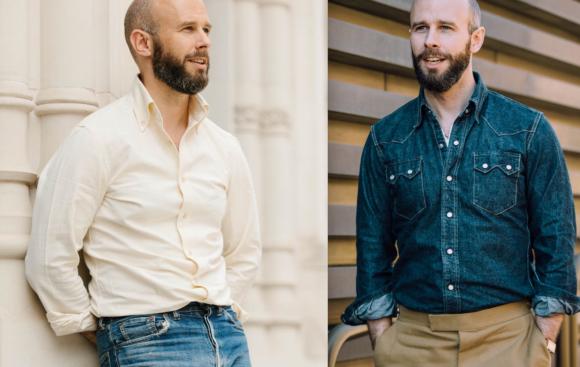 When I wear T-shirts, as I said, I'm aware of a trade off. As with most things in menswear, there is no right and wrong here, no should and shouldn't. Just certain effects created by certain clothes, which you can pick between.
For example, low collars on shirts are a little less flattering on me than tall ones (see above). But tall collars are usually smarter: a workwear chambray shirt or a flannel overshirt looks silly with a high collar.
So I either have to not wear that type of shirt, or accept that the collar will be a little less flattering when I do. Sometimes I go with one option, sometimes the other. But in both cases I'm making an educated choice. Not just blindly following a rule.
Sometimes this trade off is not about good and bad, but good and great.
For example, I don't look bad in short jackets, like blousons. Sometimes I even think I look rather good. But my height means that longer coats always add a certain something. They make the most of a natural advantage I have, and usually look better
I choose not to only wear long coats, but I also never miss a chance to wear one when I can.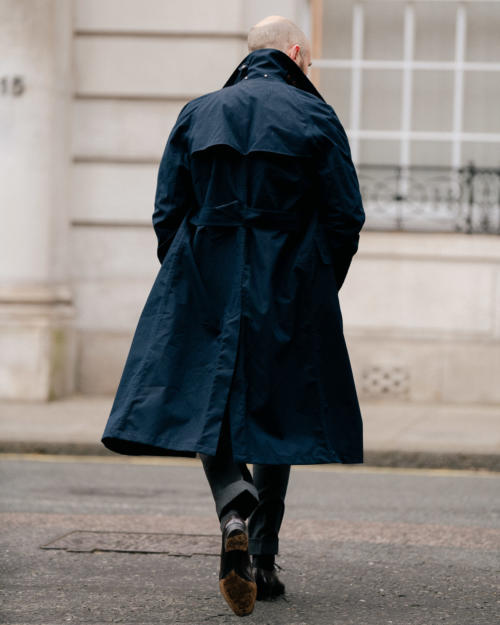 Other aspects of physique, and their trade offs.
My legs are a little bit short proportionately compared to my upper body. This means high-waisted trousers are particularly useful, given how much they lengthen the legs.
But I don't like high-waisted trousers from a style point of view. They're too anachronistic without a jacket or knitwear. So there I'm always trading off flattery for style.
Also my sloping shoulders. Many is the reader that has said I look best in structured tailoring: the thick shoulders of Edward Sexton or the wide ones of Anderson & Sheppard.
But you can't wear those jackets with jeans. And I really like wearing jackets with jeans. There's no better way to enjoy tailoring and dress down. So I'm also happy to trade flattery for style there too.
Something no one in fashion really wants to admit is that your face is more important than your body. It's what everyone is looking at, and it's what they mean when they say you're 'good looking'.
Unless your aim is to specifically show off parts of your body, clothes should really just be a attractive frame for the face - sending the eye happily upwards to where the action is.
I raise this because when I look back at old pictures of myself on Permanent Style, the biggest difference I notice is not in the clothes, but the face. (See comparison above.)
I have come to accept that I have very little hair, and that cutting it very short is the best option. It has come down slowly from a grade 2, to 1, to now 0.5.
I also know that while glasses are a nice style choice, I'm basically better looking without them. And I've grown out my beard as well as shaped it better.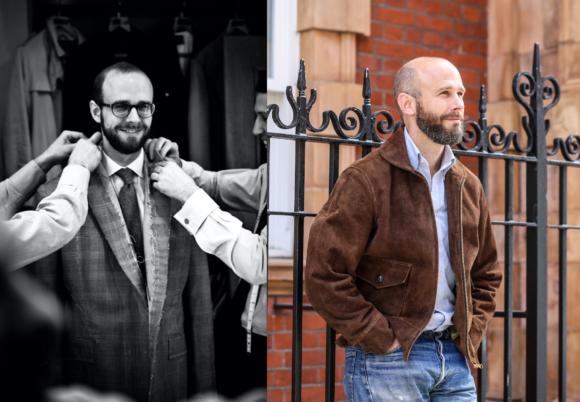 Occasionally a reader on PS or Instagram will call me good looking. At that my thirteen-year-old self (which still lives somewhere inside me) laughs out loud.
I'm not that good looking. Anyone that's seen my younger brother will know that to be true. He is - as a kind friend once put it - like me just with hair and a chin.
But I think, over time, I have become good at making the most of me. I know what looks best, and I know what trade offs I'm making, when.
And that's all any of us can ever do.