Thank you everyone that responded to my 'You are the interviewer' post a couple of weeks ago.
The number of variety of questions was staggering, and I will try to answer as many as I can over the coming weeks.
It may take time, but I would rather do it properly than fob off the questions with quick answers, or leave out any interesting topics.
Some of those topics - such as storage and capsule wardrobes - came up so often that I will endeavour to do a separate, in-depth post on them.
Today I will answer the questions around bespoke commissions.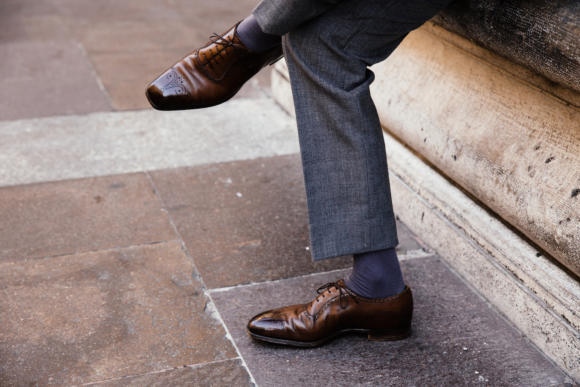 Dominic: What do you consider has been your best value item?
It would have to be a pair of shoes. Because shoes last so long and because they can be worn with so many different things. They also reward good maintenance and can get better with age, unlike most pieces of clothing.
I would say my Edward Green Walcots have been the best value. Being a mid-brown, they go with everything from casual suits to sports jackets - I could easily wear them twice a week for the rest of my life.
And I've always liked the adelaide style: you have that long stretch of leather down the side, like a wholecut, but without the bareness of a wholecut design.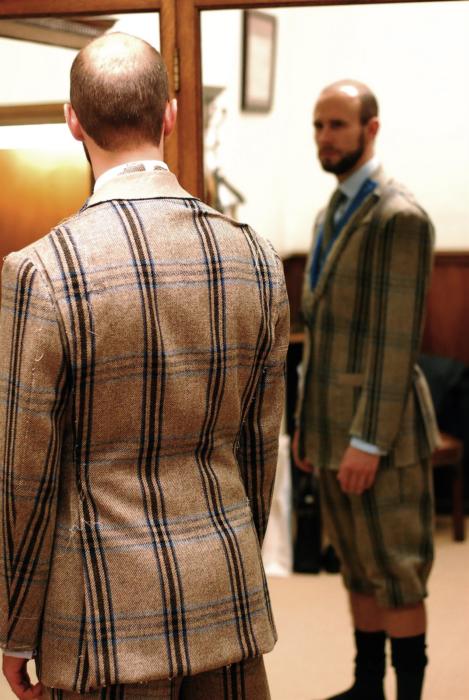 Tristan: What is the item you have ordered and love but get the least wear from?
Probably my Liverano purple jacket. I adore it: the broad-lapel, extended-shoulder cut; the beautiful fit; the unusual yet surprisingly subtle colour.
But it's a bit too unusual to wear. It's certainly too strong for the office, and even at special events it's the kind of jacket you can't wear with the same company too often - it will be 'oh, he's wearing that again'.
And my Huntsman shooting suit, obviously. I still love that (aside from the pattern-matching issues).
The colours in the tweed are amazing and the make is wonderful. But even the jacket on its own I struggle to wear (see comment below on English sports jackets).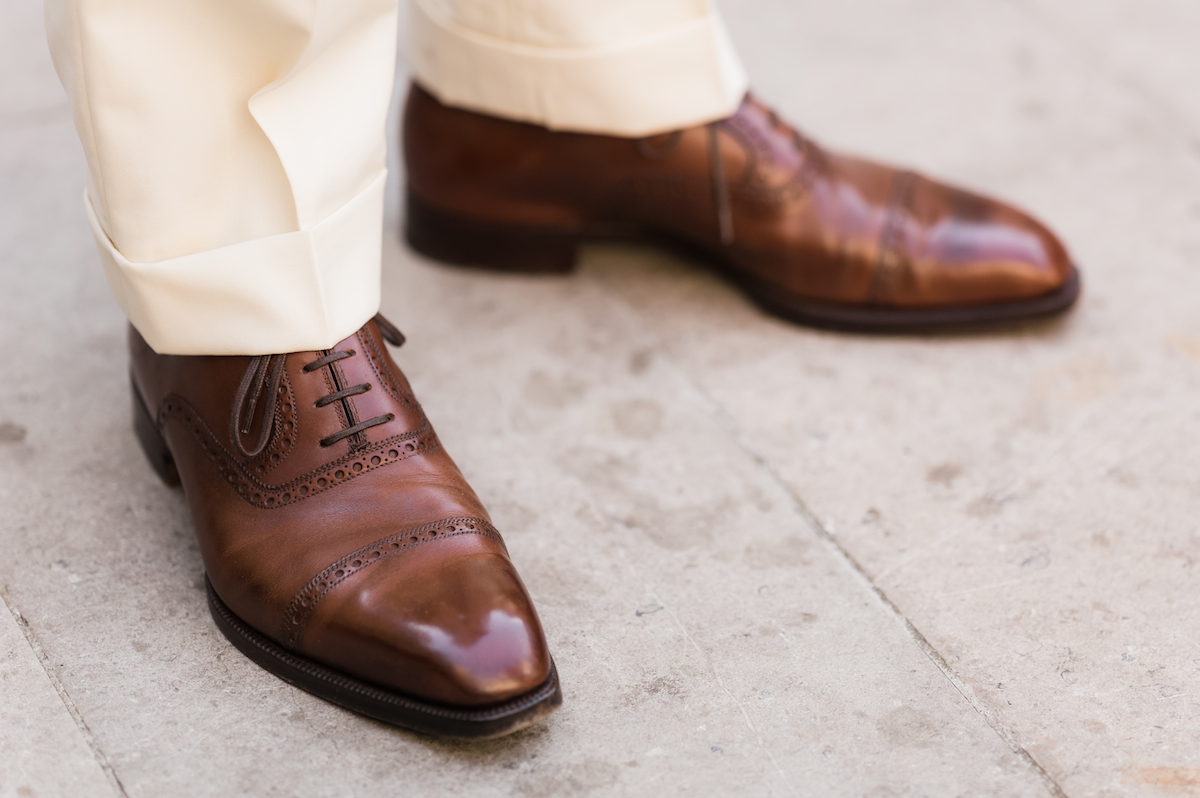 Matthew: Are there any items that you wish you hadn't commissioned, either because you get practically no use from them or simply don't like them anymore?
Others I don't get much use from include my cream-gabardine trousers and double-breasted waistcoat from Anderson & Sheppard and my cream linen suit from Kent Haste & Lachter.
[Cream gabardine trousers here]
There are very few bespoke pieces I don't like any more, but they include that waistcoat (it never really worked as a separate with a suit) and sports jackets from the more structured English tailors (eg Graham Browne) - the structure just means they're not casual enough.
Other interesting pieces have been the gilet from Davide Taub, which I liked the idea of but (as I mentioned in the review) just never quite hit the spot.
And in general tailored cotton trousers. Without the garment-wash of chinos, they often look too old-fashioned for me, too countrified. That's why I increasingly prefer cavalry twills.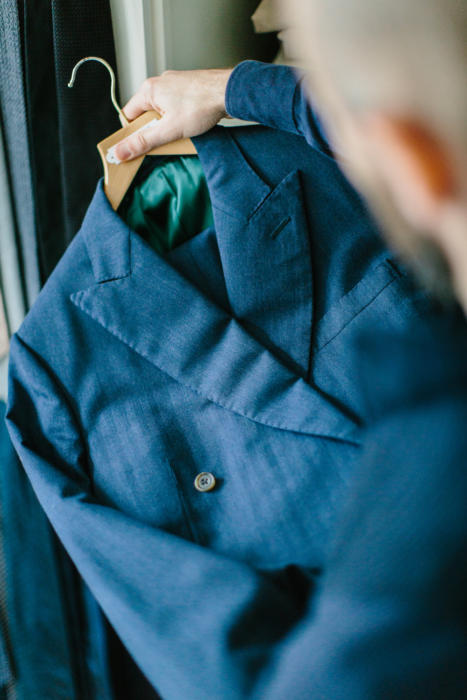 Zubair: when you first started getting acquainted with dressing better, did you ever go overboard into full peacock?
I wouldn't say I ever went 'full peacock', but there is an undeniable tendency when you start to want to have striking things made.
Often these are pieces that are traditional foundations of a gentleman's wardrobe, but are a bit too unusual.
For example my first-ever bespoke was a double-breasted suit. Lovely piece, but a double breasted is unusual in most offices and it wasn't worn as much as I hoped.
The second was a navy single-breasted suit… but with braces and a fishtail back. I didn't like the braces and back, and eventually had to have them remade.
And my first overcoat was very long, very heavy, in tan camelhair.
All three of those things are great to have made bespoke, as you can't get them easily ready-made. And they are classics. But they shouldn't be your first bespoke commissions.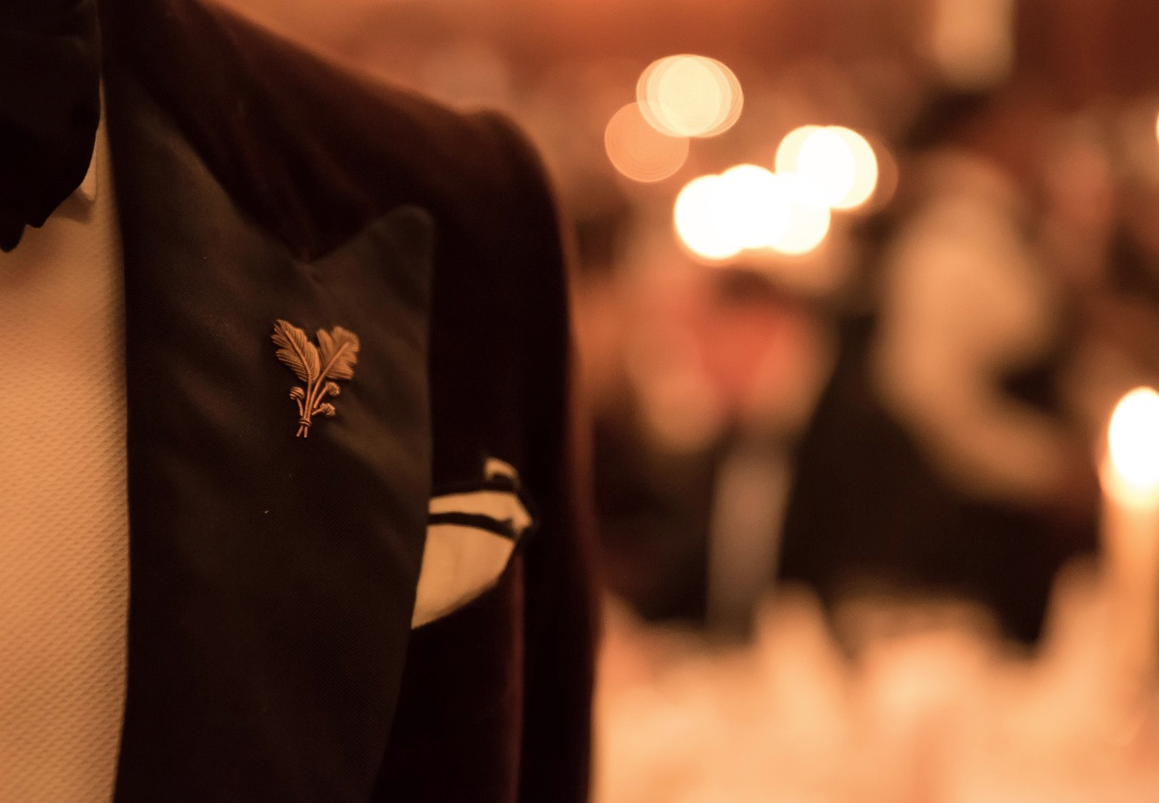 Anonymous: Is there anything that you secretly want but haven't been able to bring yourself to commission (due to it being too flamboyant, expensive, wouldn't get any use, you don't have the je ne sais quoi to pull off etc)??
As a continuation to the answer above, there are several things I would love to have made, but know I would never use.
One of them is white tie. It would be beautiful, but have zero wear. I'd also love a double-breasted velvet jacket - but I already have one velvet jacket and a tux, and get little enough wear out of those.
[My velvet jacket here - pictured above]
If you end up having these kind of things made, and then arranging events (or even just seeking them out) as an excuse to wear them, then it's tantamount to costume.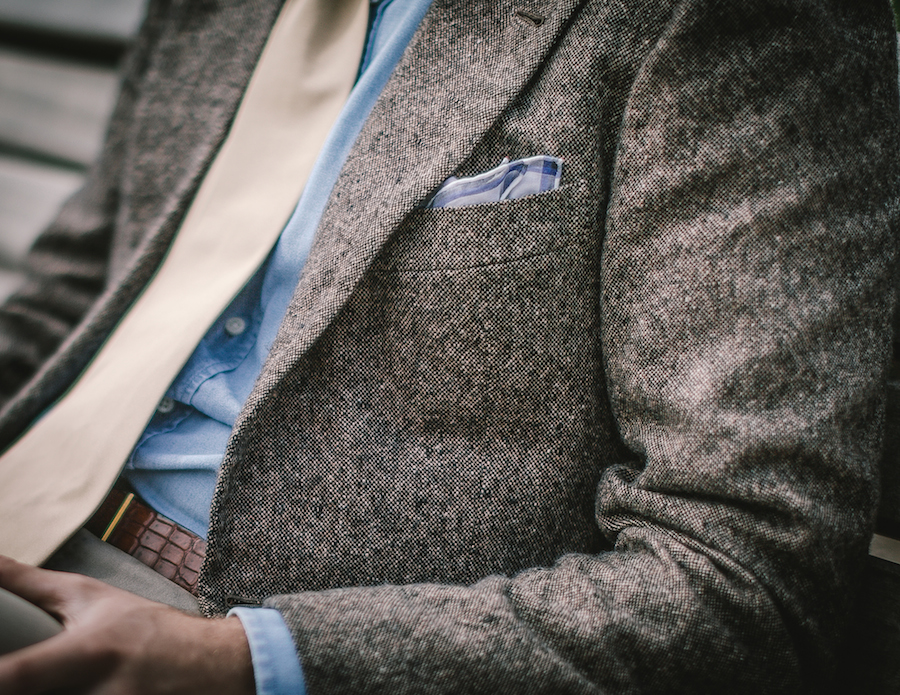 Jon: Which bespoke item (with hindsight) do you consider you paid too much for?
Probably my Rubinacci sports jacket.
It's a lovely piece, and I still wear it fairly regularly, but at the time I wanted to try Neapolitan tailoring so badly I would have tried anything - and Rubinacci was all you could access in London that I knew of.
[Rubinacci sports jacket here]
It was expensive six years ago - £3800 I believe - and a huge amount of money for me then. Today I would start with something cheaper, like Solito.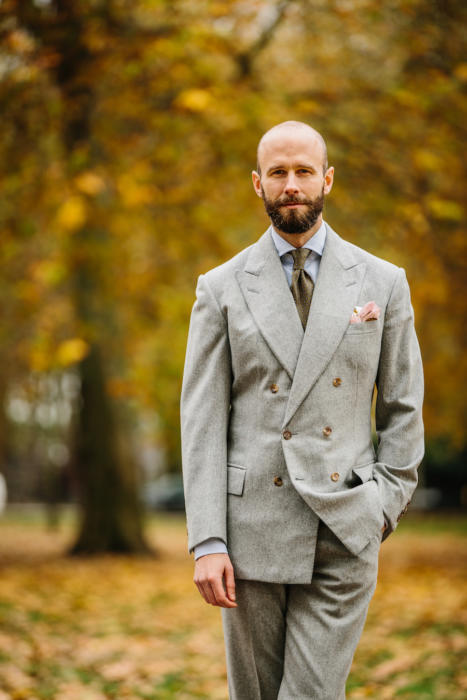 David: Which items in each major category (suits, sportcoats, ties, shirts, trousers, shoes, knitwear, outerwear) bring you the most pleasure to wear? This is somewhat the opposite of the "which one item is most versatile" question
Interesting twist.
Suit: Instinctively, my Anderson & Sheppard double-breasteds. I have three. I just love the size and bulk that the drape gives.
Sports coat: My Elia Caliendo Harris tweed (pictured top). Lovely cut and make, but it's mostly about the cloth (a lesson in there as well). There's so many goddamned colours in there it's like a crayon box.
Ties: Navy big-knot grenadine (boring but true) because it feels like the most conservative thing in the world, yet you rarely see someone wearing one. And an old burnt-orange tie from Church's.
Trousers: Cream heavy-heavy wool trousers from Elia. They're outrageous, yet wearable.
Shoes: Probably my old Edward Green Oundles. Because they are the oldest and the most bashed up, yet looked after. Which is how shoes should be.
Knitwear: Anderson & Sheppard shawl-collar shetland. Such a unique design, so useful.
Outerwear: Cifonelli navy overcoat. Beautiful yet wearable. (Interesting that, even though this question is about pleasure, not versatility, so many pieces combine both... Perhaps much of the pleasure is in wearing something wonderful that is also not ostentatious.)
[Cream heavy-wool trousers here]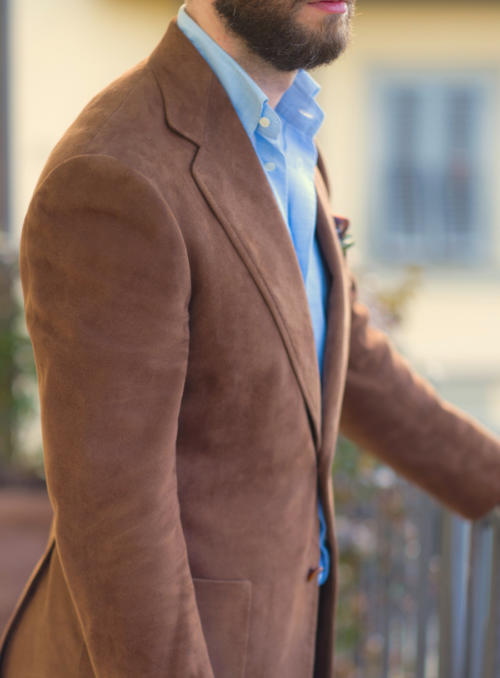 Anonymous: It's easy to understand logical next steps of commissions, how a beautiful tweed catches your eye and you succumb etc. But what would be really interesting would be how and where you set your limits / parameters (if you do at all!)
I try to commission things that fill a hole in my wardrobe. Obviously those holes get smaller and smaller, but I try to work from that - from my needs outwards - rather than from seeing something and just liking it.
That helps set limits - you need to be able to wear it with other things you wear. And you need to know where and when you could wear it (office, home, day, evening out etc).
I have also written a few times about clothing being a social construct. It's relative; it's effect depends on other people, their experiences and expectations. So if you stick out like a sore thumb you are not well dressed.
The Cifonelli suede jacket (pictured above) certainly filled a gap - something obviously casual but made to the highest bespoke standards.
Photography:
Walcots - James Munro
Shooting jacket - Andy Barnham
Harris tweed jacket, Cream trousers, Velvet jacket - Luke Carby
Blue suit, Pale-grey suit, Suede jacket - Jamie Ferguson
Rubinacci jacket - Ade Udoma