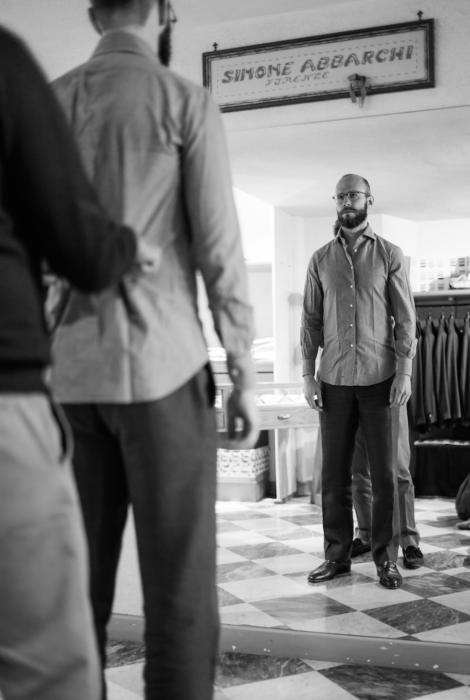 In comments to Friday's post on my 'go-to' clothing, readers said they would like to see a post suggesting which types of clothing it is most worth having made bespoke.
In order to set out my views on this, I have listed five items that are often made bespoke, and explain where I see the relative value – both to other bespoke items and to ready-made.
Bespoke jacket
The standard by which everything else must be judged.
A jacket is worth having bespoke more than any other item, both in terms of cut and of construction. The three-dimensional nature of a bespoke cut, dealing as it does with pitch, angle and curve, is of greatest benefit on the torso, which is far more irregular than the legs. This is a major reason why a bespoke jacket looks so good.
Bespoke construction then creates structure around this torso. A hand-padded chest creates a flattering yet natural shape, while a structured collar keeps the jacket closely around the neck, anchoring the jacket. No other bespoke item has this difference in quality compared to RTW.
Bespoke coat
A coat is the second-most valuable thing to have made bespoke. Largely, this is because it has the same benefits of a jacket, above. It is usually in a heavier cloth, which might appear to be more forgiving RTW, but then we all know how great bespoke looks in a heavy cloth. Like pure sculpture.
An overcoat is also superior to a jacket in its greater proportions. An overcoat sweeps. Usually from a strong shoulder, though a wider lapel than a suit, across a double-breasted fastening, and out into a very long skirt. Nothing is as dramatic.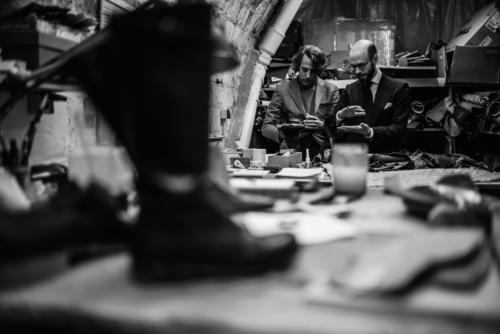 Bespoke shoes
Bespoke shoes don't have many advantages over RTW in terms of construction any more. Several brands offer hand-welting (Saint Crispin's, Stefano Bemer) and others have top-end uppers, oak-bark soles and tight waists (Gaziano & Girling among others).
There are some more differences in terms of fit. No matter how many sizes and widths a brand offers, a bespoke fit always has the potential to be better. But then more brands are now offering altered lasts as well – such as Saint Crispin's –that approach bespoke.
Yet I would still place bespoke shoes above bespoke shirts, bespoke knitwear and many other items. This is because although the differences between bespoke and RTW shoes are small, they are among the most beautiful things in menswear. The perfect segue from heel cup to heel stack; the sinuous irregularity of a bespoke sole. Men, including myself, treasure such things.
Bespoke shirt
There are no construction advantages to a bespoke shirt; it is all about fit.
And while a bespoke fit is often superior, this is largely in the body of the shirt – which creases; which often remains hidden; and which has to be looser than a jacket to allow one to sit down. A good fit in a shirt is important, but it can often be achieved made-to-measure, or even altered RTW.
The most important thing in a shirt is the collar, which may be better in bespoke or may not. If you can find a RTW collar you like, that sits gracefully with tie and without, and is the right height for your neck, you're most of the way there.
Bespoke knitwear
I've always said more brands should do bespoke knitwear. Or made-to-order with alterations. Where you can try on a few sizes in the shop, then order it in any colour with slightly longer arms and a slightly slimmer waist. Well-fitted knitwear is so flattering on a man, and has broader uses than tailoring.
But knitwear still belongs at the bottom of this list, because there are no differences in make and because the alterations required are more akin to made-to-measure.