Stephen Temkin of Leon Drexler custom hats, Toronto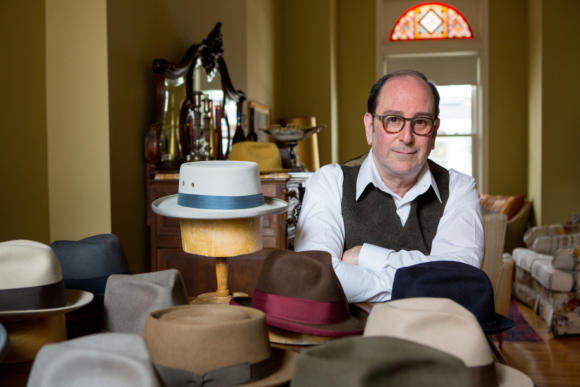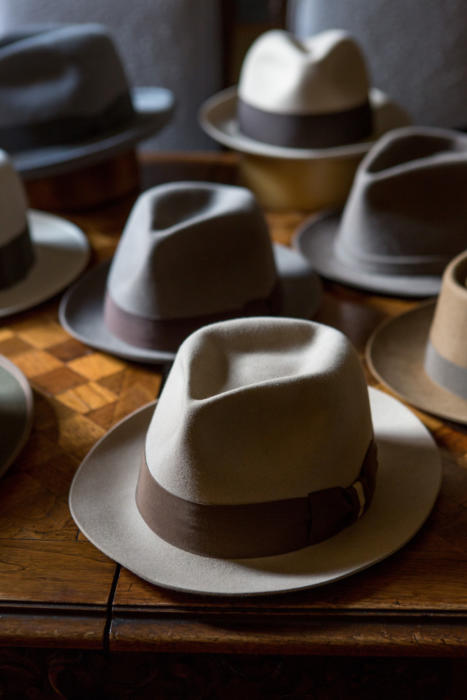 For a home studio and workshop, Stephen Temkin's set up is pretty cool.
He lives in a large house in downtown Toronto, Canada. The work is largely done in the basement (where the ironing and larger equipment is) and the third floor (trimmings, sewing machines). The living room becomes a showroom when customers visit.
I went to see him earlier this year, while visiting Toronto for a book-launch event at the newly reopened LeatherFoot. We commissioned a hat, which has just been delivered and will be reviewed in a couple of weeks (Stephen has around a 20-week lead time on new hats).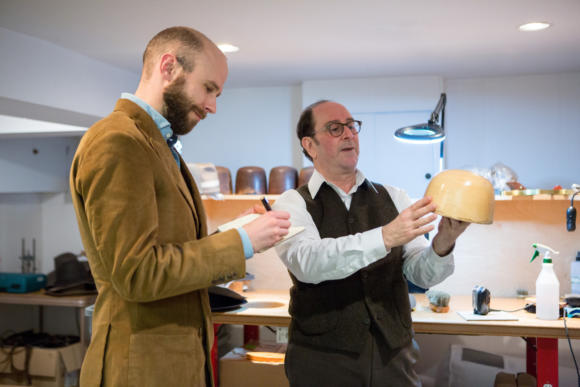 People often get confused with the name of the company, thinking he is Leon Drexler rather than Stephen Temkin. In fact the company is a composite of Stephen's father's first name and his mother's maiden name.
(Perhaps this is less likely to happen today; in the age of the 'influencer' it seems less likely someone would use another's name rather than their own.)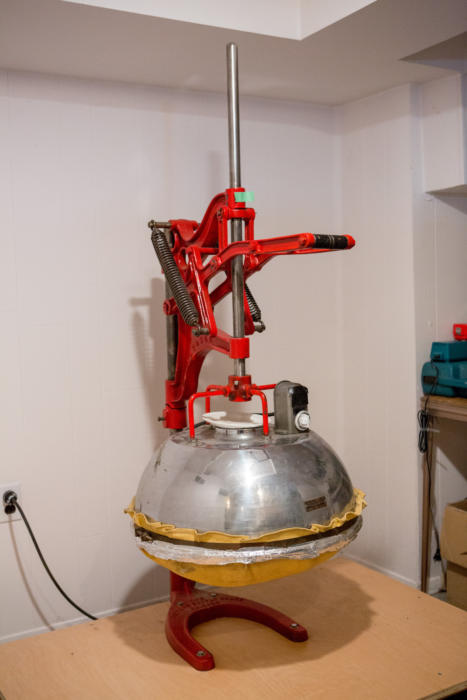 Stephen was a writer most of his life, largely covering food and wine, and is a qualified sommelier. He started the Leon Drexler label in 2009, having spent two years sourcing hat-making equipment from around the world.
It is this equipment that most strikes the eye as one tours the house.
There is the huge hot-sand machine that is used to set the brim of a hat (above). There is the collection of curling shackles and tollikers, which curl the brim or help set a crisp line between the brim and crown (below). And most crucially, there are the wooden blocks and flanges upon which the hat has to be formed.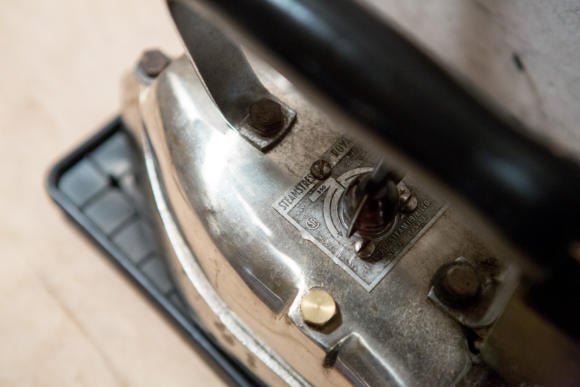 The difficulty with making lots of different styles and sizes of hats is that most require their own wooden hat block to shape the felt around, and their own flange to press the brim onto.
So if you want a six-inch-high crown, in a size 59 and a tapered shape, that is one block. A size 58 would be another block. A flat top yet another. You can see how the permutations could quickly get out of control.
Often the specific shape of the top of the crown does not require its own block (it is set with steam, or can just be left to form as the wearer uses, creases and pinches it; straw hats all require style blocks), and sizing can be slightly increased or decreased.
But many are still required, plus the oval flanges for the brim sizes.
Stephen has four sets for four different styles, each in all the sizes. "Finding all those old sets was very hard," he remembers. "After two years I found two old sets from the 1930s and one from the 1950s. I've more recently had one made by a new maker in Florida who is proving good so far."
"I've also had to use him to make bigger sizes to add onto those old sets. Men's heads, as you might expect, are a lot bigger than they used to be."
Stephen makes a broad range of styles, though the felt is all beaver (the best for retaining its shape, strength in relation to weight, and softness) and all hats are made to measure, and made to order.
He is particularly known for curled, bound brims. This is largely because it's a style that requires a lot of hand work and therefore factories rarely make any more; and if they do, they don't do it the old, elegant way Stephen does with the brim being curled and the binding sewn by hand at the same time.
It's also quite a distinctive style, as shown above.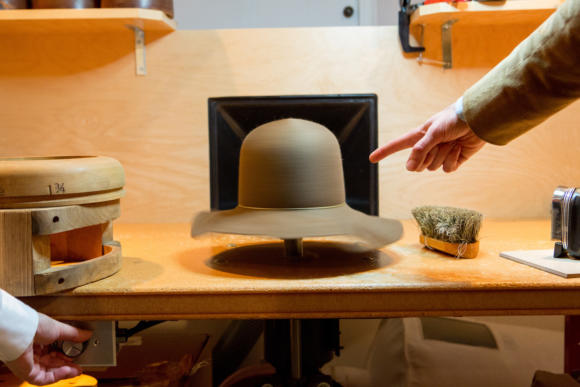 This leads neatly to the question: why have a custom-made hat?
After all, felt is a wonderfully adaptable material. It will mould to the shape of your head, fitting it pretty precisely.
A large range of styles is still carried by the likes of Bates and Lock & Co - and even more by new start-ups like Laird Hatters. Plus, custom makers can't just make anything, unlike a tailor or shoemaker - they need all those blocks.
So is it just about fancy colours?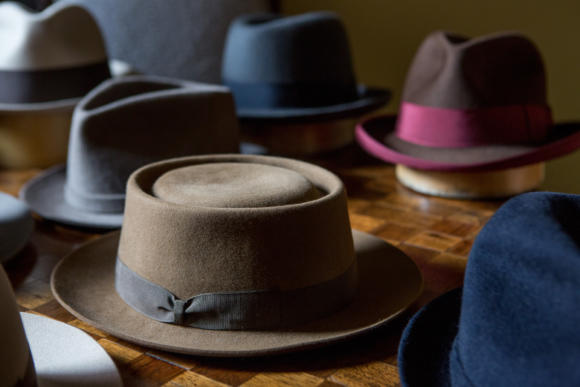 To a certain extent, yes. There's certainly less of an argument for it than in tailoring - the experience is more akin to made to measure. (And Stephen deliberately doesn't use the word 'bespoke' for that reason.)
But there are fit issues. My head is a long oval, for instance, which is common but in the minority, and as a result all ready-made hats have a small gap at the sides.
This can't be completely rectified without another set of blocks for long-oval heads; but Stephen does use a few techniques including padded tape to amend the blocks - both changing it to more of a long oval, and to cater to people whose heads are between sizes.
Then there are those colours. Not purples or reds, but shades of grey, green and brown.
The range of styles in most shops means they will only carry one grey, a couple of browns, one green and perhaps a navy. Compare that to the shades of brown and green in the stack of hoods I looked at in Stephen's house, above.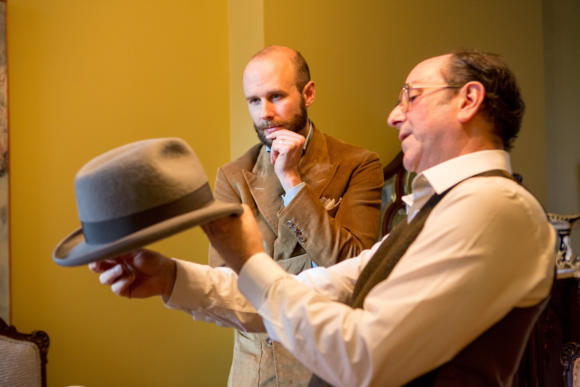 Having this broader choice is partly about finding something that suits your skin, clothing or style more, and partly about simply being unusual - not having the shade that everyone else has.
On my hat we also picked a particular finish, but I'll go into that in my review post.
Stephen also does two weights of hat, for colder and warmer months, with the latter lined in linen and with a perforated sweat band.
Then there are the hat bands.
It's amazing how much a small change in the tone of the ribbon can make the hat appear more green, brown or grey. Just have a look at the selection I was picking from below, and consider how each changes the appearance of the felt.
Of course, you don't need to go bespoke to change the ribbon. But most shops don't have much choice - Stephen has just over 60 colours, mostly old French dead stock. He now has about 26,000 metres in total.
That range and the impact that ribbon can have is almost reason enough on its own to have one custom-made.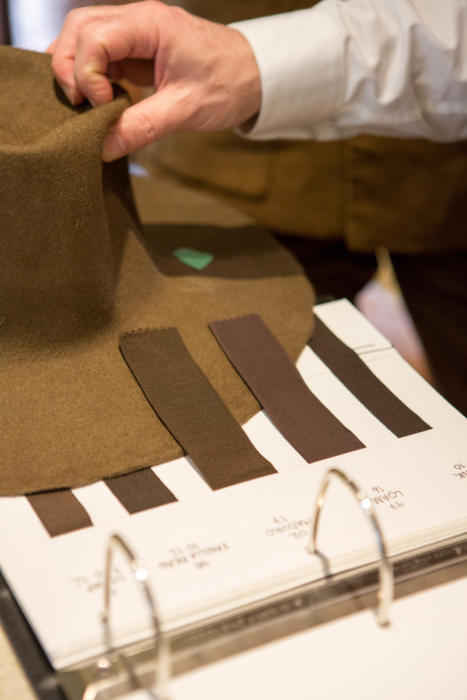 More on Stephen (and Leon) in a couple of weeks. Finally, some details:
Felt hats start at C$625 and take around 20 weeks to make - this is current backlog, which is a little longer than usual.
Additional elements like curled brims and binding add C$15 to C$120
Fittings are not usually needed but a visit with the finished hat can be useful
Stephen does take orders by phone or email, with the customer measuring their own head and making decisions remotely about colour and style
More details on the Leon Drexler website