The Optimo hat factory, Chicago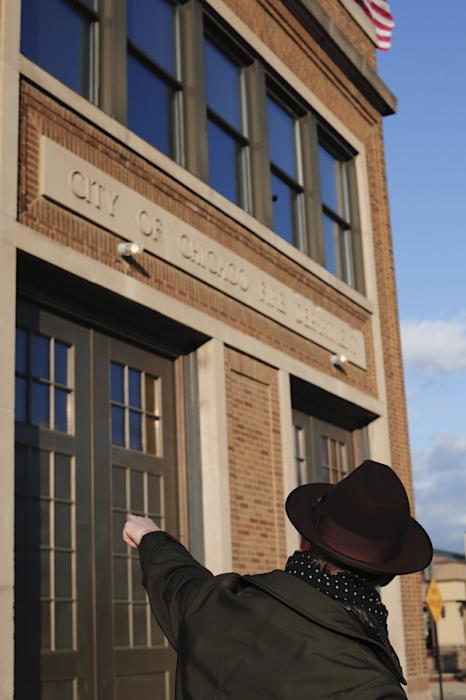 Optimo hats in Chicago has to be the prettiest factory I've ever been to.
Over the years I have been to some impressive ones: Hermes, Loro Piana, Zegna. But they're grand, sweeping, sometimes in sculpted countryside.
Optimo is small and gorgeous. An old fire station that was repurposed by the (famous in Chicago) architects Skidmore Owings & Merrill, it has polished floorboards and brass fittings.
The floors are scrupulously clean - partly because all the power and air is pumped up from the basement.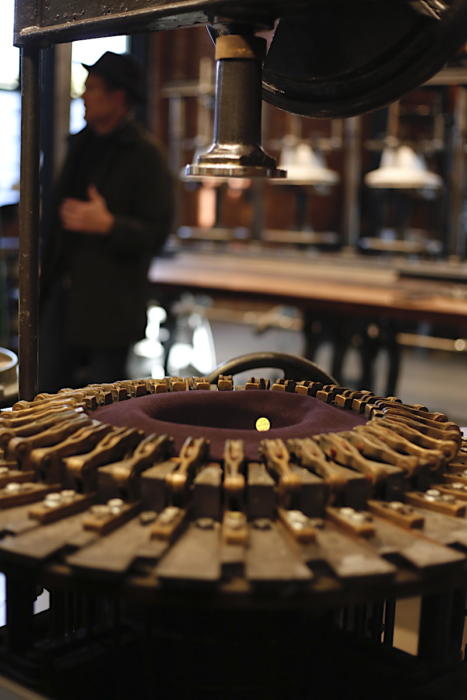 The machinery is all old - anywhere from a decade to a century - but it's clean. And upstairs is an entertainment area with Graham's jazz record collection, massive speakers, and shelves of vintage hat-making equipment.
It's actually very similar to an old Northampton shoe factory, like John Lobb.
There are wooden floors, old iron machinery screwed to the floors, product being carefully fed into one machine or another, and then set to rest on trolleys.
The difference is the efficiency and the cleanliness. Even those trolleys are beautiful, and specially commissioned.
I think it's how a shoemaker might dream his factory could be like.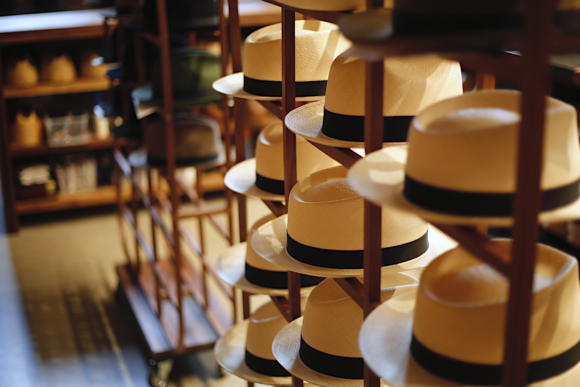 It helps that only five people work here - there's more space and machinery than production really needs.
Graham has collected hat-making apparatus consistently for 20 years, and is always on the hunt for a spare model or a different version of something he already has.
None of them are being made anymore, so it future-proofs the company.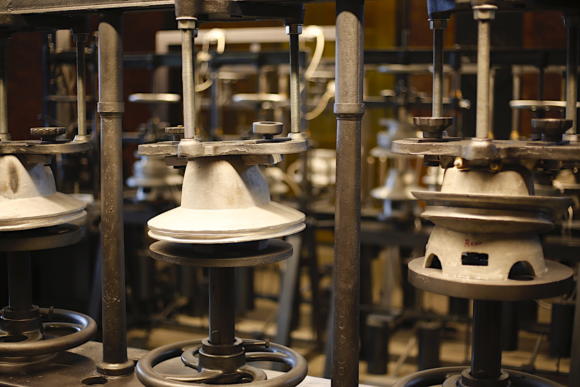 Each machine, inevitably, also has a story. For example, the row of pale-grey machines for blocking panama hats (a completely different process to felts).
Graham found them in France. He was visiting an old supplier of hat ribbon, hoping to get them to make the vintage quality again, or at least buy up their archives. The owner of the company listened for five minutes and then said 'you need to talk to my Dad'.
The father was called, and turned up, and explained at length why it was impossible to make the same quality. Then he asked Graham why he wanted it. Graham explained his mission to make an old, superior quality of hat. The man squinted at him, then said he might like to see the barn.
Which was rotting and falling down, but (of course) full of old panama-blocking machinery. Graham asked if he could buy it. The man laughed. 'What else would I do with it?' he said.
It's amazing how often I'm told these stories. I think it shows the gap there is between new makers of quality products, and the makers of the equipment that used to supply them. The former still isn't big enough to justify the latter.
With all the hats, Graham's drive is always to try processes that were used in the past, to improve the quality (which normally translates as denser, stronger and more consistent).
So there is the double blocking of the straws, where it is blocked both with forms underneath the brim and crown, and then again later, with forms on top of them (so with the hat upside down).
Then there is decatisation, which uses steam and pressure and particularly helps the denseness of the felt.
And there is the ageing of the felt bodies themselves. Beaver felts settle and become stronger over the years you wear them - actually getting better with age.
But if you keep them in the right conditions, they can be like that from day one. You just have to keep track of their age and use different amounts of steam to block accordingly (in the same way you have to with different weights.)
Graham is building a small archive of these old felts in the basement, in what will eventually feel like an old humidor of qualities and colours.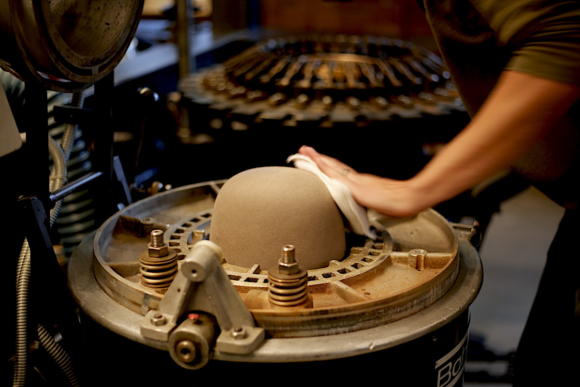 I've only visited one hat factory before (Christy's, article here), but as far as I'm aware there is no other factory in the world with the range of machinery and processes that Optimo has.
Which is interesting, because most other makers at this level of quality are bespoke, one-man operations. There are a few, but I've tried Stephen Temkin (article here), Tamara Williams (the City Milliner), Brent Black (article here) and am trying Cody Wellema.
Which begs the question, what difference does it make having a factory-made hat at this level, with all its machinery, rather than one from a single person using hand-wielded tools?
The first thing I'd say is that the biggest quality difference is having beaver, rather than hare (like most quality hats) or wool (like most cheap hats).
Worry about getting beaver first, before the maker. It ages so much better, both in terms of softening and improving over time, and in being stronger - so able to be crushed and reshaped in the hand for example, without being reblocked.
Then I would say that - on my still limited experience - a bench-made hat like Optimo is a little stronger and denser, and more precise.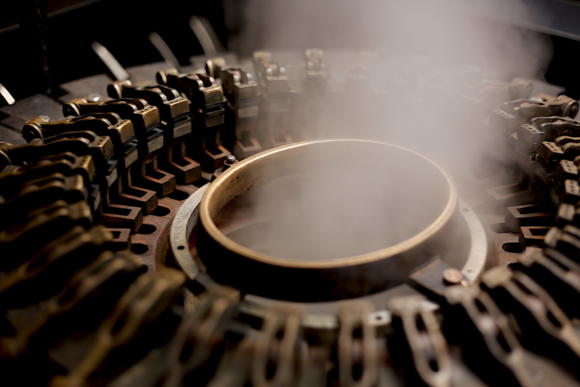 Graham used to make hats by hand too, back when he was taught by Johnny Tyus in his Chicago shop. And he talks about the little imperfections, the slightly different angles, that are inevitable when you're working with hand tools.
I notice the difference particularly comparing my Brent Black panama with ones from Optimo. The latter are much sharper (or rather can be - they don't have to be finished that way).
Perhaps like hand stitching that looks like hand stitching, some people won't think this precision so important. But it's the difference I notice most between the two types of maker.
Finally, I should say a quick word about the Optimo store, which is easily the best hat shop I've been to.
Partly because of the set up, with lines of hats behind a dark wooden bar, and a special 'straw room' with the finest straws exhibited in cases.
But more importantly, for the manager Tiffani.
I've always said that most men don't realise which hats suit them: that they need a lot of help realising which crowns, brims, colours and even ways of wearing them work.
No shop I've been into really delivers that, from Lock in London to various Borsalinos in Italy. Tiffani did, meticulously, and I'm sure that's in small part due to the way Graham has trained her, as well as her innate skill.
It's just a shame Optimo are only in Chicago. Except that (did you like that segue?) they are in London at the moment, on Savile Row. Graham has just extended their 'residency' there, to November 23*.
It's 37 Savile Row (same as where our PS Presents pop-up was).
I recommend going by and having a look, even if you're not going to buy a hat. Because chances are it will be a while before you get to Chicago.
Many thanks to Graham, Nina and Edmund for their hospitality while in Chicago.
*For the sake of transparency, there is no commercial connection here whatever. I just want everyone to know that the Optimo shop is open. Unlike when Optimo were a brand in our pop-up, when they were paying us for the space.