When selecting a cloth for an overcoat, what should you look for?
This might seem like a pretty easy question: you want warmth. That's what an overcoat is for.
But how much warmth, and where it comes from, are not straightforward.
As with anything we've covered in this Guide to Cloth (and the sister guide, on Shirt Fabric), when you start looking into this area you quickly learn that there are several factors at work, including fibre, weave and weight.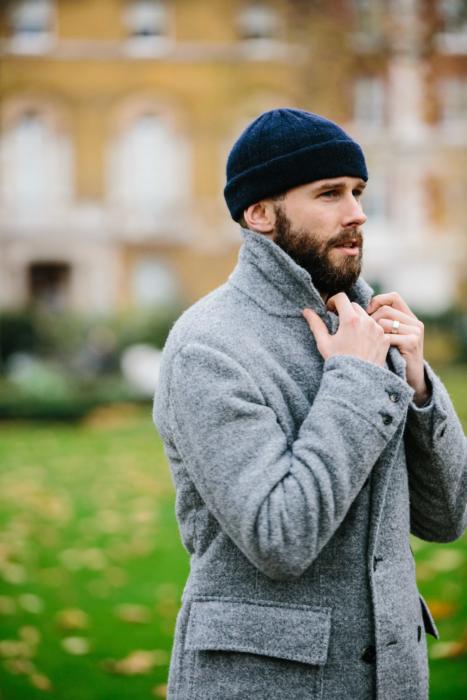 Of these, weight is certainly the most important. And what weight to choose is always the first question readers ask.
Some mills start their overcoating range at 370g or 13oz, which is very light. It's the kind of weight I'd recommend for a jacket, rather than a coat.
Most start closer to 500g or 18oz, which is more like it. Personally, I'd say someone buying a first good coat should be looking at 600-700g, or 20-25oz.
That would cover most weather in most temperate countries.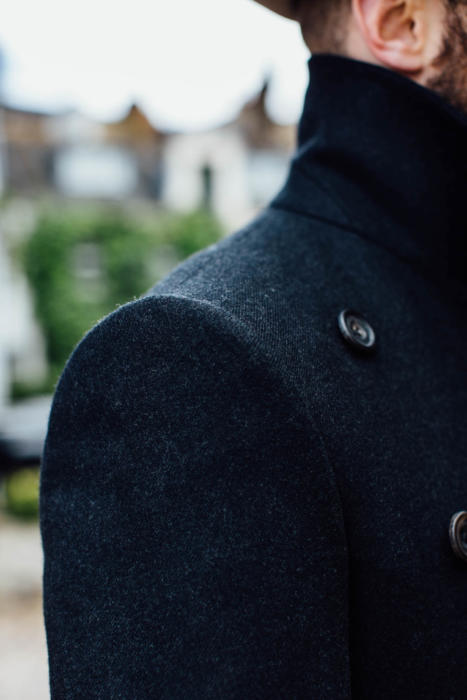 But there is also big variation around the world: in Hong Kong this weight would be too heavy; on the US East Coast it would be too light, at least for the real winter.
A good tip is to ask a friend – one who's had a coat made bespoke or made-to-measure – what he thinks is a good weight for where you both live. Otherwise 20-25oz is a good rule of thumb.
My Cifonelli cashmere is 22oz, and I've found it good for most British winters. My Sexton (above) is 21oz, but rather warmer given its length, and it's coped with New York winters.
My top coats from Vergallo and Ettore de Cesare (below) are deliberately lighter: 17oz and 14oz respectively.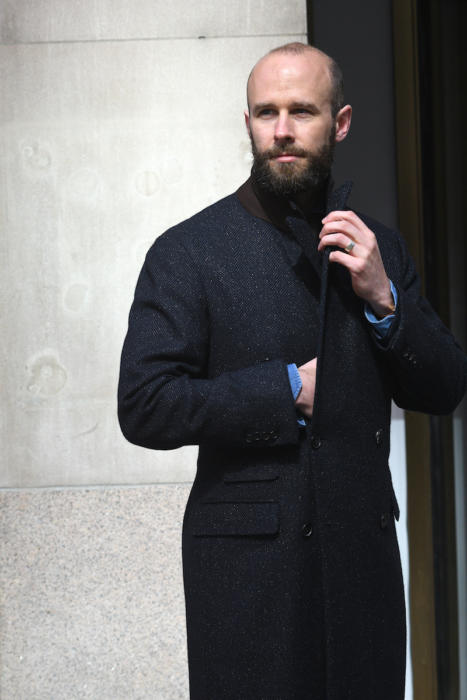 Top coats moves us onto the next question: what weight should different coats in your wardrobe be?
If that first coat was 20-25oz, a second could be lighter to cover more of the year in a temperate country, or heavier if you live in Toronto.
A top coat would also usually be shorter, finishing just above the knee where an overcoat would be below it – which will also reduce its warmth.
Any temperatures between an overcoat and that topcoat can be accommodated with accessories: scarves, hats, knitwear.
That might seem obvious, but a lot of readers ask about these in-between days. And once you start thinking hard about weather-appropriate clothing, it's frustrating when you feel you're either under- or over-dressed.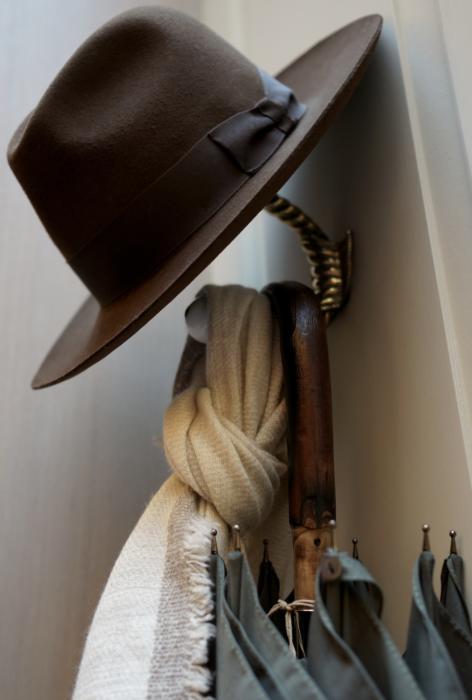 The next consideration is fibre.
Cashmere will always be warmer for its weight, given its hollow fibres. And of course it feels wonderfully soft.
The only downside is longevity. Cashmere is slightly more delicate than wool, and is more likely to show wear over time.
However, if you're reading an article like this on coat cloth, you're probably also the kind of person that will look after an overcoat well.
You'll hang it up when you're not using it; you won't won't wear a strap over the shoulder every day; you'll brush it occasionally and rarely use dry cleaning.
In that case, don't be afraid of going with cashmere. It may well last longer than a wool coat owned by someone who cares less. (Cifonelli cashmere coat shown below.)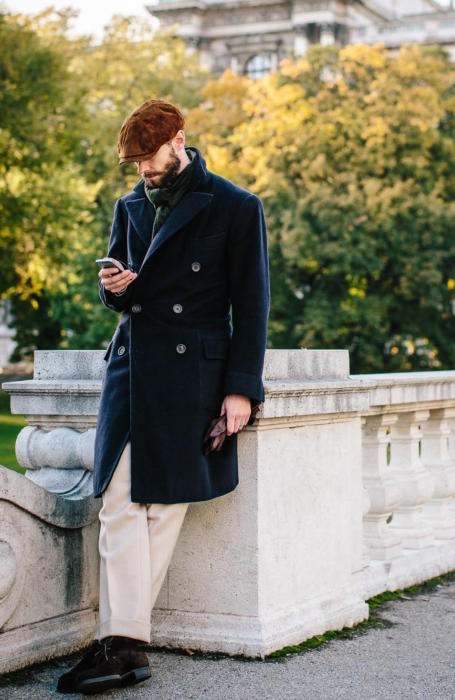 There are other good arguments for cashmere (or other precious fibres). One is that if you're having something made beautifully by a bespoke tailor, you should pick the cloth that work the deserves.
Another is that if you're investing in such a coat, you probably already have another in your wardrobe already. So the cashmere won't be worn day in, day out.
If this coat is to be your workhorse, worn every winter for years, then good wool might still be the best option. But don't be afraid of paying more for cashmere.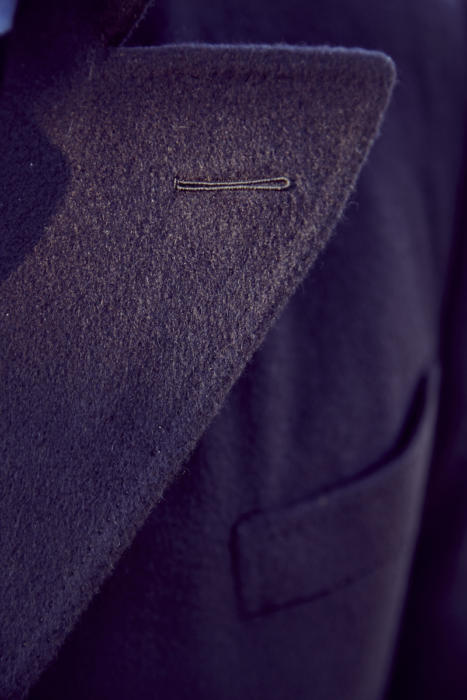 There are also different qualities of cashmere.
A high-street cashmere coat tends to be lighter, woven a little more loosely, and sometimes over-finished to make it feel softer. All these things mean it won't last as long.
The mills that supply most bespoke tailors are a lot safer. But still it's worth considering not just the weight of the cashmere, but how solid and densely woven it feels.
It's a broad generalisation, but Italian mills tend to make such cloths a little lighter and looser, and are particularly worth checking in this respect.
As ever, asking the tailor about their experience is always worthwhile. They're likely to have seen coats in a variety of cloths made up, worn, and come back for repair.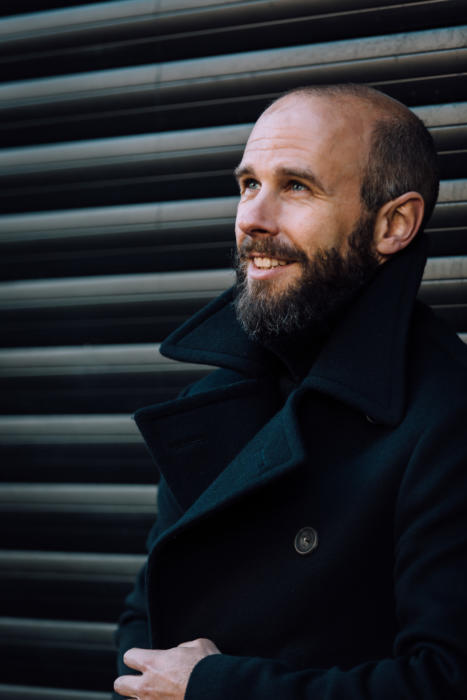 Among other fibre options, the guidance on cashmere also applies to vicuna, only more so: it's warmer and softer, but also more delicate.
Camel hair, on the other hand, can be nice because it feels similar to cashmere but is harder wearing. However it tends to only come in a few colours – usually natural and navy.
Wool/cashmere blends can seem like the best of both worlds. But the small amount of cashmere will make little difference to warmth, so generally it's only worth buying on softness.
If the cloth feels a lot nicer to you than regular wool, that's fine. If it doesn't, ignore it.
Usually that means 20% cashmere or above. (Such as my Bridge Coat, above.)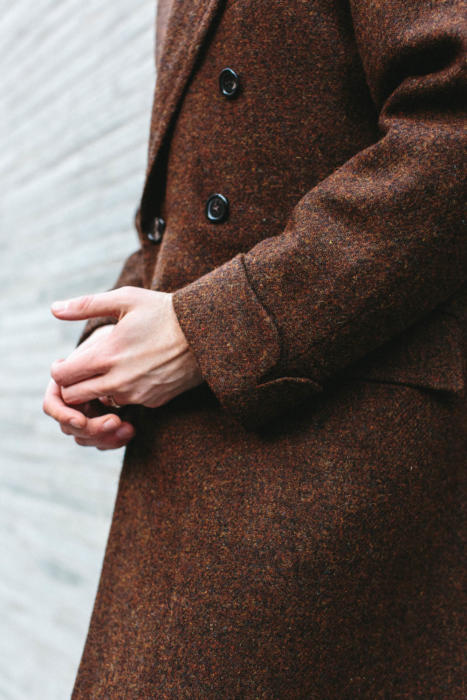 Other options include varieties of wool – often picked and then woven to be tougher or more water-resistant.
Covert cloth, for example, is a wool woven in a steep twill, to make it denser. It's more robust than most other overcoatings, but usually not as warm (not being cashmere, and often being a lighter weight more suited to top coats).
Tweed is not a classic material for an overcoat because it is rather spongey, and therefore doesn't have a clean, sharp line. But it is tough, and it's hairiness makes it quite water-resistant. My Liverano overcoat (above) is made in such a tweed, and I've found it very practical.
Finally, casentino wool is in some ways a Tuscan equivalent of tweed. It's heavily brushed to help trap air and keep water away from the surface in the same way. (Rake x Rubinacci version below.)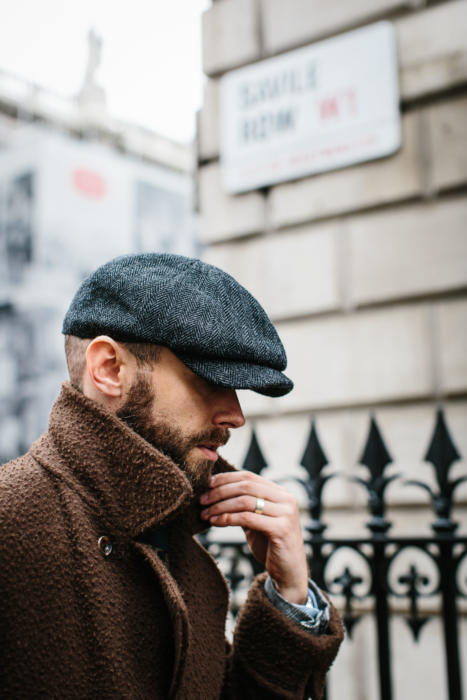 Water resistance should rarely be a prime driver for selecting a cloth, however.
Anything that really makes a coat close to being waterproof will sacrifice other things, whether it's softness, drape or look.
In the end, if you want a quality coat, you also need to look after it. And that means carrying an umbrella, wearing a hat, or anything else to stop it getting drenched.
And any of these suggested cloths can cope with a bit of rain. Just hang it when you get home and let it dry naturally.
The same goes for synthetic mixes in overcoats. It might make the coat a little tougher, but if that's your priority then you should be buying something else, like a trench coat or a Barbour. (Our collab trench below.)
As for colour or pattern, the guidance is pretty simple: versatility is everything.
An overcoat needs to be able to go with more clothing than anything else you own. Particularly as you're unlikely to have as many of them as suits, shirts or shoes.
So for anyone that dresses remotely smartly, navy is the starting point. A plain navy double-breasted cashmere coat is perfect.
Charcoal is also a great colour for smart clothing (like my Sexton), but it never goes as well with tailoring in the same colour as navy.
The only advantage of charcoal is that it arguably goes better with black tie. But that only applies to those that go to several black-tie events a year.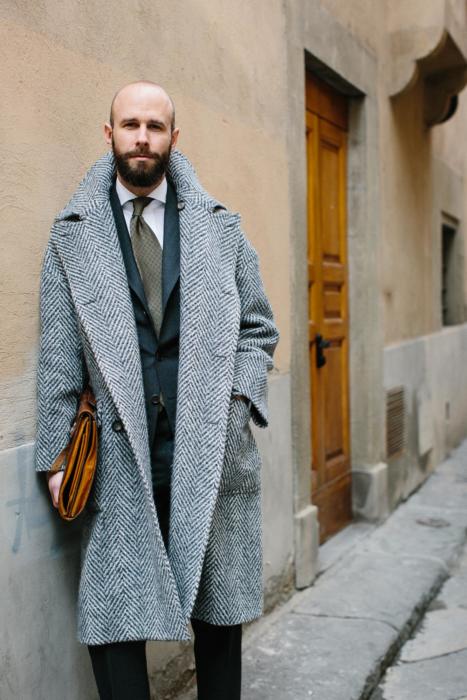 My favourite option for a coat that can bridge formal and casual styles is mid-grey herringbone. (Connolly RTW version above.)
Somehow that colour and pattern looks smart enough for a suit but casual enough for cotton trousers. Particularly in a soft, relaxed cut.
If you only wear sports coats and trousers, or even more casual clothing, then look at green and brown coats – like my green-loden Vergallo (below) for example, or brown-tweed Liverano.
Anyone building a good range of coats could do worse than starting with navy cashmere, adding grey-herringbone wool, and finally something in brown or green.
Those three should be everything they'd ever need.
Photography: Jamie Ferguson @jkf_man; except hat/umbrella shot, Luke Carby, and navy close-up shot, Jack Lawson