Unstructured casentino coat – Rubinacci x The Rake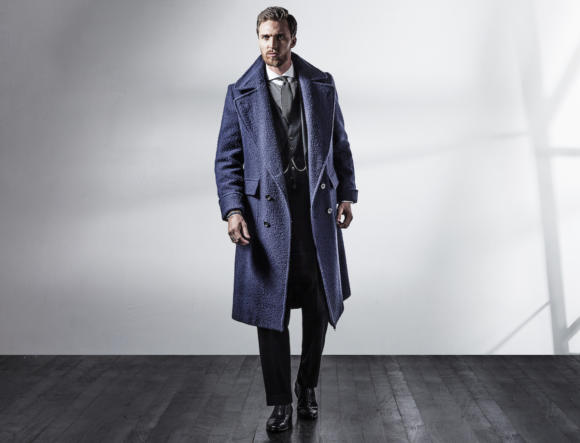 Although some of the products aren't to my taste, I always keep an eye on what The Rake are doing in terms of collaborations. It's interesting to see a clear vision move through different brands and categories.
One that caught my attention recently was the casentino ulster coat designed with Rubinacci.
The coat is cut with a good deal more swagger than a normal ulster - with broader lapels, a slimmer sleeve and more nipped-in waist.
In fact, I was a little scared it might be too dramatic.
But when I tried it on (always a nice advantage to the Rake offices not being far away) I was pleased to find that the proportions weren't over the top - particularly as I would often wear it open or with the collar popped up, so you rarely see the full sweep of the lapel.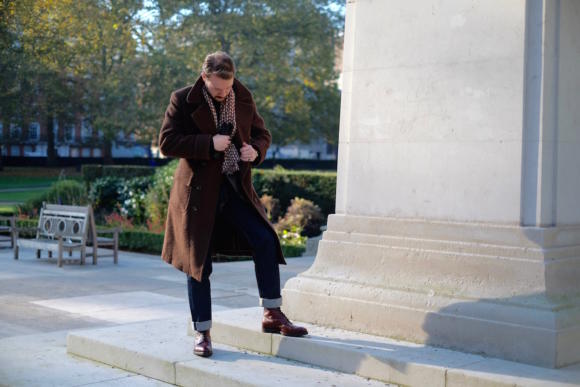 The coat also has some nice design details, like buttoning up neatly under the chin and the simple, turn-back-and-tack-down style of the cuff.
In fact the simplicity of the latter point is perhaps its greatest attraction.
I love bespoke overcoats, but if there's ever a case for a ready-made one, it's in a piece that is entirely unstructured, with no canvas and no lining - as this is.
It feels like nothing more than a big sheet of casentino wool, that happens to fasten across the front, be turned back at the sleeves, and cinched by a belt at the back.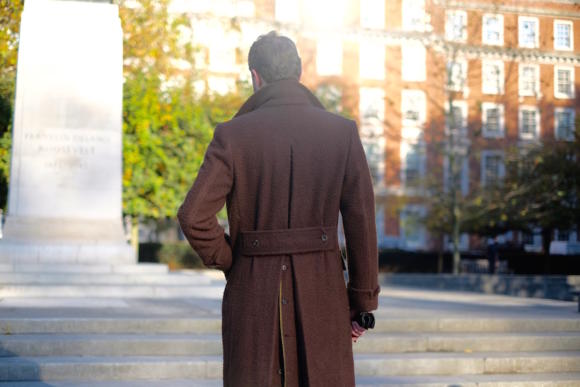 Given this, the core question is whether you like casentino.
For those not familiar with it, casentino is a traditional Tuscan cloth made of wool that has been beaten to give it raised curls, looking much like pilling on knitwear.
That texture makes it hardy, and the general milling makes it warm and surprisingly water resistant.
Its roughness means it doesn't appeal to everyone - and among those that do like it, much of the reason is its history and tradition.
I was always a little ambivalent about casentino, preferring the subtle texture of tweed for an equally weather-proof cloth, for example.
But seeing it more is turning me to its appeal, and I may well be tempted - particularly given the great brown, blue and green that The Rake are doing it in.
Sizing note: the 40-inch chest fit well on me, but you couldn't fit all jackets underneath (perhaps just softer shouldered ones), and it is the smallest size. So there is the greatest size range for the larger guy.
The casentino ulster costs £850. It was a limited run, so some sizes (eg brown in a 40 chest) are already sold out.