The custom-block service, from Optimo
Over the past year or so, Optimo has been developing a unique bespoke hat programme, where a personal 'block' is made for each customer.
Most Optimo hats are already made to order, so customers pick their felt, their crown style and their brim width. And they can find precise sizes - Optimo does more than anywhere else, with half sizes for most head shapes, sometimes even quarters.
But no hatmaker makes a block - the wooden form the hat is shaped around - individually for each customer. (In the same way a last is made for a bespoke shoe.)
The reason they don't is it's very expensive, and the vast majority of people don't need it. So, pretty convincing reasons.
Graham at Optimo admits that only those with unusual head shapes will benefit a lot. He estimates it around 10% of customers.
But those with regular head shapes will still notice a slight difference. And Optimo has the kind of obsessive customers that want the very best, even if it's only that slight improvement. So I'm sure more will take it up.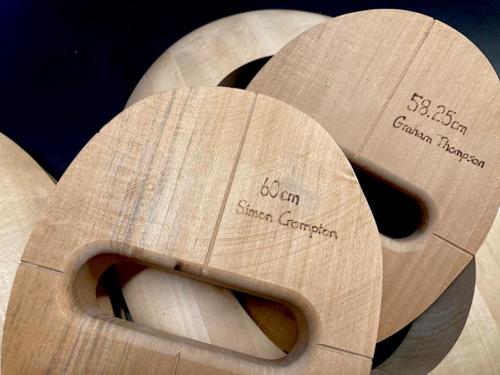 I am one of the 10%. My head is what's known as an extra-long oval: it is particularly long compared to its width. As a result, any ready-made hat I buy gapes at the side of my head.
This is what got me interested in bespoke hats in the first place - alongside the fact that they are better quality most ready-to-wear. I've since had hats from Optimo, Wellema, Stephen Temkin and others.
The other 90% are long ovals or round ovals. Among the other unusual shapes in the 10% are extra-round ovals - which you tend to find more in Asia - and those with peculiarities like a bumpy or asymmetrical head.
Hatmakers tend to have blocks for long ovals and round ovals, in a range of sizes. They then adapt these for more unusual shapes, when ironing the hat and sometimes by putting something on the block to adapt it (Stephen used hockey tape on mine).
All of the bespoke hats I've had fit much better than ready-to-wear, because of these techniques. But I'm pleased to say (for Graham's sake) that I noticed a real difference when I tried the new bespoke service as well.

The first test hats were made for Graham and myself last year.
He measured me during his pop-up in London, using an old-fashioned device called a conformature. You can see this at the beginning of the film of our reader event we held at the time (above).
Graham has a collection of these old machines, and they are fascinating pieces of kit. You fit them on the head, adjust the pins so each is pressing against the scalp, and then punch a paper card with the resulting shape. This card then goes onto an adjustable hat block, to make the hat.
The problem with conformatures is they were designed to alter the shape of hats like straw boaters. A boater is very hard, so you needed to do something to change the shape and make it wearable. They didn't need to be that precise.
Those boaters also had a lot of shellac in them - a resin that's still used on some cheap felts to give them extra strength - which made them easier to mould.
So conformatures weren't really designed for felt, and weren't that exact either. You can see that in the video I think - it's clearly a heavy analogue contraption, with a lot of play in the way the pins are positioned.
So Graham has developed his own tracing machine (above).
This creates a pattern in the same way as the conformature, but with greater precision and consistency. That pattern is then used to make an entirely new mould, rather than change an adjustable one (also more precise and more consistent).
The new machine wasn't ready when Graham was in London, which is why I used the conformature. But we took enough prints with it (and with other versions when I visited Chicago) that they seemed to translate onto my new bespoke block.
In future, the machine will always be available for customers to use in the Optimo shop in Chicago, and will come on trunk shows.
Graham went through the full process, and even though he's a pretty standard long oval (and has been wearing hats for 35 years) he noticed a slight improvement. Hence the assertion above that most customers will feel some difference, even if they don't really need it.
Getting your own block is not cheap. There are very few specialist makers of them anymore, and as a result it will cost $1000 from Optimo.
Actually, it's not just one block: it's two, the brim block (or flange) that presses the brim, and the band block that goes inside. (Top and bottom, respectively, in the image above.)
The good news is that this will likely be a one-off charge. Only if you want a completely different style of brim will a new brim block be needed. The same style of brim in slightly different widths is fine.
The other good news is that if you're an existing customer, you can make a bespoke block and then use it to reshape all your old hats.
This is what I did. We made a new, small brown felt to test out the system, and once we decided it worked well, we used the same block to reshape my other two Optimo hats: the slightly wider charcoal and the western-style silverbelly (below).
I shudder to think what some of the Optimo customers I met in London would have thought, if none of their collection of hats could have been reblocked with the new system. Some people really, really love their hats.
The bespoke - or for US readers, custom - service is available from Optimo now. It was originally meant to launch last year, but the pandemic put paid to that.
There will be a more official launch and announcement soon, but anyone can go and start the process if they wish. And of course, anyone that can't get to Chicago will have to wait for travel, and therefore trunk shows, to be possible again.
A bespoke block is not the kind of thing the vast majority of men need. It's more for the real enthusiasts, or those that have a real problem finding hats that fit. I certainly noticed a difference (take a look at the shape of my block in the image at the top of this piece) but many others will not.
However, as with much else that Graham has done at Optimo, I enthusiastically applaud this addition to his service.
It's fair to say that in recent years Optimo has recreated fine factory production of headwear, alone in the world in reviving quality that hasn't existed for more than 50 years. Now they've gone further still.