Optimo bespoke felt hat: Review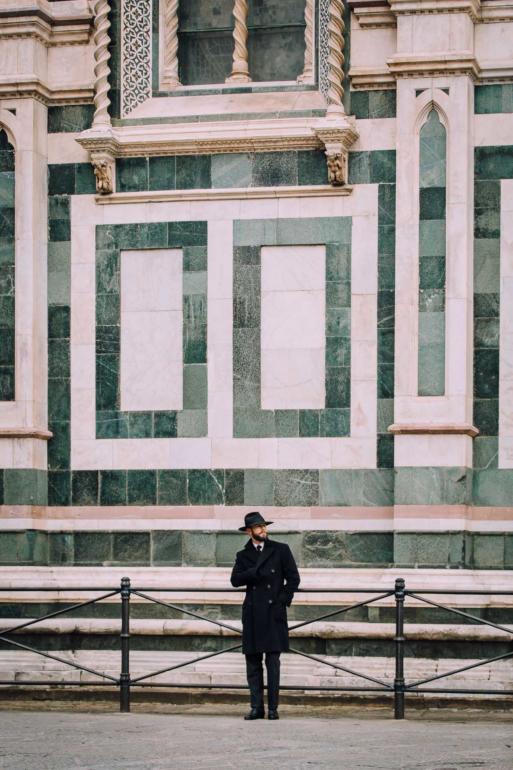 I'm not sure whether it came across, but I was almost surprised by how much I liked the Optimo hats I saw in New York last October.
It was the first time I had seen them first hand, and the felt was noticeably different from what I had seen at other makers. It was supple yet tough, with a sharp line yet soft to the touch.
When you've covered most of the major producers in an area, this kind of difference is rare. Differentiation is more usually about small aspects of finishing, fit or service.
Optimo had those as well - I particularly liked the fact Graham didn't allow people to buy ready-made hats online, or even to try them on in the shop without supervision - but the product was also pleasingly different.
The hat I ordered, which was received just before Christmas and is pictured here, did not disappoint.
Of course, I knew what that felt was going to be like. But it creates a new level of appreciation when you wear it, day in and day out.
The hat was rained on heavily, a couple of times, yet retained its shape perfectly once it had dried. In fact, as Graham had said, that moulded it better to the shape of my head.
Moulding like this is common to most felts, but some - like my Lock & Co Voyager, for example - can also lose their shape along the way.
Now the Voyager is a thin, unlined felt, designed to be more casual and rollable. But even thicker felts I've had from the likes of Bates or Anderson & Sheppard haven't reacted that well.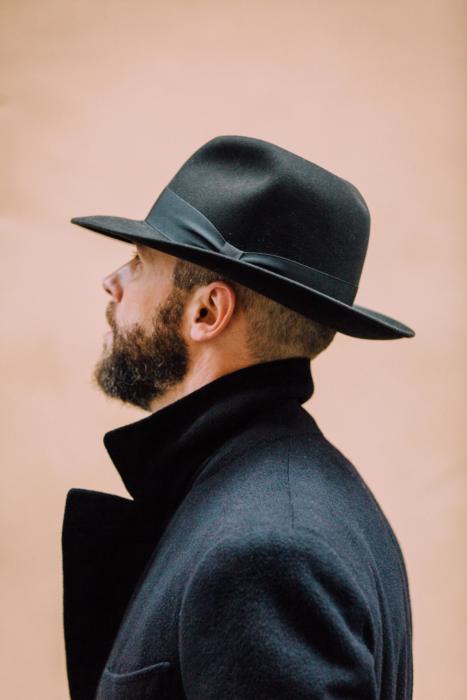 The biggest reason is the Optimo hat is made from top-end beaver felt, where the others are mostly rabbit or hare.
And of course, you pay for that: an Optimo hat starts at around $800 whereas Lock ones start at £295. But, Lock does also do beaver/mink hats at £695, and they didn't feel as nice to me.
If the Optimo felt was a case of getting exactly what I expected, the biggest surprise was the feel of the sweatband.
This might seem like a small detail, but the sweatband is in constant contact with your head, so it is the part you feel most.
The Optimo band is made from a plump veg-dyed leather, which feels lovely on the head and also moulds over a few wears. It's the thing I now notice most when I switch from the Optimo to another hat.
The fit of the hat was good, but it could have been a better longer oval shape.
My head is what is known as a long oval, which is slightly harder to fit for than a more regular, shorter oval.
It's the reason I often find it hard to get hats to fit (they're either too big and have gaps at the sides, or too small and buckle at the sides).
The Optimo was good, but not perfect - there is still some gapping at the sides. It's something I'll show to Graham when he's here this week for the pop-up, and he will take back to Chicago to correct.
Of course, this does illustrate the problem with using an overseas hatmaker. Corrections like these are not easy to arrange - although Graham does offer consultations online over video.
I would probably have tried that if he wasn't going to be in London anyway.
I was also pleased with the overall shape of the hat, which had a more tapered crown than Optimo's standard ready-made hats.
A good hat should echo the shape of the rest of the head (see post illustrating that here).
As my head is long and fairly narrow, the crown can be tall but it also needs to taper towards the top, or it will look too big.
These pictures hopefully illustrate how that shape works. The full-length shots also show how I can get away with a slightly larger brim width, I think, because of my height.
Not getting these proportions right is the major reason most men think they don't suit a hat. Every hat isn't going to flatter your face, just as every jacket won't flatter your body.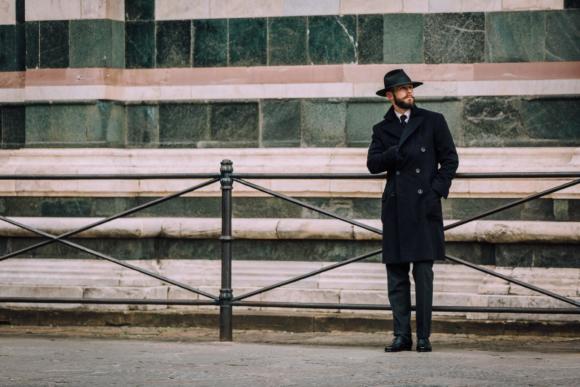 Interestingly, I also don't think men give enough consideration to the proportions of the rest of the outfit.
A hat looks more normal with an overcoat and scarf both because they're defences against the weather, and because they all add bulk to the body. Wear the same hat with just a jacket, and it can look too big.
This might seem like overthinking the subject, but I do think it's worth trying for guys that think hats don't suit them. Wear an overcoat, and a scarf, and pop the collar of the coat. Everything might suddenly seem more proportionate.
I like the colour of this felt - which actually has shades of brown in it - but the hatband was the wrong choice.
I've commented before when having a hat made by Stephen Temkin that a hatband can radically change your impression of a felt's colour. It's freakish.
And this felt looked very different in New York with a dark-brown band. I picked charcoal instead, and that was wrong. It makes the hat too dark and formal. I'll ask Graham to switch it back to brown.
I do like the design of the band though, which can easily go unnoticed. Rather than have the normal bow on the side, it merely has a circle of silk that gathers the band together (shown above). A less showy and dressy look, perhaps.
The lining is a beautiful gold, and the hat comes in a nice black, thick-card hat box. The kind you want to put on display.
It's what you'd expect for your money, but it's good to see Optimo is considered enough to have taken care of these details. Tailors and their cheap hangers or suit bags, take note.
The overcoat pictured is my navy cashmere from Cifonelli.
This is probably my favourite thing I've ever had made bespoke at this point, and even though it's showing no signs of wear, I still worry about how much I use it. I love it so much.
The shirt is a pink stripe from 100 Hands, and the tie a black grenadine from Drake's. I increasingly wear black knitted or grenadine ties, but only with very dark colours elsewhere. It's particularly nice with deep, muddy browns and greens.
The suit is my charcoal-flannel from Sartoria Vestrucci, and the bag from Dunhill.
The shoes are from Mori, an interesting start-up that's making bespoke-quality shoes in China. More on them in a few weeks.
Optimo, of course, are in London for the first time this week - from Tuesday to Saturday, in our pop-up shop at 37 Savile Row.
If you want to talk to Graham about hats (whether actually planning to buy or not) I suggest you get in contact with him to arrange an appointment. He is [email protected]
You can read more on the background to Optimo, and their shop and factory in Chicago, here.
Photography: Jamie Ferguson @jkf_man
What to learn more about how Permanent Style is funded? Read here: 'Is this an ad?'