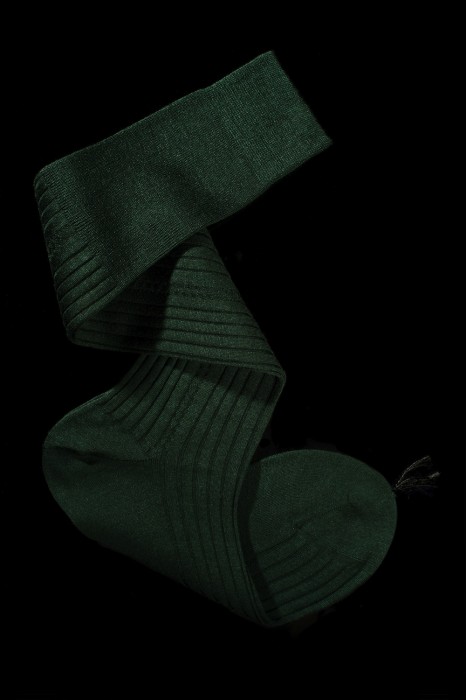 About 50% of Permanent Style collaborations never come to fruition. The quality's not right, or the cut, or some other aspect just can't be perfected. Often the lead time proves to be too long. It makes you realise how difficult (and expensive) even the smallest product innovations can be.
I'm glad to say that our latest project – the Perfect Socks – suffered none of these problems. In fact in some ways it exceeded my expectations.
When the sock company William Abraham launched earlier in the year, I very quickly became an advocate of their approach to design and material. They dramatically upped the game for hosiery, producing a complete collection of socks made from the finest merino, silk and cashmere. The mixes were innovative, as were the designs. Here, finally, was a sock you could drape across an exquisite piece of bespoke footwear and feel they were both in good company.
But they didn't have any green: the dark, racing green that I wear more than any other colour for its sheer versatility. It goes with navy and grey equally well, which no other colour can claim, as well as tan, brown and almost everything on the trouser spectrum. It's not too formal or informal, and offers a touch of very subtle colour in an outfit. When guys are wearing silly stripes or primary colours, this is what they're really looking for.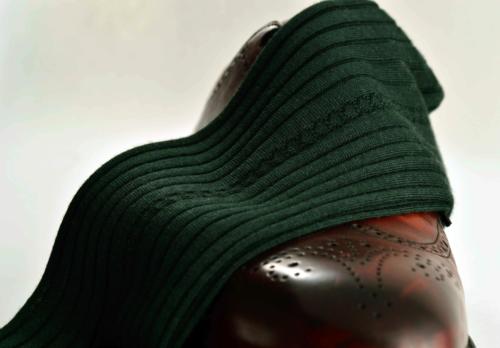 Bram (the founder of William Abraham) and I decided to create that sock together. He went off on a trip to his various producers in Italy, and came back with something a bit unexpected: the perfect merino/silk mix we were looking for, but in a fibre that was sitting in storage, having never been spun. They spun it for us and it turned out to be perfect. No failures here, no need for further iterations.
To top it off, Bram added my perfect design to the sock: a standard rib, but with a subtle diamond weave running up the centre, replacing the middle rib. A very modern sock, but with a subtle nod to the 'clocks' that were often used as embroidered decoration on hosiery during the 1930s and 1940s.
How to buy
These are very expensive socks. Available now on this special page of the William Abraham website for $88 a pair, they are the kind of purchase that will raise similar eyebrows to those that rose when you mentioned £4000 suits and £2000 shoes. But then they are the finest socks in the world.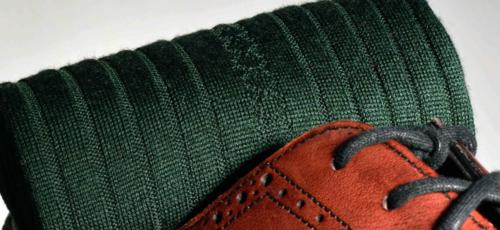 We are only making 100 pairs of the Perfect Socks, across all the sizes. So while there is no time limit on buying, they are a limited edition. You can buy them now, to get in before everyone else, but we expect them to arrive and be shipped out on December 8th. As we had hoped, certainly in time for Christmas.
Permanent Style readers get the first chance to order. The page is not visible on the William Abraham site, so only those using the link can see it. The page will become open to other visitors on December 8 when the stock arrives.
The merino is super fine (16.5 microns) and the blended yarn (merino + silk) is a 2/80 title. What does this mean? Well, they feel substantial and luxurious on, but are light enough to wear through the summer and into the beginnings of (a British) winter. They have a touch of lustre – just enough to be noticeable but not enough to get you noticed. And they are certainly not sheer (unlike the lightest cottons and silks).
These socks are certainly an indulgence – no matter how much money you have. I shall only be acquiring one or two pairs to start with, and will likely keep them for special occasions. But that's how the best wardrobe-building begins, and is exactly what I said to myself 8 years ago when I started down the road of bespoke tailoring.
If you have any questions please have a look at the special William Abraham page, or let me know. I'm very proud of these socks, as I have been of all my collaborations, and I hope they bring as much pleasure to you as they will me.