Inside the Bresciani sock factory, Spirano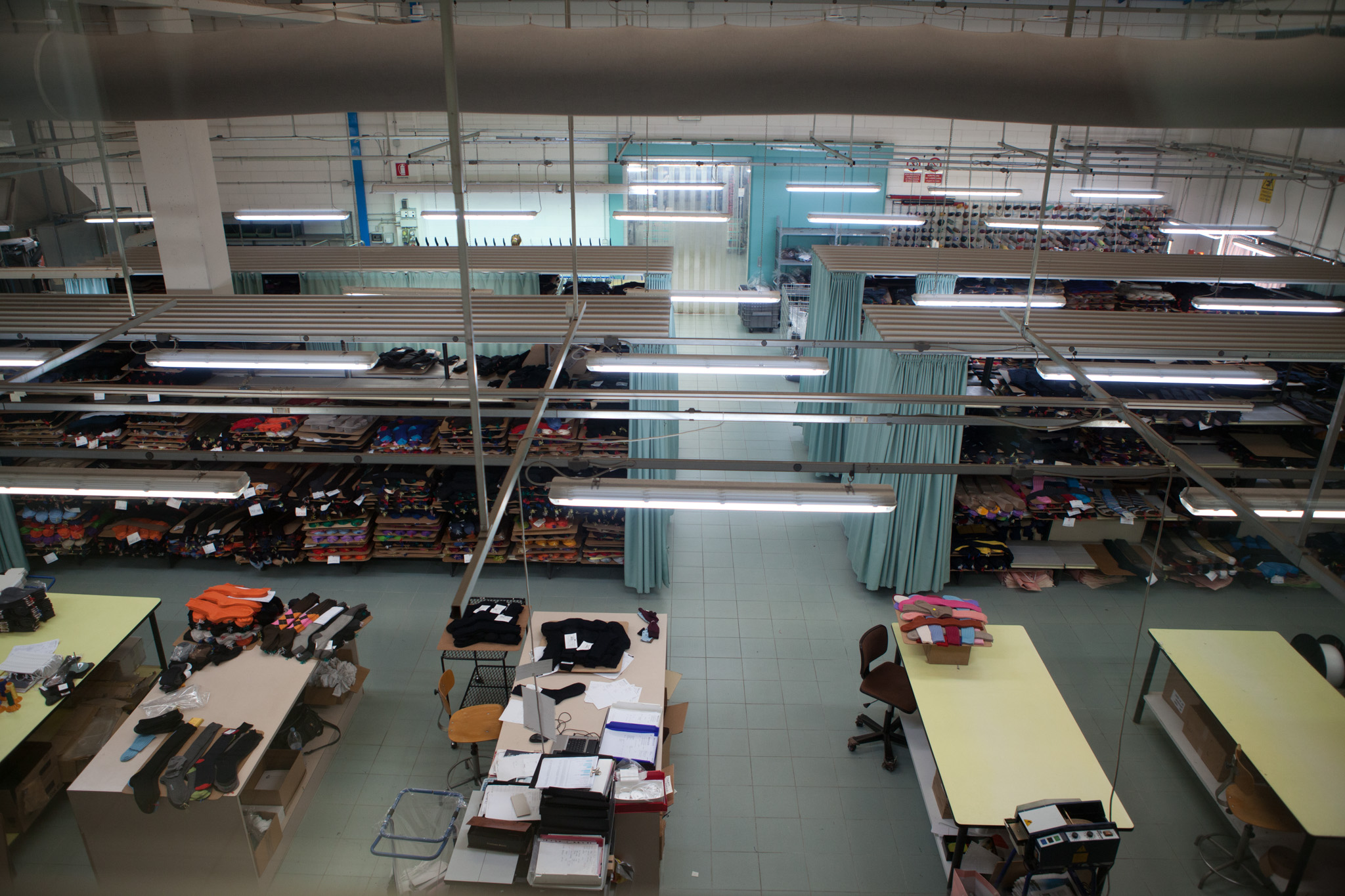 Following on from our recent article on Loro Piana, here is one more extract from my book The Finest Menswear in the World. It explains why Bresciani makes some of the finest socks – and importantly, what we mean by 'the finest' or just 'quality' in this sector.
I visited the factory years ago with photographer Andy Barnham, during a tour of Italy for the book. Since then Mario Bresciani has sadly passed away, but it is in very good hands with his son Massimiliano. And hopefully this serves as a small tribute to the way Massimiliano guided the company over the years.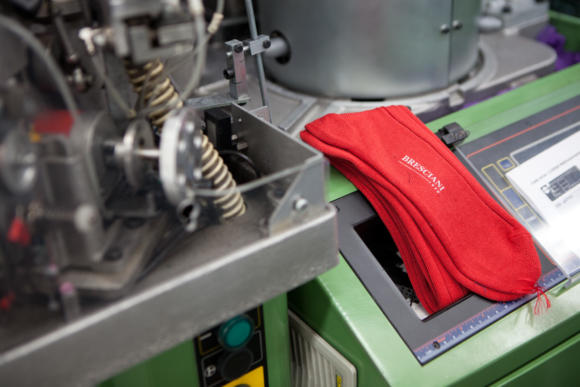 A Family Affair: Bresciani
Bresciani has been one of Italy's top sock manufacturers for decades. But a few years ago, it went down the route many other makers have done, and expanded to create its own brand - becoming a byword for quality in the process.
Massimiliano Bresciani runs the factory in Spirano, just outside of Bergamo in northern Italy. At least he does in theory. His father, Mario, is still around the factory every day, despite being in his seventies. A floating presence – a conscience, even – Mario walks the factory floor picking up socks and turning them over, inspecting them.
"I arrive at around 7.15 in the morning, and my father is always here," says Massimiliano. "He goes home for a few hours in the afternoon, but he will frequently be here until the factory closes at 7 or 8 pm.
"His most important role today is training – helping the women who operate each of the 13 quality-control stages. That's crucial for us and is a difficult thing to teach. Even though 95% of the production is now done by electronic machines, his experience is indispensable."
Massimiliano jokes that his mother is glad to have Mario out of the house. She can't stand having him at home all day, watching and inspecting the cooking – just as he has done for decades at the factory.
It's not the kind of thing you can just turn off.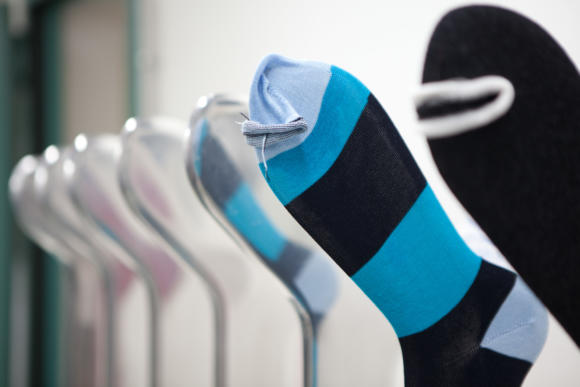 Mario's story
Mario began working when he was 12, after his father died from injuries during the Second World War. He had two younger siblings, aged 10 and 8, so he went to work. He found a job in Milan, 42 kilometres away, and cycled there every day.
By the age of 15, Mario had moved into the sock business, joining Calza Bloch. Bergamo was becoming the country's textile centre at the time, with several Swiss cotton companies moved down into the valleys in the north of Italy to make use of the rivers for cleaning the cloth and powering their mills.
Silk spinning was another early industry in the area, and that was where Massimiliano's mother was employed.
After a few years, Mario became the head of production at Caiza Bloch. He left when the company started to falter, going to Gallo (one of only two or three remaining Italian sock manufacturers aside from Bresciani).
And then, in the late sixties, he arrived home one night with a big pile of papers.
"My mother always tells the story of how he came through the door, carrying this stack of the documents you had to sign to get a loan. He sat down at the kitchen table and told her, more as a courtesy than anything else, that they now had their own company and they had quite a lot of debts to pay off," says Massimiliano.
Money from the loan paid for four sock-making machines, which were initially stored in the garage.
By 1970 – the year Massimiliano was born – the business had grown enough to justify opening a factory. Sitting in Mario's office today, you're surrounded by evidence of this history. While employed at Caiza Bloch, he worked with knitwear company Avon (now Avon Celli) and kept the archives of this work after Caiza Bloch closed down. A few dozen pages are displayed around the walls.
Two more Avon books greet you as you walk into the building and a couple more are displayed in the hall outside (examples above). They show row upon row of swatches, from the styles sold in the 1950s and 1960s. The colours are muted, but the patterns are extremely intricate.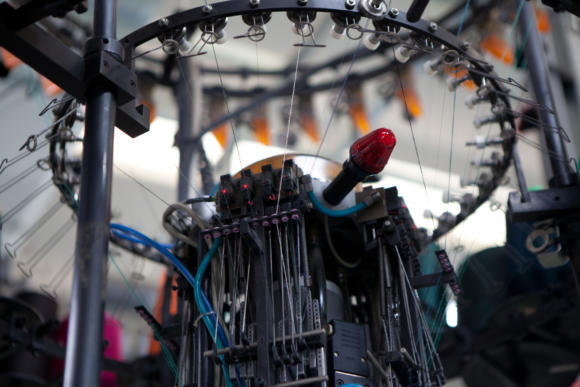 Very delicate machines
Bresciani's many sock-weaving machines divide into five types: for jacquards, micro-patterns, large weaves, Argyles and delicate materials such as silk and cashmere.
They all work the same way: two steel discs knit the yarn into a long tube of cloth from cones serried around them. The sock grows up and up from the knitting teeth until it is long enough to be sucked up a tall plastic tube and dropped, back at waist height, into a metal basket.
The Argyle machine (above) is the most complex. It has 25 cones of yarn haloed above it, all feeding different colours into a series of small mechanical arms that tap out the pattern. No wonder high-quality Argyle socks are so hard to find.
All that's then required is to sew the tube together across the top of the toe.
A group of women sit along one wall, placing both sides of the sock onto a large-toothed wheel (below), so it can be stitched together. The skill is to sit each tooth of the wheel perfectly between each thread of the sock. Each material has its own machine – silk is particularly difficult, with 260 closely packed teeth around its wheel.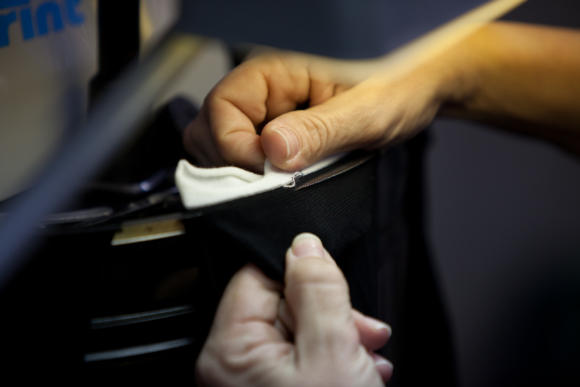 Wife, brother, mother, father, son and sisters
Hand linking, as this process is called, used to be the sign of a good pair of socks. It is still proudly stamped by many companies on their labels. But since 2002, when a new contraption was invented which does the same process by machine, hand linking has not been necessary. As these women retire, therefore, they are gradually being replaced by machines.
Part of the reason Bresciani hasn't replaced all the hand-linkers (below) is that these machines are expensive – it can only afford to buy one or two a year.
But it is also keen to keep staff whenever possible. Between 2005 and 2008, the company grew by 75% – partly as a result of emphasising and marketing its own label – but it did not expand its workforce of 30. The women were more than willing to work longer hours and work different shifts in order to make production. In 2009 the company experienced its worst year ever, with revenue falling 37%, but no one was laid off.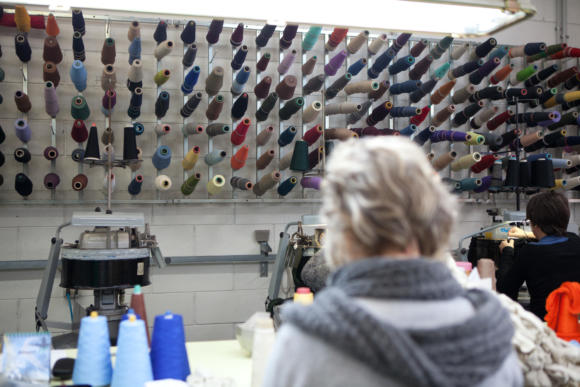 "We feel this is a family, not just in word but in deed. We make sure the women always know about the success of the company and where it is being featured, and we have organized trips for everyone to Pitti Uomo and to Venice. This is important both for our ethics and our business – it is not easy to find people who want to work with their hands and will put passion into it," says Massimiliano.
This idea of family is literally true for about 30% of the staff. Massimiliano's wife, brother, mother, father, eldest son and two sisters-in-law all work at the company. His brother looks after production, while Massimiliano does all the travelling, sales and marketing.
One sister-in-law attaches the labels to Bresciani socks, while the other makes up the sample books to send to clients. Every sample book involves cutting a sock tube into strips and gluing them in by hand, before writing on the number of the style. Last year she made 9,000.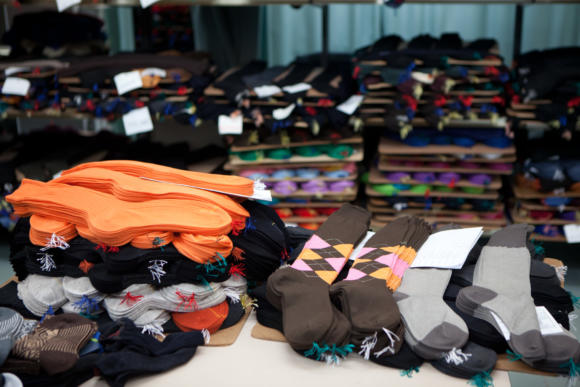 You need to have some fun
Bresciani's range is one aspect that sets them apart from other sock companies. Despite being one-sixth the size of Gallo, and despite the Chinese and Korean producers that now dominate the market, Bresciani produces over 200 new designs every year, each with half sizes in a rainbow of colours.
"As you would expect, about 80% of the business comes from 20% of the designs, but you need to innovate in order to stay ahead and keep customers interested," says Massimiliano.
One of my favourite innovations is a thick cashmere sock that is stitched onto a leather sole, creating a luxurious slipper. Apparently Mario came up with the idea when he came downstairs, sleepless, after a particularly heavy dinner. His swollen feet meant rigid slippers were uncomfortable, so he swore he'd come up with an alternative.
Bresciani keeps a small archive, which contains the designs of the past five years, in one room on the top floor. It includes one featuring lyrics from the national anthem, another with Shakespeare's famous 'to be or not to be' speech from Hamlet knitted into it, and a 'dinosaur' sock that has triangles jutting out all the way up the leg.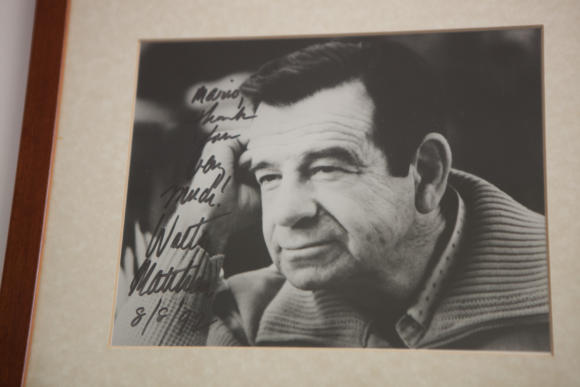 Mario's archive down the hall contains some older but treasured pieces, including a hand-drawn sketch which was a thank you note from Jean-Louis Dumas at Hermès (below). Framed on the wall is also a picture of Walter Matthau (above), whom Mario apparently walked up to brazenly in a Hollywood restaurant as the former was having dinner with Gene Wilder.
"I am Italian maker of socks," he said, in his broken English. He then secured Matthau's address and dropped round samples the next day.
It is no accident that such a history, with all its concomitant anecdotes and myths, is common to all the artisans in this book. But there are many others, not mentioned, that have failed to turn similar longevity into an enduring tradition. They have abandoned their mode of production under various pressures, and lost their skills and values.
Bresciani has flourished by retaining its values. Its peerless quality control, consistent innovation and open attitude to technology have made it one of the best producers of socks in the world. As a result, despite all the electronics, Mario can still recognise the company he founded over 40 years ago.
bresciani.it. Also stocked at Mes Chaussettes Rouges
Details on the book here.
All photography, Andy Barnham.