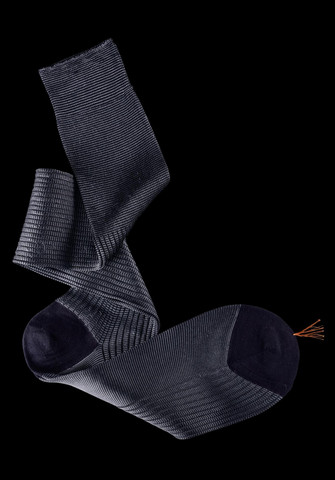 In the past few years some of Europe's bigger sock makers have been pushing their own branding and online sales. There is now far greater availability of high-quality over-the-calf socks, which is great.
The problem is, the design element can sometimes get lost. The vast majority are plain colours, ribs or small designs like hound's teeth. When sock makers do experiment, they tend towards the quirky. Bright colours. Polka dots. Even piano keys. Not things that find favour with sartorially discerning men.
The same usually applies to mixes of materials – both of which are reasons I am so interested in new sock company William Abraham.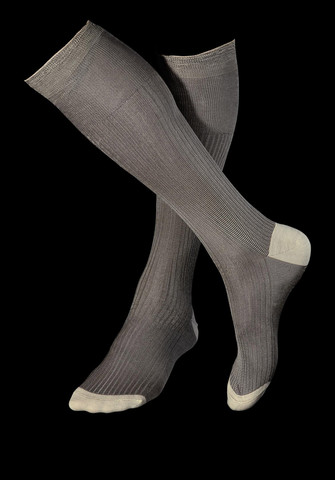 The founder, Bram, is a big fan of shoes. Edward Green, Gaziano & Girling, Corthay: we were introduced by Steven Taffel at Leffot. But Bram couldn't find socks that he wanted to wear with those shoes. And so, as with all of these stories, he decided to create his own collection.
The result is a range of socks with a unique range of materials and weaving techniques. He likes silk, for instance, both for its longevity and potential for lustre. Across his range, there are therefore socks with a wool to silk ratio of 75/25, 70/30, 50/50 and 10/90. Plus three of those in cotton/silk, and some cashmere. There is also 100% silk, but woven 2-ply in order to give them more body and prevent them being sheer.
It is almost four years since I wrote the post 'Why no silk socks?' That was stimulated by the remarkably cool sensation of wearing 100% silk dress socks. There were of course silk socks, and still are, but they are usually semi-sheer, for dress wear, or in a small proportion to add longevity to cashmere. Nothing compares to the William Abraham range.




There is also variety in the weaving techniques. The Mirror Rib, for example, reverses the weave on the front and back of the sock to give the impression of a vertical line. A double-faced technique is used on the Milky Way and Vanisé Reverse Rib socks, on the other hand, with cashmere and silk on different sides of the material – one has silk on the outside, the other on the inside.
I have tried four of the different designs, concentrating on the interesting material mixes. The silk/cashmere mixes are sumptuous to wear, particularly the 50/50 ratio. They feel like the most luxurious wool you could possibly have against the skin. And I'm also glad that the 100% silk functions so well. It is no more sheer than some thin cottons, and breathes fantastically.
Which inevitably means that they are very expensive. They start at $62, with most of the models mentioned being between that and $100. There is even a model using cervelt (down from the red deer) at $1275.