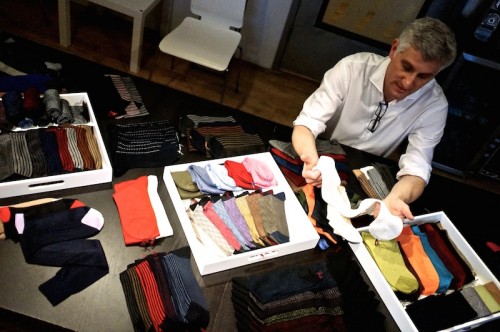 One of the first people I met in New York last week was Bram Frankel, founder of William Abraham socks. Bram's product is nothing less than a step change for the industry – something few companies achieve in a business as conservative as ours.
He has combined the finest materials with several original approaches to their combination – creating, for example, 100% silk socks that are substantial enough to be worn every day, and ultra-fine merino models that make them wearable all year round.
They are very expensive, mostly between $68 and $120. But then people buy vicuna overcoats and bespoke alligator shoes. Compared to them, $90 socks are not that outrageous. I probably own 50 pairs of socks, but regularly wear 15. On those multiples, my $30 socks could easily be $90.
Whether this is a vain attempt at justification or not, I applaud anyone that pushes the boundaries of craft in the luxury industry. There are few enough people doing it.


Bram's studio in Chelsea is in a block occupied by artists, designers and publishers. He and his assistant have two desks, one table and a lot of stock arranged around the walls. I often think merchandisers must fantasise about this kind of small, focused set up. Where you can actually see all your stock rising and falling, rather than having to track it through spreadsheets.
Alongside the models already on the William Abraham site, Bram showed me a few being released soon – some this week in fact, following the trunk show at Leffot last weekend. They included cotton/cashmere mixes, which were gorgeous to the touch, and some more formulations on my 100% silk favourites.
In fact, Bram has so many variations now that the range deserves some kind of three-dimensional graph to guide the consumer through the options. Perhaps on axes of formality, colour and opacity. Plus another one mapped on silk, wool and cotton. Maybe a little much for a start-up.
You can read more about the socks on my original post here. In the meantime, here's to the innovators.