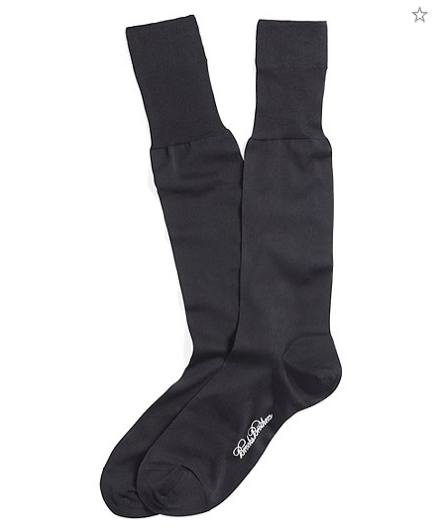 One of my favourite things about wearing black tie is silk socks. In particular, the lovely pair of Brooks Brothers black, silk, full-calf socks I own. They rarely get worn except at black-tie events, and are therefore as much a part of the ceremony as the bow tie or the shirt studs.
Every time I wear them I am amazed by how cool silk is. Somehow, they feel cooler than bare legs. Each time an ankle is exposed or you remove a shoe, a gust of cold air rushes over the skin, as if it the silk were taking breath. Bare skin doesn't do that.
Silk is used in wool mixes for a similar reason. Summer, cashmere sweaters often contain a percentage of silk as it is good at keeping you cool in heat and warm in cold. While wool on its own is very good at ventilation (which is why all the old cycling jerseys were made from loose-weave wool), the silk makes the material a good summer weight.
The same applies to socks. Many cashmere socks contain a percentage of silk in order to make them more usable day to day. (I recommend the Pantherella wool mix sock, which contains 17% silk alongside cashmere.) Without silk, cashmere socks are really only good for the coldest of winter days or for wearing around the house.
Which brings me to the title of this post. If silk is so breathable and comfortable, why does no one sell silk socks for everyday dress use? A 100% silk sock has a sheen to it, and is a little transparent, so I can understand why these would not be practical. But why not silk/cotton mixes? Surely a minority percentage of silk in a cotton sock would make it more breathable without any noticeable difference in texture?
For an answer, I turned to my local tailor here in the City, PA Crowe of 11 Ludgate Square. His response: "Silk socks are not considered to wear well, lasting proportionately less time than cotton or wool. Plus some people say they pull a little on the heel, retaining their shape less well and becoming uncomfortable over time."
Both of these are good reasons why silk socks are fine for special occasions – they are worn infrequently and usually only in the evening.
However, a silk/cotton mix sock would suffer far less from these problems. The biggest reason they are not manufactured in bulk, in turns out, is economy. Combining the two is expensive and the market is untested.
Instead, PA Crowe recommends Cotton Lisle – a much finer cotton that has some of the properties of silk. But I maintain that someone should begin offering cotton/silk mix socks. Has anyone seen any on sale anywhere?