I know from experience that casual jackets often involve a compromise, for me.
Usually one size will be perfect on the neck, waist and sleeve, but another will be better on the shoulders, chest and body length. Basically, I'm a little taller and a little slimmer than the average, so neither standard size is quite right.
Of course, many people have bigger problems. Anyone that is shorter with a bigger chest, or taller with a smaller one, will know the frustrations of standard sizing.
But it is the something that has stopped me buying chore jackets in the past. Overshirts can be made bespoke, or adjusted easily. A chore in a heavier material is harder.
When I have bought them - such as this Bryceland's one - it's been when I feel the casual, almost sloppy nature of the style is more forgiving for the fit. I've sized up to get the right length, and accepted the larger body and neck.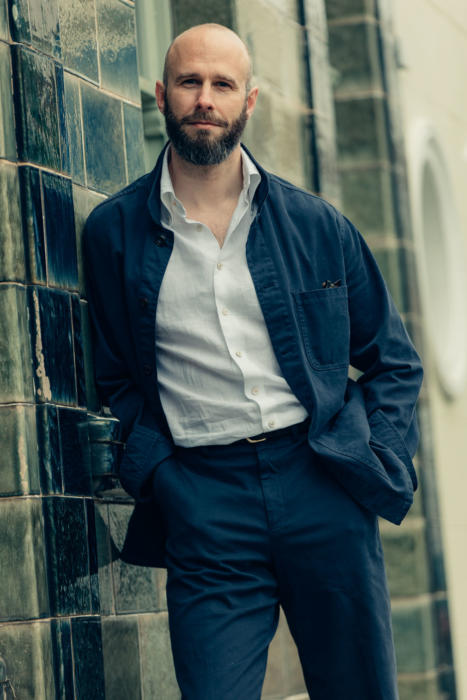 There are brands that will make chores to measure. But none that also do garment washing - and this is key.
It's the industrial washing of chore jackets that gives them a pleasing softness and fading. You get both a little with washing at home, but not for quite a long time and often not to the same degree.
Hence... my interest when James Priestley of William Crabtree & Sons said he had a factory that would make them for him, and garment wash each afterwards.
James's background is as an agent in menswear, for William Lockie among others. He set up his own brand - William Crabtree - a few years ago, and last year opened a shop on New Quebec St, which is just to the west of Marylebone.
Initially James only offered made-to-measure tailoring, which wasn't at the level we normally cover.
But he has since expanded, offering a lot of fairly traditional British menswear and a range of Lockie knitwear. There are quilted jackets, gilets, knitted ties and polka-dot handkerchiefs, alongside cashmere and cotton knits (not all shown online).
I particularly like the 1-ply sportshirts (actually the thickness of 2-ply, but we won't get into that here) given I prefer my knitwear with a collar where possible. I have the charcoal and the navy (the images on the site aren't great - the colours are actually standard greys and navy).
Last Autumn then, James and I began the process of making a chore 'suit'. I'm not sure if that's the right term - perhaps work suit is better - but essentially a chore jacket and trousers in the same material.
He has a good range of materials to pick from, although ideally I would have wanted a slightly tougher cotton (mine was 16oz, but doesn't feel it). And there are two basic styles of collar, one rounded (like mine) and one more pointed.
You can change a lot of other aspects of the design, including adding or removing pockets, and having pleats or flat fronts on the trousers. There wasn't much I wanted to change to mine, given I wanted a very standard design.
The only things I did ask for were belt loops rather than side adjusters (as I felt a belt might be helpful breaking up the top and bottom) and tweaks on the sizing.
James has stock sizes in the shop, and we quickly established that my normal requirements were what we needed - that mix between two different sizes mentioned at the start. One on the neck/waist/sleeve, another on the shoulder/chest/length.
Plus I wanted a fuller leg and a slightly higher rise.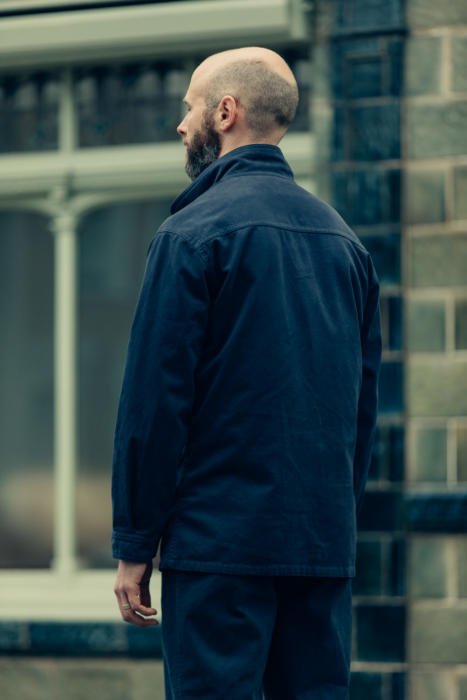 The jacket that came back was perfect - although, bear in mind that after years of not being able to find anything, any jacket that was long enough to cover my seat, and not massive in the body, would have made me happy.
We did have an issue with the trousers, which were a good inch or so too big in the waist. This could have been altered, but James was still at the point of trialling the process, and wanted the factory to redo them.
The second pair were much better. Initially a little tight, but the waist has actually softened and stretched a bit over time.
The material is, as I suspected, a touch light for what I wanted. Ideally it would be the more traditional weight of a French Vetra or Mont St-Michel. But it is very nice, soft and incredibly comfortable.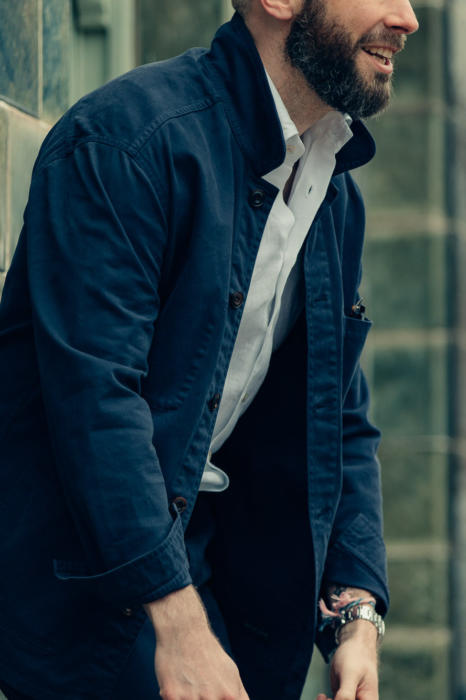 The question I'm sure some (more traditional) readers will be asking is, how the hell will I wear it?
The reason I liked the idea of the chore suit was that it could be a way to dress up what are, essentially, very casual clothes.
It will never be confused with a tailored suit. But with a shirt and loafers, it definitely has something in common with tailoring, while still being workwear.
It's unusual - you rarely see anyone wearing one - and yet it doesn't stand out much. It's subtle, yet distinctive - which as regular readers will know, is always enough to get me interested.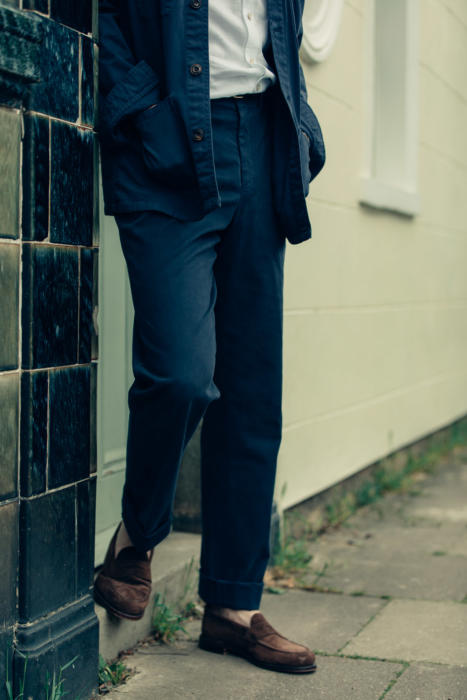 The suit is also, as I said, very comfortable because there's so little structure in it, and it's a light, soft cotton.
That makes it nice in warmer weather too. Perhaps not the 30 degrees that we've enjoyed in London recently, but certainly into the low 20s.
Plus both the jacket and the trousers can be worn separately. I coined the phrase 'three-way suit' a few years ago to describe tailoring that could be worn like this - and it's no coincidence that most of those suits were cotton too.
In fact, if James ever developed the pattern for it, I can see a very-unstructured-but-tailored blazer working as part of the set. Like a Boglioli, but made to to measure.
In terms of other styles, because the jacket has a nice collar I find it looks good with just a white T-shirt underneath, as shown above.
You can keep the same brown loafers on the feet, and it still looks fairly smart. Or you can go more contemporary and wear a deck shoe or similar, slim trainer. I'm wearing a white version of the 45R deck shoe below.
It's a very casual look, but again, being a suit rather than simply a chore and chinos makes the whole dressier, as well as giving it more personality.
The T-shirt is a circular knit from The Flat Head, bought in Tokyo a few years ago.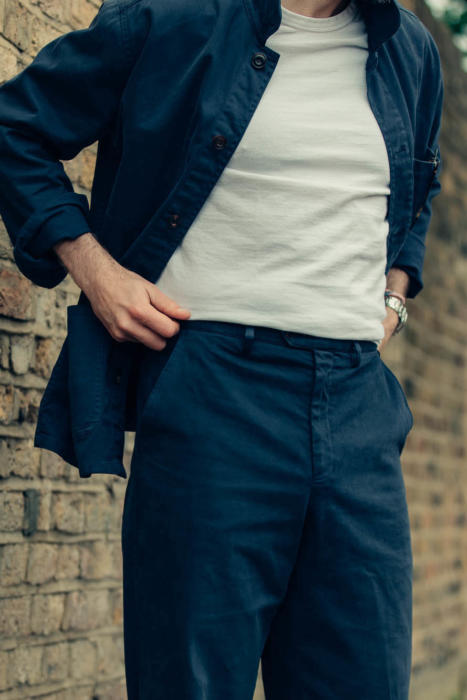 An MTM chore suit from William Crabtree & Sons costs £650 in this cotton, but most woven materials are available. Corduroy is particularly popular. They take 4-6 weeks to make.
The regular, canvassed tailoring is made in a different factory and starts at £1150 for a made-to-measure suit.
The shop is at 15 New Quebec Street, London.
Clothes shown:
Circular knit T-shirt from The Flat Head

Linen deck shoes

from 45R
'Large working' tote bag

from Frank Clegg

Button-down linen shirt from Luca Avitabile

Brown loafers, LHS loafer from Alden, via Trunk
Photography: Jamie Ferguson @jkf_man