William Crabtree made-to-measure cord jacket: Review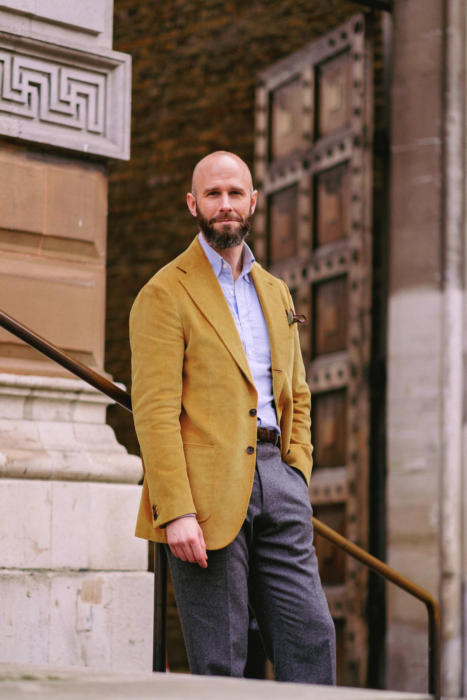 This is a made-to-measure corduroy jacket from William Crabtree, the shop in Marylebone run by James Priestley.
We covered William Crabtree previously here, looking at a MTM chore suit. James also offers a very well-priced MTM tailoring programme as well, though, so I wanted to cover that too.
There are a lot of MTM brands, simply because it's so easy to set up. All you need is a service like Munro, or an introduction to a factory, and a bunch of bunches. As we all know, the marketing and social media are even easier.
So I've tried to be quite selective with the MTM tailors I've covered. So far we've done 17, which you can see summarised here. The selection has mostly been on the basis of quality: focused on makers that offer a lot of handwork and are often a rival for bespoke.
But there have been one or two cheaper ones, and William Crabtree falls into that bracket. I chose to cover it because of James's experience in menswear, the fact there is a shop to visit, and because James also has experience in tailoring, having done the Newham College bespoke course previously.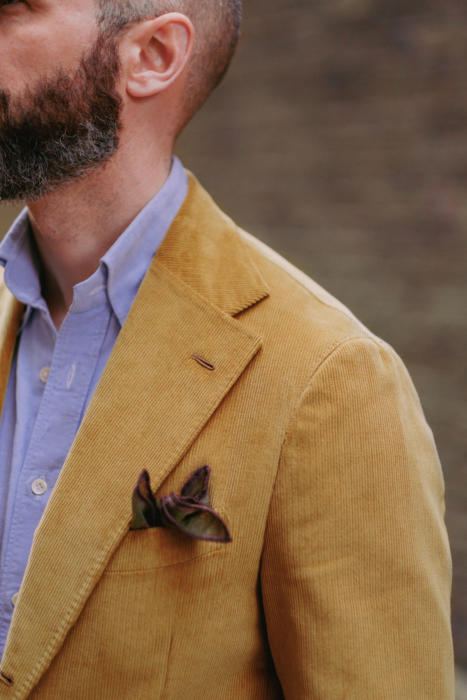 The jacket worked out well from a fit perspective.
Corduroy is not an easy material to work with, and never drapes cleanly. But the fit through the chest and waist is pretty good, with none of the wrinkling you often get with my sloping shoulders.
The back is fairly clean too, or as clean as you'd want it while still having some movement in a material without either artificial or natural stretch.
The back of the arm could be a touch cleaner, and the sleeves need another bit taking off, but the fundamentals of front/back balance, placement on the neck and fit through the side seams are all good. And issues I commonly have with jackets - such as gaping vents or collapsing under my left arm - are all absent.
It's also important to remember that this is simple made to measure, not bespoke, and shouldn't be compared with it. Given jackets start at £900, this should really only be compared to other things in the same price bracket.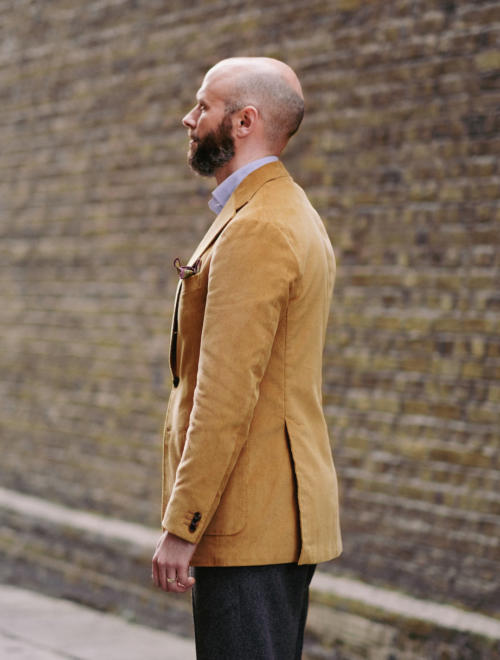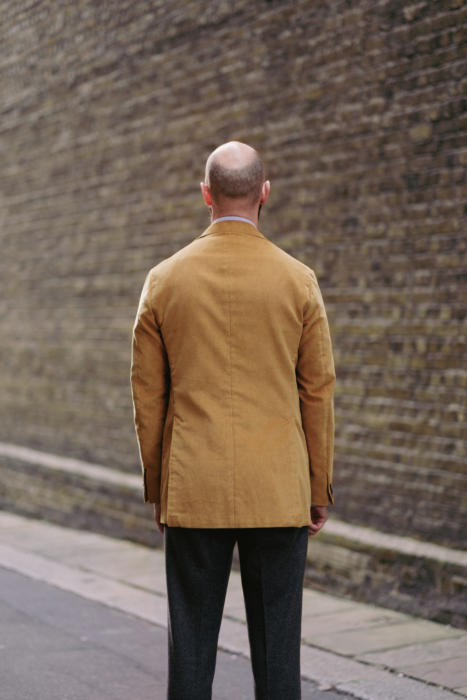 The jacket looked like this pretty much from the first fitting.
James works off sized garments, so I tried on a 48 and he widened the shoulders, added space across my shoulder blades, and accounted for the sloping shoulders.
I made sure to wear a jacket I liked from a style point of view, and that was used as a reference for things like the length and buttoning point.
At that first fitting everything had been done correctly, it looked good, and only one or two small tweaks were needed, for example to the sleeve length.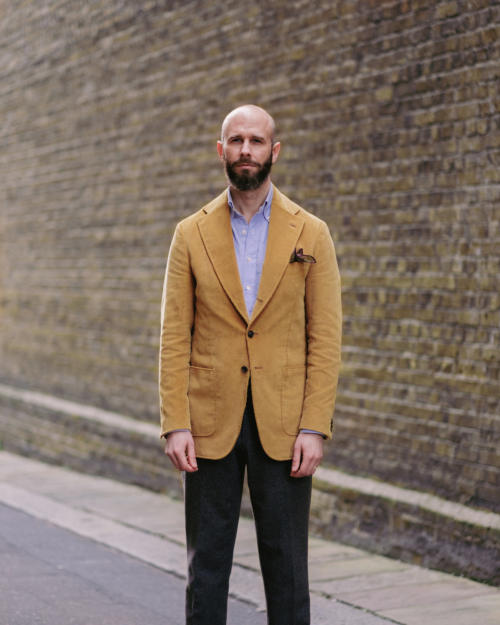 The only issues with the jacket are aspects of the styling.
The manufacturer James uses is based in Italy, and is a good quality operation: all the basic aspects of good basic make, like a hand-attached collar are there, and they make for several well-known menswear brands.
But the service is quite restrictive. At the level James is working at, there are only two lapel widths, narrow and wide. I chose the wide one because the narrow was too skinny, but I don't particularly like the shape of the lapel, with its quite pronounced belly.
The gorge also can't be altered, and it's quite high as a result. It's something aimed at a mainstream buyer (like the narrow lapel option) and not what I would pick on a bespoke jacket.
Other things result from that, like the way the jacket rolls from the first to the second button: it's not really a roll, more a fold, given where the belly of the lapel starts.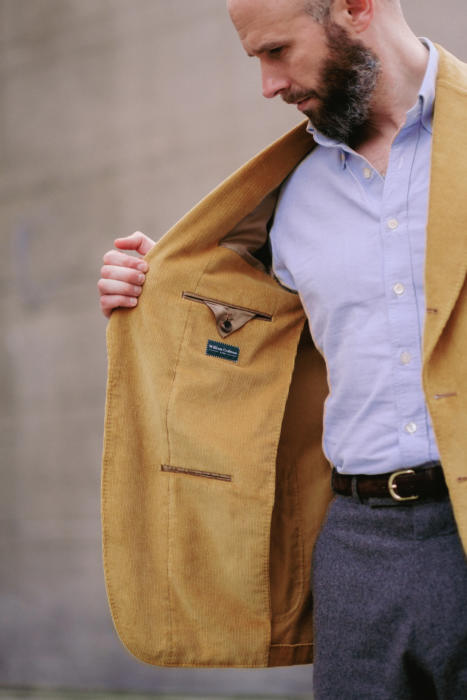 Of course, again it's unfair to compare this to bespoke, and many MTM programmes restrict your choices here. Much as I love my Saman Amel MTM, I wish I could have had that notch lower too.
There are also bespoke makers who stick quite rigidly to a contemporary cut, which isn't to my taste. I wish I had insisted the gorges were lower on some of my Solito jackets, for instance.
But, given the restrictions on this William Crabtree service, it will still be limited to readers that like this style. I'm sure there will be some.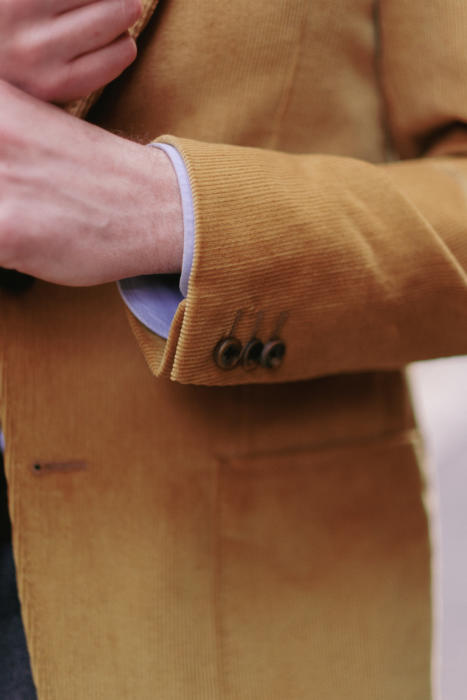 The other issue with the jacket is the material, which is my fault.
I had wanted a tan-cord jacket that could replace my Pirozzi cord shown here. For beautifully made and fitted as that jacket was, it had become far too tight over the years - even with alterations. I had had to give it away.
But there weren't many cord options. I don't like stretch in corduroy, as commented several times in the past. It always sits oddly, and you feel like you're being pulled by a piece of elastic whenever you reach for anything.
Ideally I wanted a cord with some wool or cashmere in the mix, as with my beloved A&S double breasted. But that Scabal bunch no longer has the same shade of tan, and the only other bunch I could find with a wool or cashmere mix - Loro Piana - also had stretch in it.
So I fell back on a 100% cotton, from the ever-reliable Brisbane Moss (T1, 315g, 12 wale). The colour looked pretty close from the little swatch.
Unfortunately, it wasn't really that close. The colour was rather brighter and yellower than I had anticipated, and although it doesn't look bad here, it wasn't what I was after.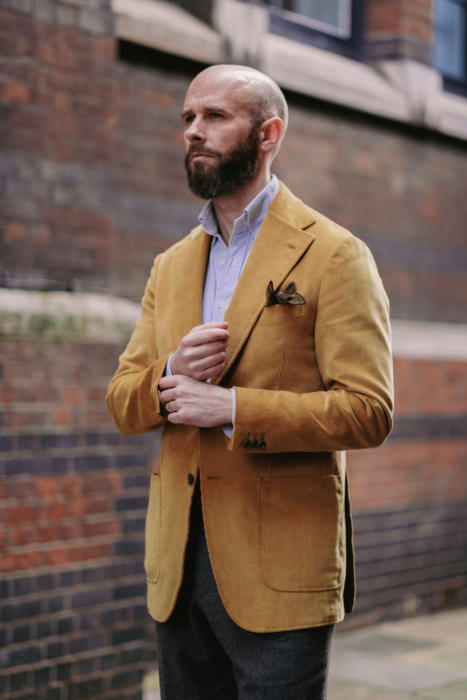 It's a jacket with some issues, then, and I'm not sure whether it's one I'll keep in the long term. I'll have to wear it a bit and see.
But none of those things - certainly not my error with the cloth, and not the style either for the right person - stop me recommending the William Crabtree programme. It's good made to measure, great value for £900 an up, and James was efficient and accurate throughout.
The shop, for those that don't know it, is on New Quebec Street in London, at number 15. The range of knitwear is also very good (James started his life in cloth, but has been a knitwear agent for many years) and there are often one or two interesting accessories as well.
The other clothes pictured are a PS blue oxford shirt, an old Etro silk pocket square, and a suede Rubato belt.
William Crabtree MTM suits start at £1150 and jackets at £900. Time to delivery, with one or two fittings, is usually 5-6 weeks.
Photography: Mohan Singh